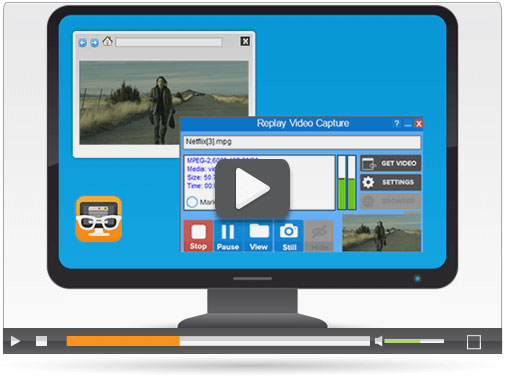 Replay software suite lets you replay, record, re-use audio and video from the Web
By Jim Bray
February 8, 2018
What happens when you watch a particularly hot - or controversial - video on YouTube and just have to have it for yourself, forever? Or what happens when you want to listen to your favourite streaming talk show but have to be away from the computer while it's on?
That's the rationale behind Applian Technology's Replay Capture Suite, a series of interacting apps that will do all that and much more. It's a pretty impressive set of tools and it appears to work well.
The $79USD suite, individual modules of which are also available separately, includes tools for capturing video or music from any website, as well as conversion and editing tools you can use to file the serial numbers off your purloined programming. And that still isn't all the suite can let you do!
Netflix on the go…
Potential copyright issues aside (and if you're only recording for personal use it shouldn't be a big deal), Media Catcher 7 will let you record Netflix, Hulu and other such streaming services, which could be really handy if you're binge watching something but are afraid the companies will delete the later episodes before you get finished with them. Applian says you can download the stuff to your computer and watch them at your leisure.
I, being cheap, don't have any of those services, but I used the app to record from YouTube and some other websites and it worked just fine. And it's easy to use. Heck, you can get the thing to seek out media from any web page and it'll download the digital files automatically. You can't get much easier than that!
This can bite you in the bum if the web page is full of disparate stuff, for example commercials or other embedded videos, because it'll download the whole shebang if you have configured the software that way - but you can also choose the individual file(s) you want to record. That's my preferred way, but of course your mileage may vary.
I imagine this product could be quite popular with porn aficionados…
I've noticed that Media Catcher can also find multiple versions of a particular video on a page, and it'll give you the chance to download them all or to choose the one(s) you want. This lets you download them all, in one swell foop, and then figure out the one with the best quality (or smallest file size, or whatever) once they're stored locally. Then you can merely dump the ones you don't want lest they waste hard drive space.
As I did a few years ago with an earlier version of the suite, I used Replay Media Catcher 7 to record a bunch of second world war videos I found on YouTube that I wanted to burn to a DVD and give to my 97 year old father, who has no internet access and even less interest in getting it. Yet these classic, World War II aircraft videos would be of particular interest to him - a Halifax bomber airman (or, as Justin Trudeau would put it, an "airperson") who served in the Royal Canadian Air Force back then.
His aversion to things technological, and the fact that he lives thousands of miles from me, meant he'd never have a chance to watch these videos if I didn't record and burn them for him. And it worked fine. Thanks, Replay Suite!
How easy is the suite to use? Heck, all you really have to do is fire up the software and then play the video, movie, tune or whatever - and the app will download it to your PC (or Mac). There's a built-in media guide as well, which can help you find the content over which you want to hoist your personal Jolly Roger - and once you've started the recording you can leave the web page and go elsewhere and it'll continue downloading anyway.
Applian says the suite supports over 130 device and file formats. I haven't even scratched the surface of the ones that are available and can't imagine ever needing most of them, but it's nice to have such flexibility built in because you never know what you'll need at any particular time - today or tomorrow.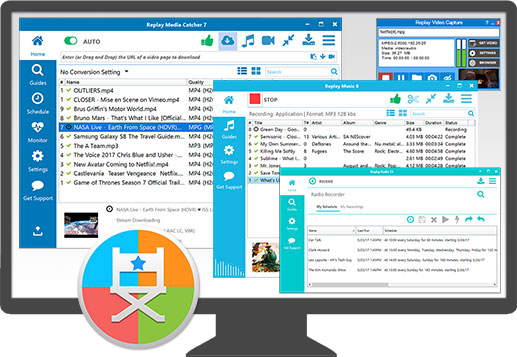 Replay Converter will also let you burn DVD's, CD's and other disc formats, for archiving, sending to Dear Old Dad, or whatever.
Once your files are downloaded and stored, assuming your home is configured with a network and you have some smart devices such as TV's, Rokus or the like, you can stream them to another part of your house. And it works great! I downloaded a couple of YouTube videos and streamed them to the Bose SoundLink in the living room, via the built in media player of the Roku Express that's installed there.
The Video Capture component lets you record video that's playing on your monitor. As Applian says, you can "make production quality videos from ANY web site or program by recording directly from your PC screen. If Replay Media Catcher can't record it, Replay Video Capture will."
It works, too. All you have to do is mark out the area of your monitor screen that you want captured, via the transparent window the software creates (you drag and drop the edges to surround the area you want to record), press "record" and Robert's your parent's male sibling.
Replay Music lets you record music from any web site or player and it supposedly adds artist, title, lyrics, art and more, automatically. It tries to, anyway. The first time I tried it I recorded a Who track from my music library and, while it saved it as a FLAC file just fine, it labelled it as a Dan Hartman song. Yep, nothing's perfect - and I have a sinking feeling it might have been my fault in how I'd configured it. I'll blame the software, though…
Replay Telecorder for Skype lets you record phone calls, video chats, conference calls, whatever: anything that you can do with Skype. I haven't tried that one, since I Skype rarely but imagine it would be a pretty neat way to archive family calls and the like. Or maybe just to cover your bum legally, depending on the conversation…
Video Padlock lets you encrypt your videos (or ANY file on your computer) securely.  
The Suite does appear to work as advertised, mostly so far, anyway (obviously, I'm still in the learning curve but enjoying it very much!), and the apps are easy to use and pretty flexible. Applian has even included a bunch of introductory videos on its website.
The suite is quite affordable, too, considering the power and flexibility you're getting.
Copyright 2018 Jim Bray
TechnoFile.com