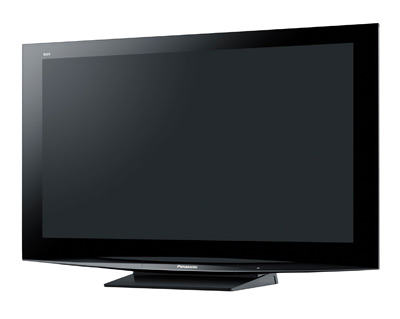 Big Panasonic Viera Plasma A Toy for the Eyes
By Jim Bray
March 27, 2009
It may not be cheap, but Panasonic's 58 inch Viera TH-58PZ85OU 1080p plasma TV is a spectacular unit that will do justice to your high definition sources.
In fact, I'm willing to say it offers one of the best pictures I've ever seen, and I've seen plenty. The $3999 panel brings state-of-the-art video to your home theater, and even includes some Internet-enabling that points the way toward how the World Wide Web could make traditional broadcasting methods obsolete someday.
The TH-58PZ85OU is at the higher end of Panasonic's 1080p plasmas and is an imposing unit. You can wall mount it or use the stand it comes with – though in the latter case you'll some kind of TV stand to augment it; otherwise it'll be sitting low on the floor.
Why would you want a plasma when nearly everyone's pushing LCD flat panels these days? One reason is that, as good as LCD's are, a good plasma can be better – and in the case of this Panasonic it is nothing short of spectacular.
LCD's are generally a little cheaper to run and easier to lift,  but plasmas can display the all-important blacks a little better than LCD's, so you can get better contrast and detail, especially when a scene is particularly dark.  And those colors! Wow! I've seen plenty of great LCD's, but none has caused my jaw to drop like this plasma did.
Not only that, but when you get up to the size of this 58 inch unit, plasmas are generally still more affordable than LCD's. For example, Sony's web site lists their 55 inch XBR Bravia LCD (their top of the line) for $5999 (on sale). That makes a four grand plasma darn attractive.
Plasmas have drawbacks, of course. They're still more prone to burn-in than LCD's – in that an image displayed too long will tend to take up permanent residence on the screen. Plasmas have made big improvements, though.
The TH-58PZ85OU includes such features as "Increased Native Contrast Ratio", VIERA Cast, Digital Cinema Color Technology and new Anti-Reflective Filter. Besides its four HDMI inputs (one of which is mounted conveniently on the front) it offers a PC Input, a built-in SD card slot and VIERA Link HDAVI Control so you can operate multiple components from the remote.
The TV also comes with an integrated ATSC tuner (which is useless in my area, unfortunately), composite, S-Video and component video inputs as well as their corresponding audio inputs. There's an RS232C input, composite video output and digital and analog audio outputs.
In short, if you have it, it'll probably hook into the TH-58PZ85OU.
The Panasonic outputs any resolution from 480p up to 1080p on its 16x9 aspect ratio screen and claims a native contrast ratio of 30,000 to one (1 million to one dynamic). This means it'll run Blu-ray discs and other HD sources at their maximum resolution, with deep blacks that add a real sense of being there.
The television offers 24p playback for Blu-rays that began as film-based material, and doesn't suffer from the "jittering" of LCD's during fast motion or camera pans (or not as much anyway).  
I ran Blu-ray discs mostly, because they're the best test for such a system these days. Titles included The Dark Knight, Spider-man 3, Casino Royale, The Fifth Element, I Robot and The Professionals – a good cross section of great discs. The Viera's picture quality was so good it had me wondering how much better a picture could ever get.
On the other hand, I've been reviewing TV's for more than 20 years and have wondered often before how much better a picture can get, so everything's relative. But for the state of today's art, I can't think of a television I've seen that's as much of a treat for the eyes.
And it was good right out of the rather large box. Once set up (which is easy and straightforward, though the input labels don't include Blu-ray for some strange reason, so I had to use DVD) we fired up the HD Basics calibration disc, using the Panasonic's "Pro" setting (as opposed to game, standard, "custom", etc.) and according to the disc's color patterns, the Panasonic was bang on, with no adjustments required. It was a tad off on its geometry, running a few pixels off the edge, but it wasn't off by much.
Despite a "pixel orbiter" feature, I was a bit worried about the potential for burn-in, especially when I noticed some "temporary" burn-in of images after only a couple of minutes. Fortunately, it went away quickly once another image was on the screen – but to ensure I didn't damage the set, I'd use one of its zoom/justification modes when watching stuff in the old fashioned 4:3 aspect ratio (TV shows, old movies, etc.), just like I did on my old widescreen CRT. It's workable.
Audio capabilities are up to snuff for a TV. It comes with four speakers and 31 whole watts of power (with "HD3D"  and surround sound, supposedly), and it sounds fine for a Television. I would recommend, however, that if you're going to spend the bucks on a TV such as this that you get a real 5.1 surround sound system. You won't regret it.
To sweeten the deal, Panasonic offers something called Viera Cast, a web service built into the television that lets you access online content such as YouTube videos and digital photos (via Picasa Web Albums). You can also get weather updates and financial information from Bloomberg Television. Panasonic says the VIERA Cast menu will self-update as soon as new content becomes available.
No PC is required, but you will need a wired network connection. Why a high end TV like this doesn't come with Wi-Fi is beyond me. To test it in my viewing room, I had to hook in a wireless router to connect to my network, then use a couple of feet of cable to hook in the TV. Dumb!
And annoying. And before I could use Viera Cast it insisted on going online to download a software update, which took about four slow, frustrating attempts.
It wasn't worth it. Viera Cast works, but it's ponderously slow and annoyingly free of content I cared about. Sure, I could've set up accounts to exploit the features, but why would I mess around with that Mickey Mouse solution when I could just plug my notebook PC into the Viera and access content that way, regardless of whether it's part of Panasonic's little service.
Manufacturers insisting on offering such supposedly value-added stuff should wait until they can do it right. They should build in wireless network access (they can do it with printers, so why not TV's?) coupled with a real Web Browser, media player and the like; then it might be worthwhile, but as it sits I couldn't be bothered with it once I'd seen it.
As mentioned at the top of this piece, however, it does point toward a future in which content is delivered online, whether it be video on demand or the latest sitcom streaming from a TV network's site. Bandwidth is an issue here currently, especially for HD material, but I can see a day in which off-air broadcasters and satellite and cable operators face competition from content creators spewing their stuff onto the Internet directly.
I look forward to that. In the meantime, Viera Cast is an interesting experiment.
Fortunately, I didn't really care about Viera Cast anyway. It was the picture quality I was interested in; everything else is gravy. And in that area, this Panasonic Viera is spectacular. Thanks to its size, its wonderfully crisp resolution, beautifully rich colors and deep blacks, it gives an incredible video experience. I hated to send it back.
Copyright 2009 Jim Bray
TechnoFile.com