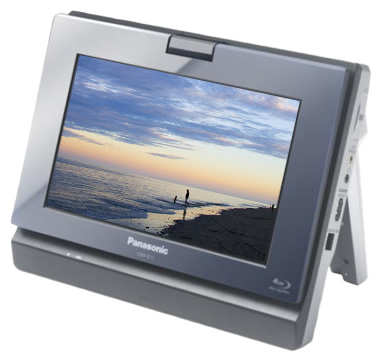 Panasonic Brings Portability to Blu-ray players
By Jim Bray
July 23, 2009
With Blu-rays making inroads in the consumer marketplace, it was inevitable that someone would introduce portable players that let you take your HD discs on the road with you.
That someone appears to have been Panasonic, whose DMP-B15 is being billed as the world's first portable BD player. That doesn't include notebook computers with BD drives, of course, but as far as portable standalone Blu-ray players are concerned I haven't heard of any others. Hopefully, they'll come; this Panasonic is a nice machine, but like most first generations machines it's expensive – and what's worse is that it doesn't offer full 1080p capability.
1080p is the current state-of-the-art of high definition, so it seems a tad strange for a brand new player such as this not to offer it, but to be fair I'm not sure if you'd notice much of a difference between 780p, 1080i and 1080p on a 8.9 inch screen such as the DMP-BD15 offers.
Panasonic's website says the player does full 1080/24p, if connected to a compliant HDTV via an HDMI cable, but if that's the case then why did my Epson projector still say it was receiving 1080i signals when it (the projector) is fully capable of playing 1080/24p – and plays it all the time when fed by my PS3 and other Blu-ray players I've tried? Something's funny here. Perhaps it was operator error, but since the setup menus are very straightforward (and I'm reasonably experienced in this area) I find this hard to believe.  
Still,  I spent a couple of weeks putting the machine through its paces and was impressed with its picture quality, even if it isn't "pure".  This is actually quite a nice unit.
Other than only going up to 720p/1080i, the player has plenty of features and is quite robust. And it's a handsome beast, perching like an artist's easel on your desktop or airplane tray in a manner that on first glance looks a bit unusual compared to portable DVD players that generally look like little notebook PC's. But the vertical, "easel-like" stance of the BD15 minimizes its footprint, which is nothing to sneeze at in a unit that purports to be portable. It also makes it look more like a digital photo frame – and in fact it would make a darn good (though expensive) one when you're not playing Blu-ray discs on it.
But that configuration does mean you have to put the player through certain histrionics to play a disc – flip up the screen to access the disc compartment underneath it, then rotate the screen and fold it flat again. But this only takes a couple of seconds and keeps the player itself and the "business side" of the screen safe when you're not using it.
The portability is a great feature, of course. Many people now have HDTV's with HDMI inputs, but homes with Blu-ray capability are still comparatively few and far between. But with the BD15, you can take your favorite Blu-rays over to a friend's and, thanks to its built-in HDMI output, watch them on whatever size of screen your little friend may have. That's pretty cool. Might also make some more Blu-ray converts, too, and that would be a good thing.
As it should, the DMP-B15 also handles dts HD Master Audio and Dolby TrueHD, the "Blu-ray" audio formats that can be so terrific. You won't care when using the dinky little speakers built into the unit, but if you're outputting it to a compliant home theater via HDMI you'll be delighted – assuming the audio system to which you're outputting it is also compliant.
The unit comes with a 2.5 hour battery, so you'll want to bring along the AC and DC power adapters if you're going to be out and about for longer than that. A six hour battery is supposedly on the way. Battery life doesn't usually bother me because I don't generally use my portable stuff (other than my phone) far away from a power supply, but this can be an important consideration for you if you do wander far and wide from external power, such as on an airplane.
Operating the unit is easy. There are buttons along the top of the case (which, by the way, seems built very well), but you'll undoubtedly want to use the remote control Panasonic includes in the box, which works very much like other Panasonic remotes I've tried. And that means it's fine.
How do Blu-ray discs look on this unit? Terrific. I ran a variety of my favorite test discs – for audio and video – and it came through with flying colors. Blu-ray discs looked awesome; the picture leapt off the little LCD screen, with outstanding contrast and color, very good sharpness and detail and a very film-like look. DVD's looked good, too, by the way, but as usual a good Blu-ray blows away a good DVD.
Titles I tried included The Dark Knight, Peter Jackson's King Kong, The Fifth Element – you know, the usual eye-popping stuff that looks so great on a good home theater. The Panasonic's little LCD did them as much justice as a tiny screen can.
I wasn't nearly as impressed with the audio quality from the Panasonic's small speakers and built in amplifier, but duh!  Not surprisingly, there's no room-rattling bass from a low frequency effects channel, no surround, and the volume output was less than I'd want. That said, using the unit's ear bud headphones sounded better, though of course at the cost of only one person being able to listen at a time.
As mentioned, though, plug it into your home theatre via HDMI and the sound quality is limited only by the quality of your home theater.
Another handy input is the network connector. Through this you can update the firmware or take advantage of BD Live-enabled discs, if such a thing is important to you. You can also use this input, with the Viera cast feature, to access YouTube videos and Picasa Web Albums. I first tried this feature on a spectacular Panasonic plasma TV I tried a few months ago and thought it an interesting feature with good potential, but of limited use right now.
And I don't understand why Panasonic doesn't build Wi-Fi capability into their stuff. By not doing that, they're forcing you to use a wired network/Internet connection and that just isn't practical in every home, whereas Wi-Fi would let you access the networked features seamlessly from wherever you can take the player that offers Wi-Fi.
The unit also offers DIVX playback, as well as including an SD card reader with which you can watch AVCHD or MPEG2 movies and JPEG images. And it comes with a mounting bracket that lets you strap the player to a car head rest, so you can keep the ankle biters quiet while you're out and about.
I didn't try it, but you might even be able to strap it right to their heads, thereby covering up their mouths.
While the DMP-B15's suggested retail price of $799.95 does seem a bit dear, first generation products are generally more expensive than later models and if you count the fact that this is not only a portable player but a fully-featured Blu-ray player in its own right (sans 1080p), it becomes a mite more attractive.
Copyright 2009 Jim Bray
TechnoFile.com