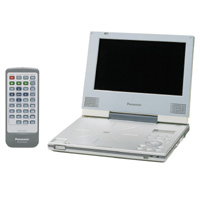 Portable Palmtheater Passes Screen Test
by Jim Bray
Tired of in flight movies and bad TV in hotel rooms?
Panasonic may have your answer in its line of portable "Palmtheater" DVD players.
I played with the DVD-PV40 a couple of months back and, while it was pretty neat, it didn't have its own screen and that limited its flexibility.
Fortunately, that isn't Panasonic's only kick at the portable DVD can. I've now spent a few weeks with the higher end DVD-LV70, which was an even more entertaining experience.
As with its little brother, this $1100 unit features a very thin and light case; in this case (no pun intended) it's less than an inch thick with the battery pack detached. Double that with the battery, but even then the whole thing will fit nicely onto an airplane seatback tray.
For extreme portability you can leave the battery at home and take along the included AC adapter. You won't be able to watch your favorite flick on a plane, but it'll work fine in the hotel room and will fit right into your attaché case to get it there.
That ultra thinness would also make it perfect for salespeople making DVD-based presentations, because as long as there's a power outlet nearby you have a nifty little standalone unit.
What really sells this player, of course, is its 7 inch diagonal 16x9 liquid crystal screen. While it might get laughed out of the average home theater, in the portable applications for which it's designed it's more than adequate. Sure, you don't want to watch Ben-Hur on it, but you might be surprised at how enjoyable a movie can be on a small screen. One of the titles I used to test the unit was the DVD of "Moulin Rouge" which, regardless of what you think about the movie itself, features spectacular video and audio, and it looked quite good on this Panasonic.
In typical DVD player tradition, this little Panasonic also features normal (4x3), wide (16x9) and Zoom screen modes to suit just about any aspect ratio of DVD. It defaults to 16x9, as it should.
The audio is a different matter, which shouldn't be surprising. The unit features Dolby Digital and DTS sound output, but while Panasonic has thoughtfully included a pair of stereo speakers mounted below the screen, the speakers (for obvious reasons) are very small, which means the sound quality is small as well.
Fortunately, you can output the audio optically to an honest-to-goodness home theater receiver. And a headphone jack lets you listen to DVD's with higher fidelity (depending on the phones, of course) and/or without bothering your neighbors.
There's also a built in "S-Connector" so you can connect the LV70 into your TV at home. This, coupled with the optical audio output and the little remote control that's also included, means you can actually use the L70 as your primary DVD player, then pack it up with you when you hit the road.
Of course, for $1100 one would expect no less…
Panasonic says the battery pack (which was an option on the lower model I reviewed earlier) will yield up to five hours of recording time, which should be adequate for most domestic flights (not counting time stuck waiting in airport security, of course). It also comes with a built in battery recharger, and you can still watch a disc while you're topping up the battery.
The control buttons and gewgaws on the unit itself can be a mite confusing and you can't scan forward or backward using those keys, but everything works from the remote, so it isn't a big deal.
The remote is also small enough to pack with you, which I would recommend you do if you want to get the most of out this unit. It's substantially larger than the credit card-sized one that comes with other models, however, so it isn't really something you can stick in your pocket for airplane use. The upside is that the buttons are big enough to actually see and use. Go figure!
An added bonus is the deck's ability to handle CD-R's, so you can take your home burned music CD's with you on the road if you want.
I don't think I'd want a unit like this to be my primary DVD player, but I sure wish I'd had one on my last business trip!
Jim Bray's technology columns are distributed by the TechnoFILE and Mochila Syndicates. Copyright Jim Bray.