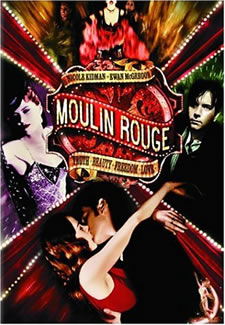 Moulin Rouge on DVD
Ken Russell on a double dose of acid?
20th Century Fox's Moulin Rouge is either a love or hate film: you either love it or hate it.
We're still on the fence, trying to decide if it's one of the best films we've seen of late, or one of the worst.
If nothing else, it's a sensory onslaught par excellence, and it really has to be experienced to be believed. It's also one of the best examples of the DVD medium that we've seen.
Basically a love story, director Baz Luhrmann's audacious movie is set in 1900, but while the setting is important, it's the film-making that really leaps out at you. He uses every cinematic trick in the book, including the latest digital stuff, to spin a yarn about boy meets girl, boy and girl fall in love, boy loses girl, boy gets girl back, etc.
Nothing we haven't seen before, except that we've never seen it before in such as way as this.
Ewan McGregor is Christian, a starving writer come to Paris to follow his muse. He quickly gets caught up with the Bohemian elite who see his writing talent as a way to get their stage product produced. Along the way, he meets Satine (Nicole Kidman), the star attraction at the nearby Moulin Rouge, the trendiest and hippest night club around. He's supposed to pitch her on their play, and he does, but a series of misdirections has given Satine and her boss the impression that he's actually a rich Duke looking to invest rather than a poor writer looking for a gig.
What there is of the story is okay, but it's the theatrical experience of Moulin Rouge that makes it worth watching. The filmmakers set out deliberately to bring the audience something they'd never seen before and, like it or hate it, they've achieved it spectacularly.
It's silly, pretentious, raucus, bawdy, stimulating, and ridiculous all at once.
It's also a musical, though not like you'd expect. The music here is taken from other sources, from Rogers and Hammerstein to Elton John, Patti Labelle and many others. It's a hodgepodge and it takes some getting used to, but somehow it works.
Moulin Rouge is supposedly the third in Lurhmann's "Red Curtain" films (the others were "Strictly Ballroom" and "William Shakespeare's Romeo and Juliet") but since we haven't seen the others we can't comment other than to mention it.
What Luhrmann has done with Moulin Rouge is expand the boundaries of film, creating an extremely theatrical (as in stage) experience, and you have to applaud that in an era where most films are recycled pap.
So is it brilliant or crap? We're going to watch it again to see if we can make up our minds
But even if you have trouble liking the movie, it's worth seeing merely as an example of how great a DVD can be. Not only is it a THX-certified disc boasting some of the most spectacular anamorphic widescreen video and digital (Dolby and DTS) 5.1 channel surround sound we've seen and heard, but it's packed with extra features that'll keep you pointing and clicking the remote control for hours.
Disc One includes the spectacular audio/video transfer as well as a pretty standard (though interesting) commentary with Baz Luhrmann, production designer Catherine Martin and director of photography Don McAlpine. There's also a "Behind the Red Velvet Curtain" feature, whereby a green fairy periodically pops up on screen prompting you to visit an in depth behind the scenes look at the particular section you're watching, after which you're popped back into the unreality of the movie itself. It's pretty neat.
Disc Two has plenty more goodies. First, you get a nifty multi angle sequence (a rarity on DVD's, despite the capability being built into virtually every player) for the sequences Tango, the Can Can and Coup d'Etat. There's also raw, uncut footage from the dance numbers, 3 music videos and trailers and more.
There's also "The Making of Moulin Rouge" HBO special, 5 "Star" featurettes: Nicole Kidman, Ewan McGregor, John Leguizamo, Jim Broadbent, Richard Roxburgh, "The Story Is About..." an interview with writers Baz Luhrmann and Craig Pearce. And that isn't all. You also get "The Cutting Room," an interview with Baz Luhrmann and editor Jill Bilcock, unseen footage of abandoned edits and some director's "mock previsualisations," which are kind of interesting in a silly way.
And that isn't all yet, either - check out the disc for the cornucopia of goodies.
So love it or hate it, you have to love the attempt - and the great DVD!
Moulin Rouge, from 20th Century Fox Home Video
128 min. anamorphic widescreen (2.35:1), 16x9 TV compatible, Dolby Digital and DTS 5.1 surround
Starring Nicole Kidman, Ewan McGregor, John Leguizamo, Jim Broadbent, Richard Roxburgh
Produced by Martin Brown, Baz Luhrmann, Fred Baron,
Written by Baz Luhrmann and Craig Pearce, Directed by Baz Luhrmann