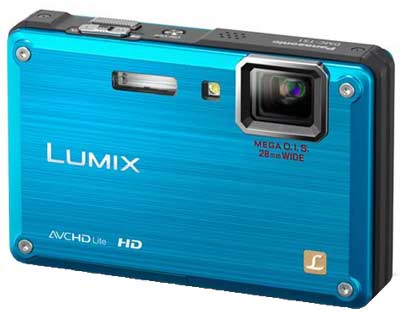 Panasonic Lumix Camera Great for Cruising
By Jim Bray
October 14, 2009
It's getting hard to keep up with all the innovations in digital photography these days. Pixels are getting more mega almost by the month, you can shoot high definition video alongside your stills, and such things as image stabilization and automatic focusing are getting more sophisticated with each generation.
 I use a semi-pro digital camera in my work, but it's more than a tad bulky to take on a trip. Fortunately, there are many pocket-sized "point and shoot" cameras that can ride to the rescue here, and when I was faced recently with the choice of taking my big camera on an Alaska cruise – or finding a newer and smaller one I could review at the same time – the choice seemed obvious.
Then Panasonic asked if I was interested in trying their DMC-TS1, a small and cute little beastie that also just happens to be waterproof. What better way to test such a unit in real world conditions than on an Alaska cruise? I jumped at the chance.
The TS1 is not only waterproof (I was tempted to chuck it overboard to test the theory, but didn't), it's shockproof and dustproof as well. It also features AVCHD Lite High Definition (HD) video recording and about every other high tech feature you can imagine in a mainstream camera such as this.
At $379 it isn't cheap in the grand scheme of "point and shoot" cameras, but this is a pretty sophisticated piece of equipment despite its unassuming look and available funky colors (Mine was a neat blue that looked great, by the way).
The TS1 is about the size of a pack of cigarettes and seems quite tough and rugged. I didn't throw it at a wall or anything, but the camera feels substantial. It's lightweight, too, so it doesn't drag your pocket downward.
Installation of the battery and smart card (with which, unfortunately, it doesn't come – so I went out and bought a four gig card and it worked great) are simple.
The camera's flexibility coupled with its ease of use made it ideal for my wife and I to take onboard the ship and on our excursions to some very beautiful locations that are well worth photographing. Since Iw was also reviewing the camera, I wanted to play with its features more than she did; she wanted the point and shoot convenience she believes my semi-pro unit lacks, though I believe she's just intimidated by its bulk and comparative user unfriendliness.  Needless to say, the TS1 served both of us very well.
Sporting a nice and wide 28mm angle lens and zooming up to 128mm in telephoto mode, the TS1 was great for shooting scenery and family members standing in front of same. I shot a lot in widescreen (the resulting shots fit nicely on today's TV and computer monitors) and that helped capture the grandeur of Alaska quite well, not that any of my photographs could do the place justice.
Low light performance was good; the flash does a nice job of illuminating darker scenes like the ship's nightclubs or the inside of saloons.
While I did mess around with many of the camera's features just to experience them, I opted most of the time to leave the thinking to the Panasonic, and it worked great in automatic mode – almost all the time. Thanks to its fine auto focusing and image stabilization (and other sophisticated automatic features) we only had about three bad shots out of the 400 or so that I took – and one of them was a shot I did manually.
The face detection function didn't hurt, either. It finds faces in the frame and automatically chooses the optimal focus and exposure. It's neat to watch it at work. Panasonic says the camera detects up to 15 faces in a frame, and readjusts the settings if they move around.
There is so much gadgetry on this camera it makes you wonder how it can concentrate on taking good pictures. But of course that's exactly what the technology – stuff like shake detection, intelligent scene selector, intelligent exposure, digital red eye reduction and motion detection - is for. Heck, the CIA could use this beast.
You can shoot consecutive shots in full resolution as well.
As mentioned, my pictures turned out great for the most part. The color and detail are wonderfully rich; we printed some out at Wal-Mart to mail to relatives (hey, why shouldn't they suffer, too?) and the prints looked great as well.
The menus are easy to use and reasonably flexible, and the software is easy to figure out and use.
I also experimented with the AVCD video, shooting a couple of short movie clips that looked really good on playback. The TS1 records HD at a resolution of 1280 x 720 pixels; I sneaked some video of a lumberjack show in Ketchikan, when they raced up vertical logs and back down again. Considering that it was recorded surreptitiously and the participants were something like 100 feet away, the video turned out just fine.
The heart of the DMC-TS1 is Panasonic's Venus Engine HD, which uses two CPUs to provide what Panasonic clams is 2.4 times the processing capability (of what? Beats me!), with support for HDMI output.
My only real quibble was that the buttons on the top are pretty close together (which is hard to avoid in such a small unit) and that led to me pressing the power button instead of the shutter several times, missing my shot. This was clearly operator error, much as I'd like to call it a design flaw, and by the time I was heading home again I'd gotten used to the layout and the shots were coming quickly and furiously.
There are a lot of features on this camera that I'd never use most of the time, though it's nice to have the flexibility for the odd time when I might want it. Where this camera shines, however, is in its "point and shoot" ease of use: you can just fire it up, aim and click and chances are you're going to get a fine picture. Fine enough that I would be comfortable retiring my three year old semipro and replacing it with the TS1.
Add to that some decent video capabilities and you have a nice little unit.
Copyright 2009 Jim Bray
TechnoFile.com