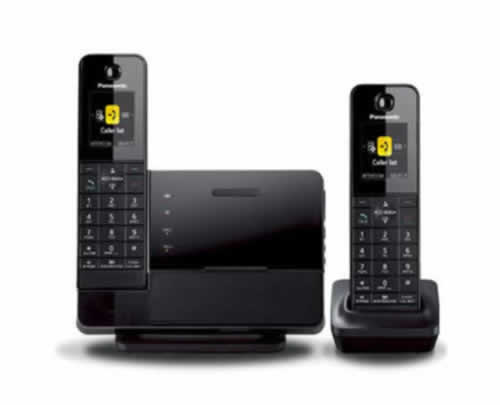 Panasonic DECT phone works with your cell
By Jim Bray
September 4, 2014
Panasonic has an interesting line of DECT phones that try to bridge the gap between land line and cells. In the process, they're giving you a chance to save some energy by not having to run madly to the opposite end of the house if a cell call comes in when the phone isn't handy.
Sure, you could let the call go to voice mail, but if your voice mail is anything like mine, you might not get the message for days. Or, if your memory is like mine, you might forget all about that missed call entirely until that delayed message shows up.
But the $250 Panasonic KXPRD262 (KXPRL262 for Apple phones) actually pairs with your Bluetooth-equipped smart phone so if a call comes in on the cell, you can pick it up on the landline-based Panasonic. How's that for a great idea?
It's a great idea in concept, anyway, and to be fair it does work pretty much as advertised, but the Panasonic's interface is a tad clunky if you're used to regular land line phones.
According to a survey by Leger Research Intelligence on behalf of Panasonic Canada, about two thirds of Canadians subscribe to both mobile and landline telephone service - this despite an apparent trend among many people to dump the land line in favor of the cell phone only. So it appears there's a market for such a device, at least for now - and until we all have cell phone chips embedded in our bodies.
Panasonic sent me the KXPRD262 to play with and it's a pretty neat phone. It's also one of the company's line that includes their proprietary Smartphone Connect feature which, after you install and configure the Smartphone Connect application (available where you usually get your apps), will even make the smartphone and/or tablet work as an extra handset (which can prove handy) as well as letting you transfer calls to a different smartphone/tablet device (as long as it's within range of your Wi-Fi). And get this, once the call is transferred to the other device, the main landline is then freed up for other calls!  What I found more convenient, however, was the Link2Cell feature, which lets you make and receive mobile phone calls via the Panasonic DECT system. To each his/her/its own.
I set up the base unit in my bedroom, where my normal base unit is (close to a phone jack), and put the second handset in the kitchen, and both of those locations worked fine. Panasonic's DECT 6.0 technology worked fine as well, with good sound quality and performance as a conventional cordless phone. Using the phone to call out on your cell obviously affects the sound quality at the other end (it sounds like a cell, not surprisingly), but that's not the Panasnoic's fault.
Syncing the phone to my cell phone, a Samsung, was as straightforward as most pairing; the only downside I found was that my phone would glom onto the Panasonic when I got home and if I wanted to stream music to one of my Bluetooth speakers it would instead send the tunes to the tinny little speaker on the Panasonic, causing me to futz around with the Bluetooth settings to send it to the proper device. This isn't necessarily a Panasonic-specific thing, however; I often have to redirect the connection if I'm changing devices. And you can configure the Panasonic to only access the phone capabilities, eschewing the tunes.
If you do use it for tunes, Panasonic says the handset can also be used as a remote control to play and stop music or adjust the volume as it streams from your smartphone.  
The Panasonic can also notify you of texts coming into your smart phone. I only text under extreme duress, so this isn't something I'd use a lot, but I know others for whom this would be a great feature.
Panasonic says you can link up to two cell phones, though I didn't try that feature - and if you're using the base as a dock for your cell, it'll charge it as well via a USB connector built into the base (the Apple version offers one of their connectors).
The KXPRD262 has a bright and colorful screen and its internal robot will read out the call display information if you have that feature. There's a delay there, however; I usually had the phone in my hand already by the time the digital dictation began. And since it isn't really that smart of a robot, some of the names it read out from the display were pretty funny compared to their actual pronunciation. Can't really blame this Panasonic for that; it's the nature of the technology to date - and not a big deal.
You can download your cell phone's phone book, and block up to 100 numbers that spam you. Scrolling through the phonebook is a tad tedious - and if the name associated with a number has more than one number (work, cell, home, etc.) you have to flip through yet another layer. I found this onerous - so much so that if it was a number I knew was farther down the list alphabetically (and I remembered the number), I'd just punch it in myself manually.
The tedious-to-scroll interface is really my only complaint about this phone, however, and it could be corrected easily if Panasonic were to put the same type of touch-sensitive display on it that your smart phone has, letting you scroll with your finger rather than the dinky little cursor control button on the Panasonic's handset. And wouldn't you know, Panasonic makes such a phone as well, the $250 KX-PRX120, which appears to be more like a smart phone than a standard land line phone. It scrimps on other features you find on the PRL262, however - it won't interact with your smart phone, for example - proving once again that you can never please everyone.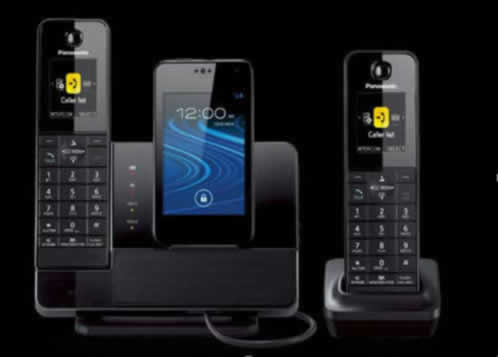 But if Panasonic would put the PRX120's handset on the PRL262 (assuming that handset works as advertised, and I have no reason to think it doesn't), they'd have an even more compelling phone.
Still, the folks behind the International Consumer Electronics Show (CES) were impressed enough with the 262 that they made it one of their Innovations 2014 Design and Engineering Awards winners.
I imagine the phone's enhanced noise reduction feature contributes to its very good sound quality, cutting down on background noise where you're phoning while supposedly enhancing your voice to make it easier for the person at the other end of the call to hear.
And of course you can purchase extra handsets over and above the two (base unit and one satellite) that come in the box.
Panasonic has made a really nice phone with this model and it does a nice job of linking your wired and wireless worlds. Heck, you could even use this phone if you don't have a landline, thanks to its interacting with your smart phone, extending the reach of your cell phone through your home or office. And if you do use both types of connection, this phone can very nearly give you the best of both worlds. If only they'd stuck that touch screen onto it!
Copyright 2014 Jim Bray
TechnoFile.com