Panasonic combo oven worth getting steamed over
By Jim Bray
February 1, 2018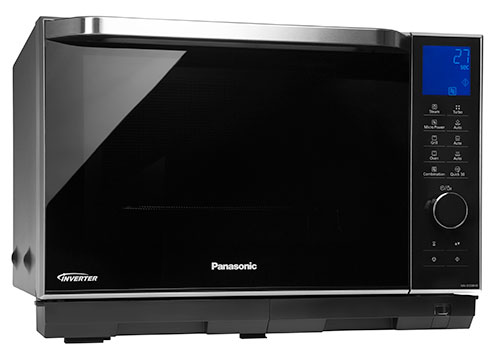 Don't tell my wife, but I've just spent a couple of weeks with a new "grill friend." It's a kitchen appliance that could clean up some precious shelf space because it blends the duties of disparate appliances into one unit.
Panasonic's Combination Oven NN-DS58HB, despite its $699.99 CAD retail price, is a pretty compelling piece of equipment, though it isn't without its issues. Heck, depending on your lifestyle and food habits, it could do a lot, if not most, of your cooking all by itself.
The unit really does function as a steamer (for those who are into fish or veggies), a microwave, a grill, a defroster, and a reheater - a neat bit of multitasking that's pretty darn intriguing - and I wish I'd had more time to explore the oven's many virtues. As it is, I was very impressed with some of its capability, and not as impressed with others.
Some of my issues could have been because of operator error, because the thing's manual is pretty cryptic and I'm not that bright when it comes to reading manuals, and cooking (just ask my wife!) - but after my very short two weeks with the combo oven I had some pretty admiring memories of its performance, and I wish I'd had a chance get over its steep learning curve.
Why did I want to try such a device? Well, we own a Panasonic microwave oven, our second from that manufacturer. It's a "Genius" with Inverter technology (no, "Inverter" doesn't mean you put in cooked food and it comes out raw…) and we've been extremely happy with it. In fact, the only reason we bought the second Panasonic is because we renovated our kitchen and my wife wanted one that hangs over the stove and also acts as a range hood. So we got a new version of the same oven we had already.
Obviously, we're fans of Panasonic technology and that was a good place to start. I was also curious to try the combo because we have a toaster oven as well - not a Panasonic but a Breville that we love and use all the time - so I wanted to see if this combo could actually replace both units with a single solution.
Does it? Nope, but if I were a single guy with a small kitchen, it might be all I need. I wish there'd been such things when I was young and living in a bachelor pad that only had a hot plate for cooking! Of course, back then, I couldn't have afforded it anyway…
One of the Panasonic's secrets is the steam, which is used more than you might think. For example, I cooked some sausages using a recipe from the cookbook that's included in the box (very helpfully, too, because the owner's manual is quite confusing). I used the grill setting first then, for the second half of the cooking time, I used the microwave "with steam" setting. The result was very tasty and cooked very well. Alas, it also made the sausages a kind of grey colour that grossed out my wife and son - though they had no complaints about the taste once I tied them up and fed them.
I also made an omelette in the combo oven, using the recipe book as a guide, and it came out just fine. Well, it didn't rise like it should have, which made for a rather strange-looking omelette (though it tasted great), but that was because I was supposed to whip the egg whites till they formed little peaks and I didn't do that. I'd prefer to blame the oven, obviously.
Anyway, the steam (which is facilitated by the user filling a little water reservoir on the unit's bottom) is claimed to help make it easy to create "delicious, healthy, oil-free dishes" and it crops up in a variety of the unit's settings. For example, I also used the oven to make some toast and the steam even affected it! Unfortunately, I think this was one of those "operator error" things to which I alluded above, because even though I tried it more than once, I ended up with one side toasty and the other side kind of wet. The toast was quite edible, but it was also quite weird and I couldn't find a better methodology in the manual.
One feature that's quite "non-nuker" is the oven's ability to cook both sides of a meal without turning it over because of heaters both top and bottom. Not only that, but as something cooks excess fat drains off into the grill tray's grooves (yep, it's a groovy thing, indeed!), which came in very handy with the sausages.
The oven also includes Panasonic's Inverter technology, which helps the microwave settings cook food quickly (it made my morning oatmeal well, and in less time than the dedicated oatmeal setting on my Panasonic nuker requires) and evenly. And while microwaves aren't known for browning food, I grilled some chicken breasts in the oven (again using a recipe that came with the oven) and they turned out perfect.
Not only did the Panasonic cook the chicken beautifully, it reheated the leftovers just as well. Nuking leftover meat can create little black, chewy rocks, but this oven warmed the stuff up very nicely; it came out warm, and quite moist. This was better than the results would have been from my normal microwave, though my toaster oven would have done it as well.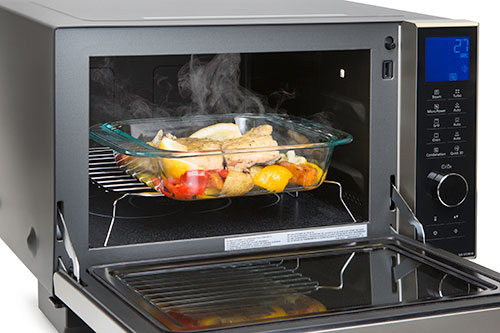 You can use a broader variety of dishes in the Panasonic than in one of their traditional microwaves, too, because, instead of there being a carousel inside, this model features a flat floor Panasonic claims makes for 29 per cent more room inside compared to conventional turntable models.
Panasonic has included 23 built in cooking programs and "auto cook" features, and they're listed inside the door jamb in case your memory is like mine. It's pretty handy, but I preferred the automatic settings on my other Panasonic microwave, because they require less conscious thought on my part. For example, I can stick my oatmeal into my usual nuker, dial up the auto cook setting, press "Start" and walk away. With the combo unit, I had to tell it how much oatmeal I had put in. It worked fine, it just wasn't quite as easy - and since I'm about as lazy as one can get I didn't like that.
On the other hand, I like the combo oven's timer knob better - it's quicker to set a cooking time than it is on my oven. Another nice touch is that the combo oven is quieter than my microwave.
As far as specifications are concerned, Panasonic says the one cubic foot oven includes a 1200 watt Quartz Grill, 1000 watt Inverter Microwave (with various power settings) and Inverter Turbo Defrost, the latter of which is similar to my microwave's - a feature we use all the time.
One thing you'll need to do is remember to keep the water reservoir full. This is no big deal, because the oven will remind you, even if it isn't empty yet.
After my time with this oven, I really find myself of two minds (neither of which may function correctly…). On the one hand, it does appear to work as advertised (toast and other of my personal issues notwithstanding) and it offers a lot of flexibility and performance in a relatively small package.
On the other hand, its $700 Canadian retail price is about what we paid for our original countertop Genius microwave and toaster oven (Breville ain't cheap!) combined. The combo oven does more on its own than both of those units, however, so there's something to be said for that.
Another potential downside could be that, if the unit screws up and you have to send it for service, you lose your nuker, your grill, your steamer….
I have no idea how often these things might screw up, though, so this may be moot. My only experience in this regard would be our Panasonic microwaves, which have never let us down in many years.
Feel like rolling the dice?
Copyright 2018 Jim Bray
TechnoFile.com