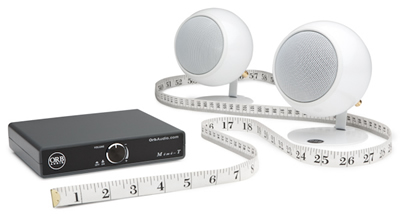 Orb Audio Mini-System Fits Music to a "T"
By Jim Bray
November 3, 2011
The T-Amp is back, and that could be good news to those who want good sound in a tiny package.
You may not remember the "T-Amp," a purportedly digital amplifier that made its way onto the market place for a short while a few years back. According to digitaltrends.com, T-Amps allowed for "incredibly clean, efficient output at low wattage ratings" and the technology wriggled its way into the car audio world, computers and bookshelf-type audio systems. Then it virtually disappeared.
Orb Audio, which bills itself as "A leading maker of  handmade, highly affordable and décor-friendly audio products," has now taken up the T-Amp banner and is offering it coupled with a pair or more of its handmade (thereby putting uncounted numbers of robots out of work!) speakers.
There's plenty of competition in that particular market niche, including "blasters" and mini-stereos as well as innumerable iPod-type docking station systems such as the Bose SoundDocks or SoundLink, both of which can (depending on the model) offer Bluetooth connectivity that the Mini-T system lacks. The Orb system does come with a mini-jack auxiliary input you can use to hook in just about anything you can think of, however, and for many (if not most) people that'll be enough.
The mini-jack input means that this system – which offers the advantage over the typical iPod dock of having separate speakers you can place farther apart to increase the stereo soundstage – will play with your Apple or MP3 player, or a television or audio source used with an RCA-to-mini adapter. Orb Audio says you can also combine the package with the Apple Airport and stream music wirelessly to any room in the house. I didn't try that, however.
According to Orb, its Mini-T compact amplifier is custom designed to match its speakers, whose globular design standing on little pedestals that attach to their rears, are cute as a bug's ear. They remind me of Mike Wazowski, Billy Crystal's rotund character in "Monsters Inc.."
Despite the Mini-T only measuring six inches wide, one and a quarter inches high, and five inches deep, it puts out lovely audio quality and is matched well to the Orb speakers.
I wish I'd tried the optional subwoofer as well, because a lot of the time I spent with the Mini-T Amplifier & Speaker Package was with them set up in my living room. It isn't a large room, mind you – just about half of one level of a typical, 1980-vintage suburban four level split – and it's quite live because of limited carpeting and one mirrored wall. Anyway, I really had to crank the Orb system in that room and found the low end lacking under those conditions.
In my office, kitchen or bedroom, however, the subwoofer would have been superfluous because the system sounded fine without it – and if you plan to take such a system on the road with you to ensure quality tunes in your hotel room, you certainly wouldn't want to be packing the sub!
I'd also like to see the Orb Mini-T system come with a remote control for extra flexibility for those of us who are particularly lazy. Its little amp sat closely at hand in my office, making a remote superfluous, but it was a pain having to get up all the time to adjust the volume while it was set up in the living room. On the other hand, getting up to tweak the volume was about the only exercise I got during my time with the system…
The amp features a retractable volume button and generic, springy clip-type terminals on the rear panel, along with the auxiliary input.
The basic package lists for $299 on the Orb Audio website and includes two Orb Mod1 speakers and the little amplifier. You can upgrade to Mod2 speakers or add a subwoofer. Upgrades aren't cheap, however. Adding a sub costs three to six  hundred simoleons, while upgrading to the Mod2's can add $200-$260 to the bill, depending on the speakers' finish. Finishes range from basic black to "hammered earth" (as opposed to "scorched earth!"), steel, copper and bronze.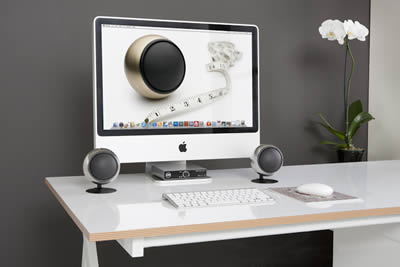 The sound quality may make it worth it to you, however. As obtained from my sample Mod1 system, it's very clean and transparent, with nice imaging, and the system doesn't really seem to prefer any type of music or source. I threw everything at it, from streaming audio to high quality SACD output and the Orbs sounded very nice throughout my listening sessions. They act as if they're receiving more power than the low, 15 watt per channel output the Mini-T amp boasts – and though that wasn't enough to put a smile on my face when they were in the living room, they came through more than adequately when perched on my desk and in the kitchen. This is not a system that'll make your ears bleed, obviously, but such power isn't always necessary.
That's why I keep a 500 watt per channel Rotel system downstairs for just such emergencies!
Another interesting fact about the Mini-T amp, which can be purchased standalone for $88, is that you can use it with your home speakers to listen to stuff on a computer, iPhone, TV or whatever. There's no USB interfacing here; instead you plug the amp into your PC the same way you do any other device: by its headphone jack output.  
This, whether you choose Orb speakers or not (and guess which side of that fence the Orb folk are undoubtedly on!), lets you use what could potentially be better quality speakers than you may have connected to your PC or other device. Now, this isn't meant to dump on some fine quality computer speakers that are available – and there are some really nice ones on the market – it's just offering you another choice and that's rarely a bad thing.
A disadvantage to the Orb system, if you consider it such, is that you have three separate pieces (not including sub) and you need to string wires between them. This would cause my wife some angst were I to try setting up such a system in the kitchen permanently, with its wires running across the countertop, whereas she wouldn't be as upset with a one piece iPod dock.

On the other hand, she'd rather it just stayed quiet there, anyway…
Another suggestion I would have for the Orb people is to add Bluetooth capability to subsequent versions. This would add really nice flexibility and allow music to be streamed wirelessly from any compatible device (and such devices are becoming more abundant every day).
Orb says the system claims a distortion figure of 0.04% THD+N (9W, 4 ohm), efficiency of 88% (10W, 8 ohm) and a dynamic range of 102 dB. Those are good specs.
Orb Audio says it offers a 30 day home trial for the system, which could come in handy if you want to try before you buy. The company also offers home theater systems for varying budgets and room sizes.
This was my first kick at a Class T amp, though I'd heard of them in the past, and I have to admit that, its limitations aside, I was quite impressed.
Copyright 2011 Jim Bray
TechnoFile.com