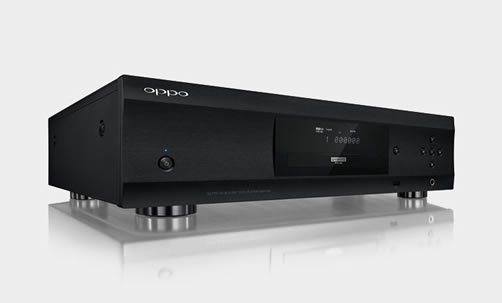 Goodbye to an honoured and excellent brand
By Jim Bray
April 20, 2018
Perhaps you could call it a coda to an outstanding symphony of audio/videophile tech.
Oppo Digital, the company whose products have won it many awards over the years – and which deserved them – has announced it's winding down its operations.
Say it isn't so, Oppo!
The announcement on the company's website as of April 2, came as a big surprise to me. I've been reviewing the company's products since they first appeared on the North American scene and have yet to find one that wasn't a great addition to whichever market niche it was invading. From TV's to DAC (digital-to-analogue converters) and high-end headphones, the company has offered a consistent string of remarkable performance and value, culminating in their release last year of two 4K UHD universal networked disc players.
Those two UHD players, to me, at the high-water mark of Oppo's presence, but they're also merely logical next steps in the company's line of products. I first reviewed one of their up converting DVD players when the company was just getting established here, the DVD-970HD, and noted at the time that it offered more bang for the buck than it really had any right to.
Shortly after that I tried what I believe is the only TV Oppo ever offered, a 20 inch LCD unit that came with a DVD player built in and offered so much flexibility of connection it wasn't funny. The only real issue I had with that TV was that it was "old fashioned" "full frame" at a time when TV's were going widescreen, yet it still made an excellent bedroom or kitchen TV.
Oppo has also created a line of DAC's, including a portable one that works with smart phones, and the HA line of headphones. I never tried the phones, but if they perform as well as their other products do, they're real peaches. Oppo's website still lists them, for $1099 and $399 USD, so if you're looking for a nice pair of Planar Magnetic headphones, head over there before they're gone.
It's the disc players that have always appealed to me the most, and they've evolved logically from inexpensive DVD players that, as mentioned above, offered more bang for the buck than they had any right to, to the current UHD players that not only handle pretty well all of today's disc formats (not including vinyl), they also handle just about any audio and video format, whether based on an optical disc, on your home network (streamable via the Oppo, of course), on USB or even connected to the unit via HDMI, like a Roku or satellite TV receiver (both of which I've done with the players).
Heck, some consumers could even use the $1300 (USD) UHD-205 as a preamp, hooking it directly into an amplifier. Yep, a $1300 unit could potentially save the consumer hundreds of dollars that would otherwise go to a preamp/processor!
Obviously, I'm an Oppo fan and am very sorry to hear that they're shutting down.
Oppo's website put the decision thusly: "It has been 14 years since we established OPPO Digital in the United States, and with the support of our customers, technical partners, and movie/music studios, we produced many award-winning Hi-Fi audio products and universal disc players, spanning three generations from DVD, Blu-ray, to 4K UHD.
"As our latest 4K UHD players reach the pinnacle of their performance, it is time to say goodbye. We are proud to have made such well-regarded products and to have served the enthusiast community. Without our customers' suggestions, encouragement, and support, we could not have accomplished these achievements."
The good news for current and soon-to-be Oppo customers is that, as the release continued, "though OPPO Digital will gradually stop manufacturing new products, existing products will continue to be supported, warranties will still be valid, and both in-warranty and out-of-warranty repair services will continue to be available. Firmware will continue to be maintained and updates released from time to time. Customers can rest assured that they will continue to receive the high-quality service and support that they have come to expect from OPPO Digital."
Then they sign off with this classy ending: "We greatly appreciate the opportunity to have developed such exciting products for our customers. It has been an honor."
As an Oppo fan, I had to know more, so I got in touch with my contact there, Jason Liao, and asked a few questions about what had led to the decision, and it appears the folks at Oppo don't think their current business is viable in the long term.
"Even before we started developing the UHD players, we knew it would be tough to stay in the disc player market," Oppo's Liao explained. "Out of our promise to our customers and our responsibility to the Blu-ray eco-system, we paid a very large sum to jointly fund the development of a UHD decoder chipset so that we could have a platform on which to build our UHD players.
"We then spent significant development cost and engineering manpower to bring the UPD-203 and UDP-205 to consumers," Liao continued. "We also diversified our product line to supplement the Blu-ray players in hopes of making the business more viable, but in the end, we realized that we would have to stop at some point. It is not that we do not believe there is a future in physical media - there is. The problem is that the declining market size and our mode of operation (relying on mass volume for moderately priced high-performance player) becomes more and more incompatible."
Perhaps if Oppo had appeared in the Best Buys of the world its market penetration could have been more ubiquitous. But one can't blame the company for dealing (mostly) directly with consumers: they can have a more personal relationship with their customers while not diluting their profit margin by selling wholesale to retailers.  
I had thought that perhaps Oppo had just decided it was time to do something new, and that apparently was part of the reason for the winding down of operations. "We have done what we wanted to do," Liao said. "We chose this time to make the announcement while the performance and stability of our UHD players is at its best, so that we can gracefully wind down the operation. This allows customers to make informed purchasing decisions, and it allows us to provide long term firmware updates and product support for our existing products and customers."
I had also wondered if changing trade rules could have had something to do with the company's decision, but this was apparently not the case. "Trade regulation changes was not a factor leading to the decision, but based on the current development, I would not be surprised if Blu-ray players end up in the list of increased tariffs. That will make it even more difficult to stay in the market," Liao said.
So, what's next for Oppo? "The company will transition from a product development company to a product support role. I (and some of our core engineering team members) will stay on to ensure firmware updates and product service continue to be available," said Liao.
That's good news. Oppo has traditionally offered excellent support and fairly frequent firmware updates (the last one for the UHD players was only last month) and in my experience the upgrading process has been painless and often adds new features such as the gapless play one I love so much (because it makes playing discrete digital files of albums with continuous cuts listenable again). There are also bug fixes and tweaks to make the players' performances even better.
I'll miss Oppo's exquisite products and I surely hope another company will be able to fill that void profitably. In the meantime, if you've been thinking about opting for an Oppo, you'd better get off your duff and get it done while there's still inventory.
From my experience, you'll be getting excellent performance and features that belies the reasonable price.
Copyright 2018 Jim Bray
TechnoFile.com