Oppo's Universal Blu-ray Player a Home Theater Powerhouse
By Jim Bray
June 11, 2011
With Blu-ray players now basically down to impulse item pricing now, one might think there's little reason to spend a thousand dollars on one. Yet, depending upon what you want in your home theater, there could be very good reason to spend that or more.
Well maybe not more. Take Oppo Digital's BDP-95 Universal Audiophile 3D Blu-ray Disc Player, for example. It sells for $999 U.S., which is serious coin when you can pick up a BD player for well under $100. But what you won't get in that sub-hundred dollar unit is the abundance of extra features, capabilities and compatibilities that you get from this excellent Oppo.
I've been a fan of Oppo DVD players for several years and their first Blu-ray player, the BDP-83, also impressed me with the quality and features you got for the price. None have come close to the price of this BDP-95, however; in fact, the BDP-93, Oppo's other current Blu-ray player, lists for half that.
Obviously, there's a reason for the extra cost and it has to do with it being a "sound" investment. That's because the BDP-95 not only offers superb Blu-ray play back, including of 3D material, but it has upped the audio ante substantially over its "lower end" sibling, thanks in part to a marriage of convenience with the audio maker Rotel.
I've also been a fan of Rotel's for many years. In fact, Rotel equipment powers both of my 5.1 channel home theaters and I love the stuff. So when I discovered the Rotel/Oppo connection, I had to try a BDP-95.
I haven't been disappointed. This is definitely a step up from the company's previous Blu-ray players.
The BDP-95 is a handsome unit and you can tell by looking at its rear panel that it isn't just a gussied up BDP-93 but that it has its own design, which includes balanced XLR stereo audio outputs suitable for professional use. It also uses a different chassis and many different components that Oppo says it optimized for audio performance.
Pretty Pictures…
One naturally thinks of video quality when talking about a Blu-ray player, and the BDP-95 takes a back seat to nothing here as well. Oppo uses a Marvell Qdeo Kyoto video processor to provide the most up to date video noise and artifact reduction, which results in natural-looking video that's "pop off the screen" rich and gorgeous.
The Oppo also upconverts DVD's to near HD 1080p beautifully, letting you hang onto your DVD library without having to hold your nose while slumming in the non-HD world. It still isn't real HD, but it's the best up conversion I've seen.
You'll want to set the Oppo to 1080p output if your TV has that capability, to take best advantage of its output, but the Oppo will also output in 480i, 480p, 720p and 1080i. And it offers true 24p capability, of course, so it plays back movies shot at 24 frames per second the way they're meant to be seen. That means if you use a good, reference quality Blu-ray disc – and there are many of them – it'll look spectacular. Of course, your TV needs to have that capability, too, but it's common on today's TV's.
For videophiles with external video processors, the BDP-95 has a "Source Direct" mode that sends the discs' original audio/video content, bypassing any processing in the player. There are also multiple zoom modes, aspect ratio control and a "subtitle shift" feature that lets you move the subtitles up or down, so you can still see them if you're using a "constant image height display" – we're talking high end stuff here. 

Another nice touch is dual HDMI (1.4a) outputs you can use to send the video to one source and the audio to another – or to send both to two displays. Now that's flexibility! I'm only using one right now, using my Rotel RSP-1570 processor as a switcher, but if I decide to string a long HDMI cable to my other home theater upstairs, it's nice to know I can.  
On the audio side, the unit gets dual SABRE32 Reference Audio DAC's (Digital-to-Analog Converters), which Oppo claims is "The world's best performing 32-bit audio DAC solution targeted for high-end consumer applications and professional studio equipment."
Without getting too technical, the DAC's put out a dynamic range of up to 135 dB with Total Harmonic Distortion plus Noise of -120 dB, both of which are incredible specs.
The BDP-95 also uses two ES9018 DAC chips, one for the 7.1-channel output, the other for dedicated stereo output.
Where Rotel comes into play is in the BDP-95's Toroidal Power Supply. Oppo says Rotel custom designed and built the power transformer for them (though Rotel uses such stuff in their own equipment as well), and that it's more efficient and with a much lower exterior magnetic field than traditional transformers. I don't really understand all the technology, but I do understand the sound quality. It's exquisite, the best I've heard from a Blu-ray player.
As mentioned, the BDP-95 has dedicated analog stereo outputs, but there are also 7.1 channel analog outputs, and that's what I use to get the multi-channel audio for both music and videos to the Rotel preamp/processor – though I'm only running a 5.1 system. I use the stereo outputs when I play stereo CD's, because I can, but they also sound great through the 7.1 outputs except, of course, that only the front left and right channels are used.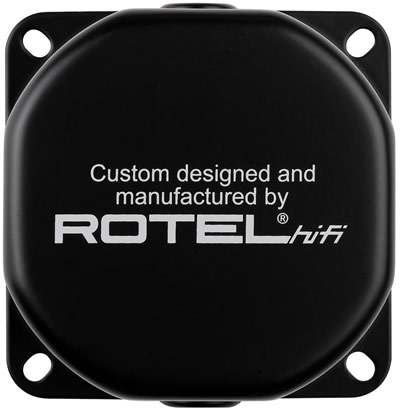 Audio transmitted via HDMI sounds great, but I think the analog outputs produce sound that's richer and more immersive, whether you're listening to music, movies, or whatever. Perhaps that's a testament to the Oppo's excellent on board decoding. The drawback is that you need a lot more patch cords!
Oppo also includes digital optical and coaxial outputs, so it doesn't matter what type of destination you have. This might be good incentive to purchase a unit even if your audio system hasn't yet evolved into the wonderful world of HDMI. You know the player will be there to handle whatever you throw at it down the road.
Obviously, the BDP-95 will decode the lossless Dolby TrueHD and dts-HD Master Audio formats you find on Blu-ray discs, and it  also outputs LPCM via HDMI or the 7.1ch analog audio outputs.
Naturally, it'll also play the "old fashioned" Dolby Digital and Dolby Digital Plus, dts-HD High Resolution Audio and dts Digital Surround formats.
And that's just the beginning. This is as close to a universal player I've seen, supporting Blu-ray Disc (2D and 3D), DVD-Audio/Video, SACD, HDCD, CD, Kodak Picture CD, AVCHD, MP4, DivX, MKV, FLAC and WAV from recorded discs or from USB or eSATA drives. If you're one of the few people these days who has SACD discs, the Oppo will output their native DSD bitstreams or convert them to LPCM.
You can configure the BDP-95's output in a variety of ways thanks to an easy to use menu system that even includes speaker balance setup routines with extensive subwoofer crosser frequency choices (anywhere from 40 Hz to 250 Hz).
Alas, I found a limitation here in that you can only set speaker distances in pairs, so if you're unlucky enough to not sit right smack dab between a pair of speakers (if you sit off to the right or left, for example) the balance will be off a bit. In practical use, though, I didn't find this to be a big deal.
You also get two USB inputs, one on the front and one on the rear. I use the rear one to hook in the wireless network adapter Oppo includes in the box so I can take advantage of BD Live (if you call it an advantage) and to stream music from my computer.
The Oppo isn't set up natively to stream such stuff, though it will stream from sources like Netflix and Blockbuster on Demand – but I use the PS3 Media Server app on my computer for streaming both audio and video sources and the Oppo handles it well.
You can also network the BDP-95 via its built in Ethernet port.
Oppo has even thought out its remote well. It's backlit, well laid out and easy to read.
The BDP-95's performance is spectacular. To audition the video, I used not only my HD test discs (with their test patterns and various torture tests), but such great titles as "The Incredibles" and "Batman Begins." It isn't hard to find great source material these days.
The Oppo's picture knocked my socks off. Alas, I haven't had a chance to try its 3D performance yet, but given my experience with Oppo I have no reason to think it won't be top notch.
As for the audio quality, need you ask? I've been putting it through its paces with a wide variety of my favorite test stuff, with sources ranging from streamed MP3's to stereo CD's, DVD-Audio and SACD discs and music Blu-rays (concerts and music-only programming).
DVD-A's included Les Brown's "Session #55," Beethoven's "Symphony No.9," Dire Straits "Brothers in Arms," and others. I also played the SACD's of "The Dark Side of the Moon," "Every Good Boy Deserves Favour" and both the SACD and Blu-ray of 2L's TrondheimSolistene Divertimenti album. Concert discs included Eagle Rock's "Ray Charles Live at Montreux 1997," which sounds fantastic even on a lesser player.
I also used analog-original CD's such as The Who's dynamic, remastered "Live at Leeds" and a series of analog and digitally-sourced test discs I've collected over the years to test the BDP-95 in stereo mode.
The sound is awesome. The imaging's wonderful, with a wide and deep sound stage, and the overall sound is extremely smooth, dynamic and detailed, with no trace of shrillness unless it's on the source material. The BDP-95 has taken everything I've thrown at it and tossed it back through the speakers as if to say "Is that all you've got?"
As often happens when you upgrade your equipment, I found myself discovering things I'd never heard before, even on discs I've listened to hundreds of times.
Movie soundtracks sound superb, if the source is good. And the Oppo doesn't just excel with explosions, gunfire and the big stuff that's so much fun; quiet, subtle sounds and ambience are reproduced exquisitely; a well recorded and mixed soundtrack puts you right in the action like I've never experienced before. It can be truly breathtaking.
I definitely have a new favorite player.
The Oppo lets you shut off the video side to concentrate only on the sound. I must admit I didn't hear much difference that way – and you can't access a disc's on-screen with the video shut down – but it's another indication of the attention to detail Oppo brings to the task.
Heck, the BDP-95 even comes with a nice, black carrying bag you can use to take it over to your friends' when you want to make them jealous.
About the only shortcoming I can think of is the BDP-95's difficulty liaising with my home network without me running sever software on my PC. I have an inexpensive Western Digital box in my living room that does a better job at that, though it isn't fit to shine the Oppo's shoes in any other way.
Okay, a grand is a lot of money for a player – more than many people are willing to pay. You can also spend a lot more. Having used the BDP-95 for a couple of months now, however, I think it's a bargain, considering its performance and capabilities.
Which makes it yet another great value from Oppo.
Copyright 2011 Jim Bray
TechnoFile.com