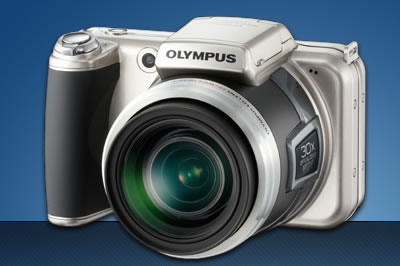 Olympus Camera Takes Sweet Shots
By Jim Bray
August 25, 2010
Digital cameras continue to make great strides, and the Olympus SP-800UZ is a good example of the species today.
I've been using one for a couple of months and like it a lot. It not only would make a great replacement for my older digital camera, it ups the technology ante substantially, with excellent features such as an 30 times optical zoom and the capability to shoot 720p high definition video.
I got to put the camera through its paces in a variety of great venues, including a summer vacation/family reunion and the Honda Indy Edmonton, where I had an excellent view of the hostilities.
The SP-800UZ is nice and slim – so much so that it would nearly fit into a shirt pocket if it weren't for the big lens sticking out of the front. You'll want that lens, though; the 30x zoom capability works very well – as long as you remember that the more you zoom, the more the image tends to shake.
Fortunately, there's also pretty good image stabilization built in and my long zoom shots turned out pretty well. Olympus calls their stabilization a "2-in-1 anti-blur solution" in which their Sensor-Shift Image Stabilization, which compensates for camera shake, combines with Digital Image Stabilization to work even better. And it does work well, though if you're doing a lot of shooting like that you really should spring for a tripod.
Olympus says its 30x wide angle optical zoom lens (F2.8–F5.6, 28–840mm equivalent) is the longest, most powerful zoom in the world. It's also very compact, coming in much smaller than the 12x optical zoom on the admittedly older tech camera I use most of the time.  
The SP-800UZ is a 14 megapixel camera, so you can get very fine (or very large) pictures.
Naturally, I tried a variety of the different resolutions Olympus offers and all my pics came out great, with the exception of the ones into which operator error slipped somehow, but I found myself preferring the 16x9 modes, which gave me shots measuring 1920x1080, usually at less than a megabyte of storage space. Widescreen is better for viewing on modern TV's, computer monitors and digital frames.
The camera has a really nice, simple interface. Rather than just throwing icons at you and expecting you to have read through the owner's manual to know what they mean, the Olympus also gives you a little description of what each function is meant to do. It's a very nice touch.
There's no optical viewfinder on the camera, but it has a very good, three inch LCD that features an extra-wide viewing angle as well as anti-glare technology that helps you compose and shoot in direct, bright sunlight. That doesn't mean it won't wash out somewhat in really, really bright sunlight, but it's definitely a very good performer under most conditions.
Using the camera is very simple. Once you've chosen the settings you want, it's basically just point and click, with the zoom control right with the shutter control, at your index finger. You have to open the flash manually, but that didn't bother me too much.
When composing your shot, you get a green square in the LCD indicating where the autofocus is, well, autofocusing, and you can also track fast-moving objects – as I discovered to my delight at the Indy race, where I captured the cars zooming by at breakneck speed with little blur.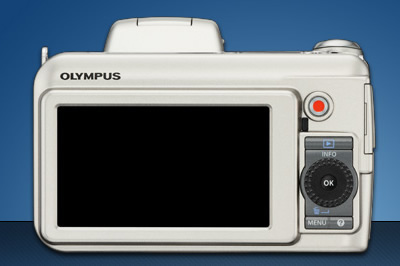 The camera's "Intelligent Auto" feature looks over the scene you're shooting – taking into account such stuff as whether or not you're shooting in portrait or landscape, at night, macro, or sport mode – and then adjusts the camera's settings for the best results. Face Detection focuses automatically on your subjects' faces, not surprisingly considering the feature's name, tweaking the exposure for portraits.
Alas, when my wife tried taking a portrait of me, it detected my face and refused to let her continue…
I also liked the HD Movie 720p feature, which I used to capture the Indy race's start, Helio Castroneves' first pit stop, and other such stuff. The footage came out really good, with decent audio as well – though it was hard to judge that since the race was so darn loud.
Starting your movie requires only the press of a red button next to the viewfinder, so there's little messing about you have to do.
I was disappointed to discover that I couldn't zoom while shooting video but the SP-800UZ isn't meant to be a professional HD video camera anyway; the fact that it shoots good video at all is a bonus.
Creative Art Filters are in-camera effects that can give your shots their own look and feel. Effects include Pop Art, Pinhole, Fisheye and Drawing. I don't put much stock into such things, but they work fine and they're there if you want them.
What I liked better was the built in Panorama feature, which captures three images and stitches them together to create one picture – and all you have to do is press the shutter button and pan slowly across a scene. This was wonderful at the Indy race as well, and the feature works well.
Olympus' Shadow Adjustment Technology is meant to help you capture scenes in difficult lighting situations such as outside shots in bright sunlight or when your subject is backlit. I managed to try some of this and was impressed; we also got some pretty nice outdoor night shots at a barbecue.
If you're hanging out with vain people you might appreciate "Beauty Mode" which lets you smooth a person's skin and even remove wrinkles or blemishes. Beauty Fix, a post-capture feature, lets you do things like emphasize and brighten your subject's eyes.
Who needs an airbrush?
And Perfect Shot Preview uses a live, multi-frame window on the LCD to let you look over the various effects and settings before you shoot.
The lens cap fits a bit loosely, so it tends to fall off easily. On the other hand, you can just fire up the camera by hitting the power button and it'll push the lens cap out of the way, rather than chugging against it until you bail it out. I suppose this could be considered a nice way of helping prevent finger marks from getting onto the lens accidentally, but I'd rather have seen the cover a little tighter so it wouldn't fall off as much.
I would also have preferred a more standard USB cable to hook it into its AC adapter and your computer. I made the mistake of taking the camera on an out of town writing assignment and discovered to my chagrin that one cable won't fit both my digital voice recorder and the Olympus. That forced me to run out and buy another USB cable, a real annoyance since I have about a thousand at home that would have worked if I'd bothered thinking about it before I left.
Those are pretty nitpicky gripes, though, and are really my only complaints about this terrific little offering from Olympus. I love its features and performance and, while it's a little bigger than I'd like for my next camera, that 30x zoom certainly makes the size easier to take.
The Olympus Sp-800UZ retails for about $350.
Copyright 2010 Jim Bray
TechnoFile.com