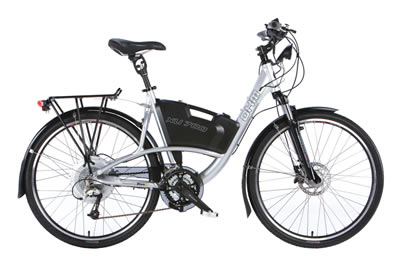 OHM Bicycles Make for Power Pedaling
By Jim Bray
August 13, 2010
Avid bicyclists, environmentalists, or weenies who don't want to work hard may want to check out OHM bicycles, power-assisted units that certainly made the ordeal of bicycling easier for this sedentary writer/weenie.
OHM bills itself as the premium brand of power-assisted bicycles and claims to offer the only power-assisted bikes equipped with the patented "BionX" torque sensor. It's a technology they say responds automatically to the way the rider pedals, providing a smooth, natural sensation – even, supposedly compensating if one of your legs is pedaling more strongly than the other.
While that smooth, natural sensation part sounds kind of like a condom ad, in my limited experience with bicycles (I've avoided them for the past 35 years or so, preferring to drive cars or do anything else but expend my own energy), the bikes do work as advertised.
What I liked most about the OHM bikes – in fact, the thing that got me interested in testing one – is that when I got tired of pedaling, or was faced with pedaling up hills, there's a little lever on the handlebars with which you can fire up the electric motor and turn the bike into a mini-motorbike.
Yep, it's not only a nifty bicycle, it's a bicycle for lazy people! Fire up that electric motor and the bike does all the work except steering – and you actually zip along at a pretty good clip!
That's not what it's really meant to be for, though; the power assist designed as an assist that gives you a boost while you continue pedaling, more a hand up through the difficult parts of your journey than a replacement for your own sweat equity. It can also let you to go farther in a trip, or maybe arrive at work a little less lathered than you would with a conventional bike.
OHM Cycles (the name comes from the German Physicist, Georg Ohm) is based in Vancouver, B.C., Canada, and the company says its Urban and Sport series products are the result of 5 years of research and testing.
You can operate an OHM "electro-bike" as a regular bicycle or in "auto assist" or "regenerative" modes. The regenerative feature is like that in a hybrid car, in which the battery pack is recharged by energy captured when you use the brakes. OHM says it's also accomplished while you ride.
My $3299 (Yikes!) Urban XU700 test unit is available with either an 18, 19, or 20 inch frame and a Suntour NEX fork. The bike's Shimano Deore derailleur offers 27 speeds and the BionX 350W power hub offers a peak power of 700 watts. This may not be enough to get you up Mount Everest but it was enough to let me flit about the areas in which I live without having a major coronary, and I probably used the power assist more than most owners would.
The seat post features Suntour Suspension (and while my friends thought the seat was comfortable, I found it held the family jewels in a manner that in past times would have led to fisticuffs if I complained about it, but which now would undoubtedly result in a trip to a re-education camp for diversity and sensitivity training. I'm sure I'd get used to it over time.
The bike's Tektro Hydraulic Disc brakes have excellent stopping power, stopping nice and short but (fortunately) also stopping short of propelling my bulk across the handlebars and into oncoming traffic.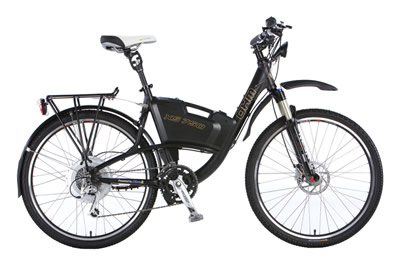 Standard accessories include bright Busch & Muller IQ lights, an all-weather polycarbonate mudguard and a Topeak rear carry rack that looks like it would work fine if you want to attach a case of beer to it with bungee cords. I didn't actually try that because it would have added extra weight and that was the last thing I needed.
OHM says the rechargeable lithium-ion battery can give you up to 90 miles of power assist on one charge and will recharge to 90 per cent of its capacity in a scant 20 minutes. Recharging is accomplished via a standard AC outlet and a full charge takes only three hours – just enough time for a leisurely burger, fries and a couple of beers while you wait!
The battery can be charged right on the bike or you can use OHM's quick connect system to remove the battery pack easily and recharge it off the bike. This would undoubtedly make sense if you use multiple battery packs.
The OHM's LCD command console features a multi-function meter with which you can monitor your speed, the amount of battery charge you have left (a.k.a. "when do I have to turn back?"), the level of power assist you're getting or the amount of regeneration you're getting. I didn't get as much regeneration as Doctor Who does, but it was enough that the bike would go farther than I would if I'd had my druthers which, fortunately, I did.
The backlit screen is mounted on the handlebars in nice view and the "gas pedal" power assist control sticks out of it, in easy reach of your thumb.
There are four power-assist levels: 35, 75, 150, and 300 percent boost to your pedal effort.
There's even an anti-theft alarm.
The electric motor is integrated into the rear wheel and can propel the bike up to 20 mph, with surprisingly quick acceleration and very good hill climbing power.
The company says the OHM bikes are designed to operate in a broad range of climate conditions, with all the electronic components, including the control console, battery, charger and electric motor, sealed to protect them from the environment. I refused to test that, which meant I had to go through two samples before I could do my review. The reason was crummy weather in my area during my first test sessions, weather that meant I would've had to ride the bike through rainy, bone chilling weather – and I'm far too much of a wimp for that.
Much to my chagrin (and OHM's delight, I figure), my hesitation led to them selling the bike right out from under my prodigious butt; fortunately, they made another one available a few weeks later and the weather was much more cooperative that time – so much so that I actually perspired during some of my rides.
I thought I was going to die.
The first sample, which was actually a 2009 Sport model, seemed a tad better built than the subsequent one. The chain on the second unit liked to slip while changing gears and the "gas pedal" lever on the handlebars wasn't mounted as solidly and that made it a tad more difficult accessing the electric assist (which really rubbed me the wrong way!). I'm confident that these issues could be fixed easily with a couple of minor adjustments, but I wasn't about to start poking around with things.
The Urban XU700 model is designed for zero emission commuting – if you don't consider sweat an emission – as well as, according to the OHM folk "overall cycling fun" in an urban environment. The Sport XS750 is their all-terrain model.
The OHM "Urban Mobility Vehicle" is a pretty cool idea. I can see it being popular with new bicyclists making their first venture into the world of two wheeled transport – whether for the purpose of exercise or to ease the supposed burden put on Person Nature by the infernal combustion engine.
I can also see it being a choice for people who are avid bicyclists already, as I discovered when I cajoled a couple of good friends into trying my test Urban XU700. These are people who think nothing of commuting about 15 miles to and from work via bicycle or of flying to far-off countries to bicycle across them.
Their initial thoughts were that the bike was a real beast when it came to its weight (one of them has a carbon fiber bike that seemingly weighs about as much as a wet butterfly) but by the time they'd spent some time behind the handlebars they told me they were quite impressed with the thing.
Among their comments were that the bike was built from very good quality materials and that, despite its weight (which is exacerbated, of course, by the battery pack, motor and other related stuff) it was a pretty good biking experience.
Given my lifestyle I'd be better served with a scooter or motorcycle (or a Porsche!), though an OHM bike would be an excellent way for me to get some much-needed exercise without getting beaten over the head with it. I've given it some thought, too, but that $3299 price tag keeps rearing its ugly head.
On the other hand, while researching this piece I came across prices for non-electrically-assisted bikes that approached – and even exceeded – this amount, so I guess it all boils down to your lifestyle, needs, and budget.
In which case, the OHM may be a "powerful" choice.
Copyright 2010 Jim Bray
TechnoFile.com