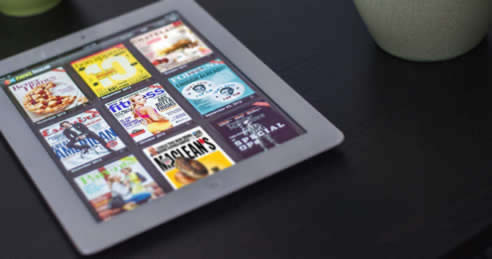 Rogers Media thinks its Next Issue Media is a better mousetrap for catching eyes online
By Jim Bray
October 10, 2013
With the print media dying a slow death, threatened by competition from things online, publishers are being forced to scramble to maintain their market share and profitability. This is leading them to look at new ways of delivering content, stretching the traditional envelope entirely out of shape.
So it is with Canada's Rogers Media, which is not only one of the country's largest telecom providers but which also owns a number of radio and TV stations as well as magazines.
Online is where the action is these days, but the conundrum for content providers is how to offer your stuff on the Internet while still making money in an area in which people seem reluctant to pay for content.
Rogers' idea, an adaptation of an existing American one, is a subscription-based service the company thinks is the "future for content consumption." To that end, Next Issue Media Canada is a partnership between Rogers and such U.S. companies as Condé Nast, Hearst, Meredith, NewsCorp, and Time Inc. As of October 15th, the service promises to provide Canadian consumers with "exclusive and unlimited access to a catalogue of more than 100 top-tier Canadian and U.S. titles" via what they say is an easy to use tablet app - and a hopefully easy to take single monthly payment.
Look at it as one stop "swiping" for your online magazine content, gathering a plethora of publications together under one basic app.
"Rogers continues to be at the forefront of digital innovation, marrying the latest technologies with world-class content to lead the transition in how audiences experience their favorite brands," said Rogers Media's President, Keith Pelley. "With the evolving media landscape and rapid growth of subscription-based services, Rogers Media is in an enviable position with our robust content offerings across publishing, television, radio, sports, and retail."
Of course, that's what one would expect the president of the guys doing the job to say, and this Next Issue thing relates more to magazines than their TV and radio content (why wouldn't they include that content, too?). Rogers seems to be taking the project seriously, however, and is investing time and talent toward its success. That includes hiring Ken Whyte as Next Issue Canada's president. Whyte has been a media staple in Canada for years; his last gig was as President of Rogers Publishing and Custom Content but before that he's worked for a variety of publications, including Maclean's and, if memory serves, the National Post.
Pelley said in the press release announcing the service that "we believe so strongly in the digital future of content, and the power of the Next Issue platform, that we're putting the country's most creative publishing mind, Ken Whyte, at its helm. With Ken's unrelenting passion for superior content and understanding of audiences, he will lead Next Issue Canada with the vision and spirit of inventiveness that has become his signature in the Canadian media landscape."
As for Whyte, the same release quotes him as claiming that the original, U.S.-based Next Issue platform was the first all-you-can-read subscription digital magazine service, offering what he called "the world's best magazines" in a format that "enhances what readers love about magazines: the sensory experience, the stunning visuals, in-depth content and the discovery of the unexpected." Whyte also said the Canadian version "delivers added value with an all-you-can-read experience. It retains the best of print while making the content come to life vividly, giving readers a more personalized, interactive experience. As a result, the magazine of today is even more powerful than the magazine of yesterday."
Next Issue Canada will give customers access to Rogers's leading brands ─ including Maclean's, Chatelaine, FLARE (I never really got that spelling: wouldn't "Flair" make more sense for a fashion/lifestyle-type magazine?), Today's Parent, Sportsnet, Canadian Business, LOULOU and MoneySense. American content will include Vogue, The New Yorker, Vanity Fair, GQ, Esquire, Fortune, Glamour, Rolling Stone, Sports Illustrated, TIME, and many more including, if Next Issue Canada's website's video is accurate, Car and Driver.
Basically, a pretty decent cross section of mainstream media (for better or worse), but in a digital format that may offer more compelling packaging and a more interesting experience than a garden variety website.
Next Issue Canada subscribers will pay a base price of $9.99 per month for all of the monthly magazines on offer; Rogers says customers will be able to browse and discover new titles at no extra cost. And for an extra five bucks a month, the service will also offer access to all of the platform's weekly publications. Back issues are included with either subscription, they say.
As of its October 15 launch, Next Issue Canada will be available for iPads, Android tablets, and Win8 devices, and be offered initially exclusively to Rogers wireless and cable customers for a two-month free trial. The full Canadian rollout is scheduled for December 15, at which time all Canadians will be able to access Next Issue Canada, with the first month being given away for free, just to get you hooked on the concept.
American subscribers to Next Issue will be able to access the Rogers content as of October 15 as well.
The original Next Issue Media, formed in 2009, was originally a joint venture formed by Condé Nast, Hearst, Meredith, NewsCorp, and Time Inc.. The initial version of the Canadian app will be in English only, but they promise a French version will follow in 2014.
I'm not sure how many folks they'll snag with this pay service; obviously, they aren't the first to try such schemes and they probably won't be the last. But so far it seems from previous attempts by organizations such as the New York Times haven't brought the flood of customers flocking to their apps as had been hoped. On the other hand, the price does seem reasonable for the number of publications you get, assuming you'll access enough of them to make it worthwhile.
There's also the question of the app itself. I've used such apps and to be perfectly honest, I'd rather just have a decent website than the apps I've seen so far, even though the apps can be pretty cool. But a good website can be viewed in a browser, eliminating the need for a proprietary app, and they can also give easier access to reader feedback, which sometimes offer a pretty interesting range of commentary from the public.
Still, your mileage may vary and if you're interested in the concept, there's a short but not very informative (other than the titles offered) video at www.nextissue.ca.
Will this be the better mousetrap to get people engaged in Rogers and its partners' online content? Who knows? But it's another choice (and I expect the magazines will still have websites), and choice is rarely a bad thing.
Copyright 2013 Jim Bray
TechnoFile.com