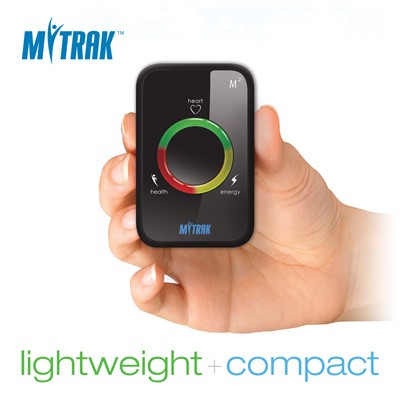 Losing weight through technology – and some apps to help your PC run better
By Jim Bray
February 25, 2012
How does a writer with a sedentary lifestyle lose 25 pounds if he doesn't want to do physical stuff like join a gym?  And how does such a person keep his PC from drowning in virtual fat considering all the applications he's constantly adding and deleting?
To answer the first question, I've just started a TechnoFile fitness experiment courtesy of The Biggest Loser SlimCoach by MYTRACK that will apparently force me to be more responsible than I have been – much, I'm sure, to my chagrin. The answer to the "virtual flab" question comes from Uniblue courtesy of a trio of utilities designed to tweak and maintain your PC.
Dumping 25 pounds of ugly fat without cutting my head off…
As a writer, I spend most of my time sitting and this – coupled with my love for food and drink – has led me to realize that it's time to get off my duff and do something about my middle-aged paunch before something awful happens. Reducing my carbon-based life form footprint been on my mind for at least a year; I bought a Wii in early 2011 so I could work out with the Wii Fit and have been doing its regimen semi-faithfully since then. And while the Wii Fit does help, it hasn't been enough to get my weight where I want it.
The problem with the Fit is that it treats you like a child and it's designed so that you can't skip through its virtual prattle even if you're familiar with the exercises and don't need all the hints and cajoling every time you fire it up.
Then the MYTRACK folks offered me a chance to try this "Biggest Loser-related" system and since it fits in with what I want to do anyway it was hard to refuse the opportunity.
What I'm going to do, then, is try their system: a combination of what resembles a high tech pedometer coupled with an online coaching and tracking component that synchronizes with the Slimcoach. I'll do my best to follow its regimen and see what results I get over the next few months. And I'll report my progress back to you periodically.
My goal is to lose 25 pounds by August (it's late February as I write this). Hopefully by the end of what I anticipate to be a real ordeal, I'll end up a svelte babe magnet – assuming all the babes are struck blind.
According to MYTRACK, "The key to committing to a fitness plan rests on setting attainable goals and motivation" and that "The ultimate in fitness motivation is in giving real time results to show how one is progressing toward a daily goal." I take that to mean a little "virtual nagging" is on the menu.
Still, it makes sense. Motivation has always been my downfall, in that I feel motivated until I have to sacrifice a beer or a burger, at which time my will power goes out the window.
Pressing the button on the SLIMCOACH, which I wear on my belt or waistband, lets you see your "health circle;" the greener it is, the closer you are to reaching your daily goal. It's another bit of "virtual nagging" you can use as you go about your daily business to help see how you're doing. I have a feeling I'm going to hate it…
Right now I'm in the first couple of days, during which the system says it's learning about your individual style and you are therefore not to worry excessively about what it says. I'm still learning the software, too, where you get diet advice, choose (or admit to) the foods you're actually eating, etc.  We'll see what happens going forward, but I'm confident, motivated, and ready to go. And now that I've admitted all this publicly, I'll look like a fool if I don't put my heart into it and follow the plan, so I guess I'm committed.
Each purchase of $130 The Biggest Loser SLIMCOACH comes with a one year standard subscription to the online tools. There's also a MYTRAK Online Health Community, according to the company, to give you further support "from like-minded people who challenge others to do their best and offer support and advice along the way."
So it's a race! Either that are there's even more virtual nagging on tap. I don't know; I haven't tried that part yet.
Still, the system got me off to an encouraging start by noting that my goal of 25 pounds by August works out to only about a pound a week. Heck, if I can't hit that what good am I?
I guess we'll see!  
Keep checking back for periodic updates as I upload my data and log my daily food intake (assuming the input fields are big enough to handle it!).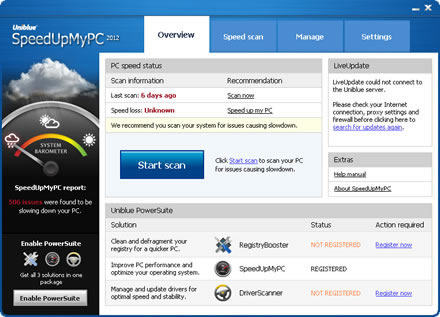 Keeping your PC Fat Free…
Meanwhile, I've also been using Uniblue's PowerSuite – though I downloaded it as separate components rather than as a suite – to see how it keeps my computer humming and so far it has been doing a fine job. I'm glad for that, because some utilities I've tried in the past actually seemed to do more harm than good.
The $60 Suite includes SpeedUpMyPC, RegistryBooster and DriverScanner, all of which are the 2012 versions. All of the utilities pore over your PC and produce a report of problems they find, whether it's bad or out of date drivers, stuff cluttering your system, or whatever. You can schedule them to run daily, weekly or whenever you want; I run them manually just 'cause I can, but also have them set for a weekly session.  
SpeedUpMyPC scans your network settings, RAM and CPU functions and identifies the processes, files and settings that are slowing down your system. Then it brings to the battle a set of tools such as a CPU Manager and Software Launch Booster to optimize your system.  
This morning's SpeedUpMyPC scan found 335 issues it claimed were slowing down my system, from processes that were running (and which didn't need to), to junk files that were just sitting there taking up valuable resources. A simple click on the "Fix Issues" button sent it sallying forth onto my system, roto rootering it back into some semblance of order.
RegistryBooster looks over your Windows registry, finds errors and lets fix them if you choose. I choose. I've wandered about the Windows registry myself when my system appeared to be getting increasingly decreased abilities and I don't recommend it for a non-expert. I speak from experience. I'm definitely a non-expert and, though I find it hard to trust any software with something so critical, Uniblue's utility has done the job well to date. And before it makes any changes, it backs up your existing registry as a fail safe. I haven't had to resort to that, though.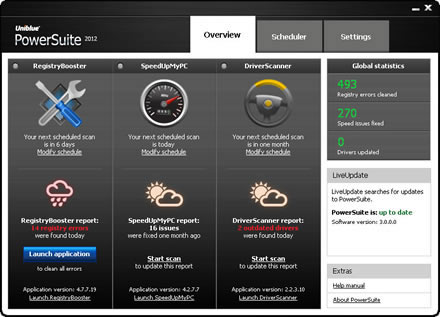 My Registry needs to be flushed out periodically because whenever I install or uninstall a software application (which I do often) or change your hardware or settings, changes are made to Windows' registry. It's like dust; over time the registry suffers an ugly build up, but instead of gross filth it usually consists of obsolete or corrupt entries that can make your system unstable, slow or prone to crashes.
RegistryBooster deep scans the registry and then repairs or removes harmful stuff. You can also defragment your registry to help increase speed and efficiency, and you should probably do this every so often.
You can choose what want fixed or let the robot go to work itself. I usually let the droid do the work – isn't that what it's for? – and so far have a PC that leaves me little about which to complain. This is unusual…
The third utility is DriverScanner, which I don't use nearly as often as the other two but which is nice to have around. DriverScanner sniffs around your system, then gives you a list of drivers (the software that helps your hardware interact with your PC) that need to be updated. You can then get DriverScanner to seek out and install each update. It sure beats going over all your hardware by hand, trying to find if your video and audio drivers, etc. are all up to date! And then finding the updated drivers!  
The Malta-based Uniblue is by no means the only company that offers such products, of course, but in my experience so far these products do seem to work as advertised. The best thing about it is that after I first ran the suite, some software that had refused to run on my Windows 7 PC for ages – even after I uninstalled and reinstalled it – started running again. For that I'm very grateful.
I haven't timed application loading times or done anything like that, but overall my PC does seem faster and more stable – and that software the suite seems to have fixed still works just fine!  
My PC seems to like its fat free condition. Let's hope MYTRACK's The Biggest Loser SlimCoach  can treat my paunch the same way!
Copyright 2012 Jim Bray
TechnoFile.com