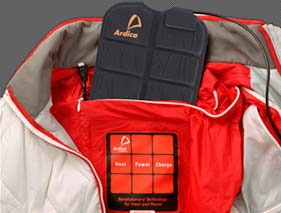 Technology Makes Outdoors Wonderful in Winter
By Jim Bray
February 17, 2010
Despite claims of global warming zealots, winter is cold. Keeping warm while being active outdoors in winter can be a challenge.
Answering that challenge is Mountain Hardwear's line of Ardica-enabled winter clothing and Sanyo's "eneloop" hand warmers. With them, you can say "Begone, Al Gore!" and revel in Old Person Winter's annual visit.
My wife and I got to try both of these technologies during some particularly frigid weather and thanks to them discovered that keeping warm can be pretty cool.
The Love of My Life (also known as "She Who Shall Be Obeyed") enjoys walking our dog morning and night (I walk the dog, too; I just don't enjoy it), and started using the Ardica-equipped jacket around Christmas. It's short – leaving her lots of room for movement and me lots of opportunity to, well, I find my wife quite attractive.
She was a little disappointed in the "Radiance" jacket's shortness, though. While it may be excellent if you're skiing or doing real exertion outdoors, she found that for her more non-athletic needs her posterior tended to get a tad frosty when it was really cold outside.
Other than that, though, the jacket worked fine, even when it got down to about 20 degrees below zero.
What makes such a wintersport jacket uniquely suited to winter is not just its construction, but the pocket at the yoke on the back, into which slips the Ardica battery pack/warming unit that connects to circuitry inside the jacket.
Mountain Hardwear, of Strathroy, Ontario, claims to be the first to offer such "Outerwear that Heats the Body", and it's a concept that could prove pretty hot for them. Not only are the jackets ("Refugium" for men and "Radiance" for women) pre-wired to provide heat on demand, they also provide power and re-charging capacity for handheld electronics. They do the latter via a USB thingy that protrudes from inside the jacket into its left hand pocket. It'll work for any device that uses USB, such as a media player, iPhone etc.
Installing the Ardica pack and hooking it into the jacket is very easy – just slide the pack in, snap the connectors onto it, and you're ready to go (once it's charged).
The Ardica power/heating stuff, which is sold separately from the jacket, actually works quite well. The charging, accomplished by plugging the pocket's USB connector into an AC adapter, takes several hours. The company says the heat is generated through "integrated circuitry engineered into critical areas of the jackets"; the heat augments the jacket's built in Thermic Micro insulation, quilted body and fleece-lined pockets.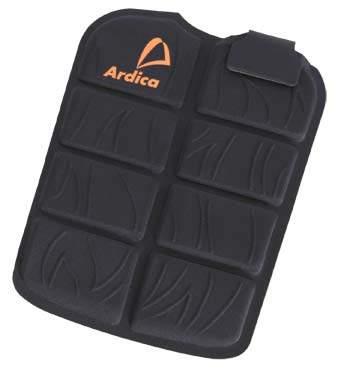 In practice, my wife found that the heat felt as if it were coming mostly from the "back pack", though other areas, including the front, are also heated. And she reports the jacket did a good job of helping keep her toasty when out with the darn dog.  
The Ardica Moshi Power System weighs less than a pound, so having it up between your shoulder blades doesn't throw off your center of gravity too much.
You can adjust the temperature, too, thanks to a little button mounted on the chest, something reminiscent of the uniform-mounted communicators they had on Star Trek: The Next Generation. Pressing the button repeatedly cycles through the temperature presets and you can tell which one you've activated by the number of LED's that light up beside it.
The LED's, incidentally, also let you know the jacket/Ardica pack's charging status: they cycle in series as the battery charges, then turn off when it's ready to roam. You can also monitor the charge status via the LED's but, as my wife discovered when she forgot to do that, it can be a rude awakening when you're outdoors and notice a chill taking over your body as the jacket reverts to "old tech" mode.
According to the manufacturer, the temperature can be adjusted up to 37 degrees and a charge will last just short of nine hours. That's pretty good, as is the ability to recharge your electrical device without leaving the ski slopes if you like grooving to your tunes – or being in touch via your cell phone – while schussing with abandon. Remember, though, that the more power you divert to your device the shorter your heating charge will be. There ain't no such thing as a free lunch!
Mountain Hardwear says the lightweight fabrics they use provide excellent breathability and "odor control for all-day comfort". If it really wanted to control odor, though, you'd think the jacket would hang down low enough to cover your butt for those days when you kick back in the chalet with a few bowls of chili…
The company also says its MicoClimate Zoning construction maps the body's hot and cold zones, giving more warmth in cold areas and more ventilation and breathability in "your hot zones". I asked my wife how things were in her hot zones, but I think she misunderstood what I meant because she slapped me soundly.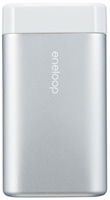 My wife did find a down side to the white color of the sample jacket Mountain Hardwear sent us: it blends in with the snow! In her case it meant that, on at least one occasion, the bus driver didn't see her standing at the stop and drove right past her!
Still, when all is said and done, she likes the jacket very much and it keeps her nice and toasty.
The manufacturer's suggested retail price for the Refugium and Radiance jackets is $270 and the Ardica Moshi system sells for $160 plus $60 for the Tech Connector Kit without which it won't do your jacket or electronics much good unless you drag it around in your back pack.
The clothing is aimed at runners, cross-country skiers, and other endurance athletes, though I'm sure they'll take your money even if you only want to walk the dog.
Even the best jacket won't keep your hands warm unless you pull them up inside the sleeves or keep them in the pockets, but that isn't very practical when you're out and about and need to use your paws for whatever reason.
That's where Sanyo's "eneloop kairo" comes in.  This is a rechargeable hand warmer (for those with rechargeable hands) you can slip into your mittens or gloves to maintain that toasty glow when you're suffering through global warming.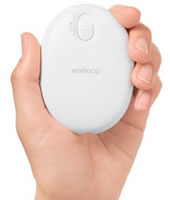 The two-sided eneloop kairo (model KIR-SL2SS/P) is not only rechargeable, it's a battery charger as well. Its rectangular-shaped, aluminum body heats on both sides.  
I can think of a million applications for these, from parents watching the kids at the hockey rink to the old chestnuts of dog walking, hiking or whatever. The two-sided unit joins an egg-shaped, single side heating version that has been available a little longer.
The 'eneloop kairo' is smaller than a deck of cards – more like the size of a cigarette package – and weighs only seven ounces. The two-sided version doesn't fit into the hand quite as nicely as the egg-shaped one, but it's available in silver and hot pink colors and comes with two AA eneloop precharged, rechargeable batteries. You can also use it as a battery charger.
The thingy delivers heat ranging from 102° F at its low setting to 115° F on high. It takes about 4.5 hours to charge and gives up to three hours of warmth depending on the setting you use.
Once again I enlisted my wife for the test (so I could stay indoors) and she liked the eneloop kairos quite a bit. Her preference was for the smaller, single side-heating one because of its size and comfort, but both units work well.
Copyright 2010 Jim Bray
TechnoFile.com