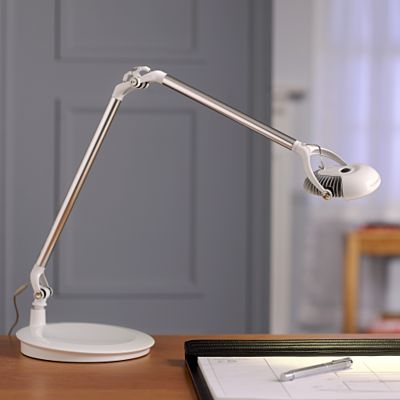 Element LED Tasks Home Theaters; MotorMouse Worthy of a Tale
By Jim Bray
July 1, 2010
Finding the proper light for a particular task can be tough. If you're working at a desk, doing finely detailed work, for example, you might want something different than if you're trying to read in a darkened home theater.
This can make choosing a light fixture more difficult than you might think. Do you go for something ultra bright, that casts a big splash of light on the surface? Do you want something more subtle, and more focused? Or do you try to find a combination of the above.
The latter question is what brought me to try the Humanscale Element LED Task Light, a product marketed by Levenger, whose website bills itself as "Tools for serious readers". I think they mean people who are serious about reading, as opposed to lacking of a sense of humor…
Anyway, when I first learned about the Element LED Task Light and its advertised bright light with a small "spotprint", I thought it might be the lamp for which I've been searching in vain since I realized my dear wife was going to insist forever on reading while I was reviewing movies. It has so far been a "never the twain shall meet" conundrum: excessive light washes out the home theater picture, especially if you're lucky enough to have a front projection system with a truly gigantic screen – whereas if I want my wife to spend quality time in the home theater with me I have to put up with her reading light washing out my 106 inch screen, making it difficult to judge a Blu-ray's picture quality fairly.
Finding the perfect compromise has so far been like searching for the Holy Grail!
But the Element light seemed like it might fit the bill. The unit is handsome, with a nicely counterbalanced design that lets you adjust its arm to just about any position you want without requiring knobs to hold it into place. The head tilts 135 degrees front to back and 90 degrees side to side, and the base lets you swivel the entire shebang through a full 360 degrees. Its maximum reach and height is 28 inches.
It also features what the maker refers to as "gills" around the light source, to dissipate heat, which means you aren't likely to burn yourself when touching the head. And, assuming you care about such things, the light is claimed to be constructed from 81% recycled and 99% recyclable materials, and consumes fewer than seven watts of power.
According to Levenger, the single Multi-Chip LED puts out as much light as a 70-watt incandescent bulb and it supposedly doesn't cast more than a single shadow on the workspace (or, in our case, "readspace").  The LED assembly can be replaced for extra endurance (the company says the thing's built to last 60,000 hours or, as their math puts it, 30 years of eight hour days), and the bulb is backed by a 10-year warranty.
I should hope so: the Element retails for $339, which is a pretty good chunk of change.
How did it work in my home theater? Chalk it up to yet another valiant try. The good news is that the light works great for my wife's reading – and it doesn't cast a footprint big enough to light up more of the room than necessary. Unfortunately, the darn thing's so bright that the illumination reflects from the surface of whatever my wife is reading, bouncing back up into the room and thereby creating the exact problem I've been trying to eliminate. Rats!
On the other hand, the Element light isn't advertised as being suitable for my purposes – I was just hoping it would work. It's really meant more for illuminating a particular task, as its name states. And as such, it's very good indeed.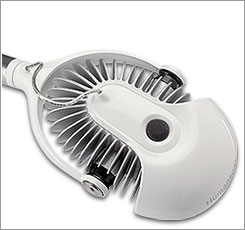 My wife is also into quilting, and in that environment the Element light works beautifully, giving a single, bright source of light that's great in her work space, whether it's over her sewing machine or work table. I imagine that if you were an artist who works with paint or whatever, the Element light would work very well for you, too.
Alas, I cannot yet die a happy man, for while the Element light works very well in its designed, er, element, my quest for the perfect home theater reading lamp continues.
An In-car-rigible Mouse…
On the upside, I've also been trying the Motormouse which, while hardly a cure for cancer, is a pretty nifty wireless pointing device that's ideal for car nuts.
Motormouse is a product of Avant Garde Gifts, a Marco Island, Florida-based company that "Strives to bring you Luxury and Executive gifts and gadgets, all available through the internet, together with outstanding customer service." Their road-going rodent is clearly inspired by the lovely Porsche 911, looking just different enough, I daresay, to avoid unpleasant lawsuits. It's kind of "911 compatible" the way DOS computers used to be called "IBM compatible", in that the main difference between them was the brand name.
Okay by me; I love the 911's classic looks. Still, basing the design of a computer mouse on a sports car might make one think such a mouse is more for looks than performance, or comfort. I'm happy to report, however, that the Motormouse performs well and is comfortable to use.
The fastback Carrera shape (and the overall size of the mouse) fits the palm of my hand beautifully and the left and right mouse buttons, which correspond to the left and right sides of the car's hood (trunk, actually, since the 911 is rear-engined) fall to hand well. The scroll wheel is like a big 911-type tire sticking out of the middle, giving the car – er, mouse – a spare tire the proper Porsche product lacks.
Of course if the 911 did have a spare tire mounted in the middle of its front, it would eliminate its already limited trunk space, as well as looking really, really weird.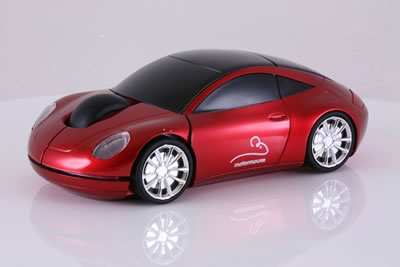 The wheel doesn't lean to the left or right, which could be important to you, but I never use that feature anyway and so the lack of that axis doesn't bother me.
The two AAA batteries, which are included, mount in the rear, via a hatchback-like opening more reminiscent of the Cayman than the Carrera, a lack of "911-ness" that may also help the Motormouse makers from getting sued. You can also store the USB receiver there when you aren't using it.
I like the fact that the receiver dongle is very tiny, far smaller than the one I use normally; I can leave it in the computer when I'm transporting it without fear of it breaking off and without having to pry open the "hood" to hide it away. The mouse also features a power saving "hibernation" feature than shuts it down if it hasn't been used for a while; bringing it back to life only requires a click of the left button.
My sample Motormouse came in a nice gift box that also included a fabric carrying case for the little rodent.
Motormice are available in red, silver and black, and pricing starts at $49.95, which I have to admit sounds a bit dear.
Still, if you want a good quality mouse that also functions both as an affectation and a potential conversation piece, I guess that's the price of admission.
Copyright 2010 Jim Bray
TechnoFile.com