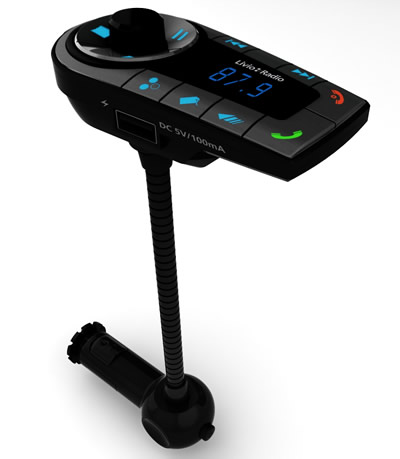 Livio Makes Old Cars New, while Verbatim Mouse Comforts Tired Paws
By Jim Bray
November 10, 2011
Livio Radio, who make the excellent smart phone/tablet apps that let you stream innumerable radio stations to your devices, is back with a new way to drag old cars kicking and screaming into the new millennium.
And it'll only set you back $120! How's that for a cheap retrofit?
It's called the Livio Bluetooth Internet Radio Car Kit, and the company says it works with any car that has an FM radio and a 12 volt charging outlet – which in old cars such as my 1991 Infiniti Q45 would be called a "cigarette lighter," horror of horrors!
With the onslaught of distracted driving laws now being inflicted upon the public, Bluetooth connectivity for your phone has never been more important. Heck, my neck of the woods even distracts attention from your driving duties by putting up big signs warning you of the law! How's that for irony?
Unfortunately, Bluetooth connectivity has only been available in the past few years, and has often been an optional item or part of a technology package car buyers might not order. That makes the idea of Livio's Kit quite compelling.
The Kit itself is a hardware/software solution (mostly hardware) that plugs into your, er, 12 volt charging outlet and once you pair your smart device to it (As you would to any Bluetooth-equipped vehicle), its onboard transmitter sends the device's signal to your FM radio. All you have to do is tune to an unused frequency (and then, for convenience, add it to your FM presets) and Robert's Your Father's Brother!
It works well. Okay, the sound quality isn't as good as you can get from a built in Bluetooth system – and I find the device's built in voice a tad hard to understand – but all things considered it's just fine and is a really handy device to help keep you in compliant with governments' latest attempt to create Big Brother.
Livio says the system's designed for Apple devices, but it works just fine with my Android phone.
The Kit comes with all the hardware you need, as well as Livio's abovementioned app that lets you bring in radio stations from just about wherever you can imagine short of outer space. I've used this app before – I currently have it on my iPad  as well as my Android phone – and I love it.
Setup is a relative breeze. Once you plug the Kit into the power supply and press its power switch (which is mounted on the end of the power adapter), it will flash red and green to tell you it's ready to pair with your phone. Then you pair it the same way you would any other device.
If you've already paired it, it fires up and starts playing whatever radio station you were listening to the last time you used the system, loading the Livio Internet Radio app automatically. I actually found that automatic loading of the app a tad annoying, since I didn't necessarily want the app to run: sometimes I wanted to listen to a different app, for example some individual radio stations' apps I have, or my SIRIUS Satellite radio app.
And while the Livio app has the capability to let me listen to local radio stations, doing that uses up the data allocation of my smart phone plan, which makes listening to local stations off the air more attractive for those whose data plans are finite. Doing that means you have to tune away from the frequency the Kit uses, however, which kind of defeats its purpose.
On the other hand, I love how the Kit lets me stream the tunes I've stored on my smart phone to my ancient car wirelessly, as if it were of recent vintage. It's wonderful flexibility. Heck, my old car only has AM and FM – not even a CD player, so the Kit is a great addition.
And it worked very well in my Q45, with the caveat that I had to be very careful to mount it into the cigarette lighter correctly or it wouldn't power up, but that's more an issue with my car than the Livio, since it occurs with other devices (such as my radar detector) I put into the car as well.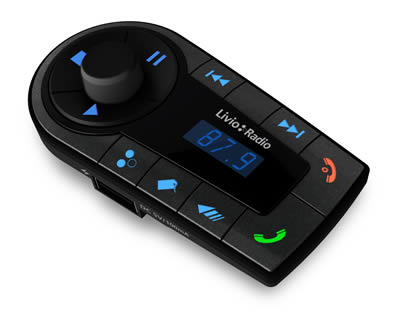 Oh yeah, there's also the potential issue that, if your vehicle only has one 12 volt outlet, you can only use one device at a time –the Livio or the radar detector, for example. Tough choice! Fortunately you can get adapters that let you plug more than one device into a single 12 volt outlet, though it may make your vehicle's interior look a bit like a Rube Goldberg device.
The Livio Internet radio app itself offers you more than 45,000 stations from around the world (though I haven't counted them) and its maker says it's "The first mobile Internet radio solution optimized for use in the vehicle." I use it more a lot outside of my vehicles, however, using it to stream favored radio stations from my iPad to a Bose SoundDock 10 or SoundLink. It works really well.
As if all this good stuff isn't enough, the Kit also has a USB port that lets you charge your device as you use it, and an auxiliary jack with which you can plug it into your car if it has such an interface.
It's a simple, elegant and reasonably inexpensive solution for upgrading your vehicle's connectivity without major retrofitting.
Verbatim Builds a Better Mouse…
Meanwhile, I've also been trying out the handsome and comfortable "Ergo Mouse" (as in "Ergonomic Mouse," not "Therefore Mouse") from Verbatim, a company perhaps known better for its storage devices such as the "Store 'n' Go Car Audio USB Drive" that lets you cram eight gig worth of stuff onto a thingy that looks more like a dongle than a device.
Anyway, this mouse grabbed my heart almost immediately upon my unpacking it, thanks to its nicely curved case that includes a cutout into which my thumb falls beautifully. The Ergo Mouse features a rubberized scroll wheel that also falls to hand nicely and which worked very well until a few days ago, as it happened, when it suddenly gave up the ghost for no apparent reason and sat there impudently.
It was really frustrating, and it wasn't the batteries that were at fault, nor my PC, since it wouldn't work with others that I tried.  I was just about ready to swap it out for a different mouse but, all of a sudden, it resuscitated itself magically. Go figure! Talk about Murphy's Law. Perhaps it realized I was in the process of reviewing and figured it had better buck up.
At least it works again, and has worked flawlessly ever since that single incident, because I love the little rodent.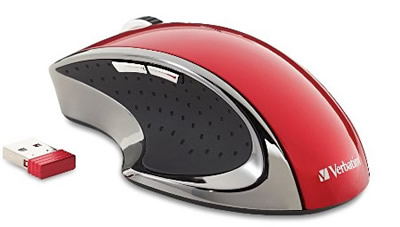 The wireless mouse features a plug in "nano receiver" and 2.4GHz performance. Its dongle is small enough to leave plugged into your netbook all the time, with little protruding to get caught on stuff. That made it a bit hard to wriggle out of the back of my PC when I wanted to try it on different ones, but it isn't a big deal.
The Ergo Mouse is Mac and PC compatible, and is available in black, red, or the classy-looking deep blue of my sample. Verbatim says it sells for $29.95 and is backed by a one-year limited warranty that I'm glad I didn't have to test.  System Requirements are: (PC) Windows 7, XP, 2000, Vista and (Mac) OS 10.4.X and higher.
It runs on a pair of AAA batteries, which are included in the box.
If the thing manages to not succumb to another self-imposed snit (and so far, so good!) I'll be using it every day again, because I love the Ergo Mouse's comfort in my hand. It's one of – if not the – best mice I've used.
Copyright 2011 Jim Bray
TechnoFile.com