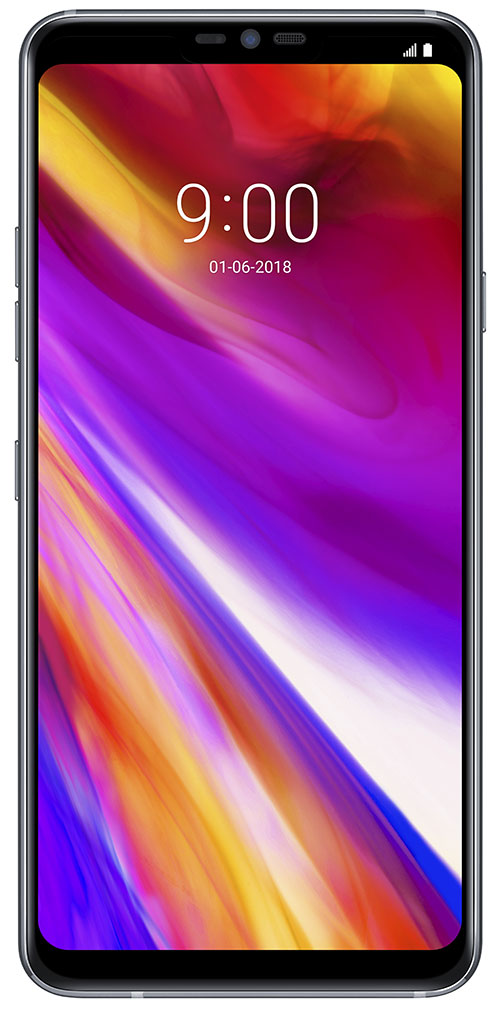 LG channels Professor Harold Hill with its 'ThinQ system'
By Jim Bray
August 16, 2018
Music lovers who use their cell phones as a source for their tunes have a nifty new tool at their disposal in LG's newest smart phone, the G7 ThinQ.
That's because its innards are also designed kind of like a transmission line speaker, enhancing the bass output from what you might expect from tiny little phone speakers. LG says "the G7 ThinQ uses its inner space as a resonance chamber to amp up the bass and deliver a premium, loud, and room-filling audio experience."
It's a great theory and similarly-themed techniques have been used by audio speaker manufacturers over many years. Perhaps the most famous is Bose, but I remember some DCM speakers I owned once that also used this type of transmission line strategy that basically works like a tuba does: the sound begins at the source (the tuba player's mouth and lips, in this example) and the follows a circuitous route round and round until it comes out the bell – as pure and clean, and loud and deep, bass.
I doubt this is exactly how LG does it, but the analogy is close enough to indicate that this phone really does have very good sound, better sound than I ever expected from a little sliver of a box. It isn't just from the "boombox" speaker syndrome, however; LG also says the phone's 32-bit Quad Digital-to-analogue converter enhances the playback itself, ensuring that the sound is clear, crisp, loud – "and as close as possible to the original recording."
Heck, it even offers DTS:X 3D surround sound to deliver 7.1 channel surround sound for cinematic
audio on the go (as long as you have seven-point-one ears!) and to supposedly bring "a new sense of realism to your listening experience."
This, then, is LG's "ThinQ" system, hence my crack above about Professor Harold Hill. For the uninitiated into classic Broadway musicals, Hill was the con man salesman who showed up in River City Iowa to sell boys' band equipment and uniforms to the townsfolk who, until he showed up, had no idea the trouble their city was in due to their wayward youth and their fascination with the local pool table.
He sells them on his "think system," in which you don't need to study music at all (because Hill didn't really know anything about music, let alone teaching it); rather, you just "think" the Minuet (or whatever) and upon enough practice it will appear magically from your instrument. Seventy-six trombones later, the townskids are playing away, blissfully unaware that "thinking" the music has little to do with actually playing it – but they're playing anyway and their non-musical parents (despite all the singing they've done up to this point!) are proud as punch of them.
Okay, a long stretch for a bad pun. Sue me.
Anyway, the G7 ThinQ does offer very good sound for a phone. I tend to use my phone as a music source, though not as an audiophile one (especially over Bluetooth), but I admit to having been very pleased at this phone's audio performance through its own speakers. It's also flexible in the formats it'll handle, including: AMR, AWB, WAV, MP2, MP3, AAC, FLAC, AC3, MIDI, OGG, DSF/DF, AIFF/AIF, WMA – which means it can even handle SACD-quality audio (which should please the half dozen or so of us audiophiles left who enjoy such audio files)
But there's a lot more to this phone than just great tunes. Today's smart phones have to be virtual geniuses, offering great photographic and video performance and connectivity and you name it. Fortunately, this LG is equipped well to do the job.
Oh, it's bigger in the hand than I like so while you do get an excellent, and quite big, screen, if you're of the wee paw persuasion, you might find it a tad hard to hold.
The phone's power button is on its right side and is accessible easily. The phone offers fingerprint recognition for security access and I suppose this can be a nice feature. I didn't really care for it – having to use the fingerprint just slows me down and makes it more finicky getting at the phone's features. And I have nothing secret or controversial on my phone besides a picture of my dear wife (though I can see why someone would want to steal that!).
You can also use a four-digit code, and many times I had to do that because the phone wouldn't recognize my fingerprint, but this is even slower. Still, I can see the appeal; I'm just immune.

The left side of the phone holds the volume rocker switch and below that is the "AI" key that lets you interact with Google Assistant, if you're into such things. I'd rather be torn apart by wild dogs than use Google, but since it's them who are behind Android (in this case, Android 8.0 Oreo) there's not much you can do about it – and if you don't sign up/in you're bombarded by prompts trying to get you to do so.
This isn't an LG issue, by the way; it's all part of Google's plan for world domination.
At least the button lets you get at Google without having to holler "hey Google" at the phone.
The USB Type-C charging port is on the bottom edge, where it belongs, and that's also where you'll find the headphone jack and the little mono speaker that acts kind of like a subwoofer. The back panel holds dual cameras and the fingerprint sensor (while I mentioned some issues with the sensor, it worked fine most of the time; I guess I shouldn't have tried acid washing the prints off my fingers back in my home invasion days…).
The phone can be charged wirelessly, too, if you have the proper stuff at the other end.
The rear cameras are a 16 megapixel Standard Angle 71 degree with f/1.6 and OIS/Glass Lens/
Active Alignment/LDAF (Laser Detection Auto Focus) and a 16MP Super Wide Angle 107 degree with f/1.9. the one on the front offers eight MP "Normal Lens Angle" 80 degrees with f/1.9.
I don't take a lot of pictures but had the chance to take some family members sightseeing into the Rocky Mountains during beautiful summer weather and I was very impressed by the quality of the pictures and video I took – and the wide angle capability was really handy in capturing those magnificent vistas.
The 6.1 inch screen doesn't play back in 4K (it's 3120 x 1440 - QHD+ at an aspect ratio of 18:9 - rather than 4K's 3840 x 2160 at 16x9) but it still looks really good with photos and video.
LG's display also includes a "new second screen," which is where stuff like the clock and connectivity icons show up. 
Inserting my SIM and SD cards was straightforward and as much angst as I may have about Google, I like how their phone customers can offer upgradable storage instead of forcing you buy a static configuration up front and then regretting it later when you run out of space (are you listening, Apple?)
The Android/LG stuff, apps, and such, work fine and the phone is nice and quick to operate – and it isn't saddled up front with a plethora of apps they want you to use but which you probably don't.
Phone operation is straightforward, as it should be but sometimes isn't. 
I'm not a power user, but found the LG's battery life to be more than adequate; I'd usually only have to charge it every couple of days, and charging was quick.  
Quality of construction seems very good. iPhone has always been my standard, and some of the older Android stuff was built pretty cheaply. Fortunately, the competitive marketplace has led to phones like this G7 ThinQ (and others) to have the same type of robust, quality feel as you can get from the Siri folks.
I had no issues pairing the phone to the vehicles I drove while reviewing the LG (your mileage may vary depending on your vehicle, of course) and the overall experience with the unit was very pleasant. Again, it's larger than I like in my hand, but that's just me: I like a small phone and keep a tablet around for big screen-related emergencies.
LG's G7 ThinQ seems a more evolutionary phone than a real market-buster, but there's nothing wrong with that (hell, what more can they stuff into these things?). If it were smaller I'd have begged LG to leave it with me, but it isn't and so I didn't (and they wouldn't have anyway, darn their eyes).
But if you're looking for a new phone that's about as state of the art as you can need – and is also an excellent performer – you should check out all the fantastic deals offered by Canadian cell phone providers.
What are you laughing at?
Copyright 2018 Jim Bray
TechnoFile.com