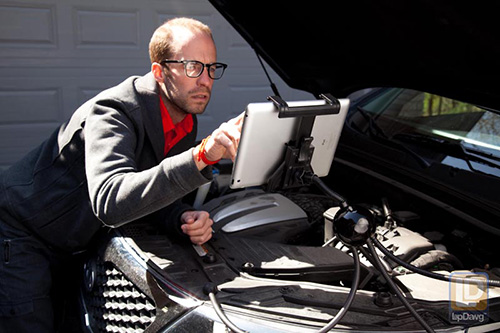 Lapdawg holds tablets high, while EC-BC carries just about everything
By Jim Bray
December 12, 2013
This week's tech column isn't really about technology. Instead, it's about a couple of interesting products that help you handle your technology.
One, the Lap Dawg O-Stand is an interesting tablet holder that looks like something out of a sci-fi movie. The other is a really great backpack you can use to carry around your personal technology, and other stuff. I like using the first when lounging with my iPad on my couch, while the other goes with me nearly everywhere, including aircraft. It's like a big purse for men.
EC-does it…
Not that I'm a backpack aficionado, but EC-BC's Hercules laptop backpack is easily the best one I've used. It's about traditional backpack size, but with so many pockets, nooks and crannies crammed into it that you may run out of stuff before the mighty Hercules runs out of places to stuff it.
Who'd have thought a middle aged tech guy would gush about a backpack? But it's true; this thing has become part of my life - so much so that I take it with me nearly everywhere.
At $140, Herc ain't cheap, but boy does this bit of mythology deliver! It's crafted from "the most durable Outdoor Industry Tested 1000d Kodra material with water repellent coating," according to EC-BC, and while I have no idea what that means, I've been bashing this thing around for a couple of months now and the fabric still looks virtually new.
And talk about flexibility!
Perhaps one of its biggest features for those who are forced to travel with a laptop computer is its FastPass "TSA-friendly compartment" on the back panel (where it'll also be nice and safe from bumps as it rides against your back). You can unzip the panel and lay it down flat to run it through the scanner. EC-BC says there's no need to load and unload the laptop into those damn plastic bins, but I imagine that assumes those pesky ragamuffins at the TSA are in a good mood.
It isn't a feature I've tried because I only travel with my iPad and the TSA doesn't make you take tablets out, yet. But even if they do make you extract the laptop from the Hercules, it's a quick and easy process.
That's pocket one, which the company says will hold a laptop of up to 17 inches. There are about a zillion other pockets and bins, ranging in size from something suitable for a smart phone and a pair of sunglasses to the main compartment in which I've hauled my Bose SoundLink Mini portable Bluetooth speaker (which I won't be without when I travel), my toiletries, shoes, laundry, clothing - whatever you might stuff into a regular backpack.
Yet even in this most cavernous pocket there are sub-pockets of varying size, which you can use for storing the cables today's mobile life require, as well as other stuff you want to keep safer inside (for example, I store my passport and other travel documents there). There's actually room for your laptop there too, and it could easily hold your tablet.
Ah, but there's a better pocket for the tablet, right on the front. It's sized perfectly for an iPad and it has three smaller pockets in it as well. Heck, everywhere you look on this thing there are pockets!
The only part that rubs me the wrong way is the "ergonomically designed shoulder strap system with adjustment points and sternum strap." It's not that it isn't any good. It works fine, but I prefer slinging the pack over a shoulder than wearing it on my back. You can tether the straps together, but I wish you could remove them completely, individually. This is hardly a deal breaker, however.
Oh, yeah, the Hercules is also padded well, so it's comfortable when you do wear it, and there are even pockets on the outside sides that are perfect for water bottles.  
Here are a few other specs for the mighty Hercules:
Air mesh padded, adjustable shoulder straps
Air mesh back panel comfort
Kedra exterior with water-repellent coating
Front ticket pocket
Accessories and cell phone pocket
Nylon Tube Webbing + Foam Top Carry Handle
Heavy-duty water resistant YKK zippers
Molded back panel
Adjustable sternum strap
Foam padded top handle
Removable foam spacer to accommodate smaller laptops
The Hercules is available in black, blue, green, linen or berry.  
Lap Dawg raises tablets high. Or not…
The Lap Dawg O-Stand isn't something I'd want to travel with, though I suppose if you have enough room in your luggage you could do so. I wouldn't use it all the time, either, but as mentioned above it's great for those times I'm lounging on the couch in front of the flat screen, surfing away or playing a game on my iPad.
Unlike other iPad/tablet stands I've tried, this one doesn't sit on your lap, nor do you hold it in your hand. Instead, its four flexible legs raise the tablet up to 31.5 inches from the floor, which is very nearly my eye level when I'm lounging on the couch!
Ah, but it also does a lot more than that.
The thing's so darn flexible the company calls it a kind of "Swiss Army Knife of iPad Stands." And thanks to those flexible legs, which look like something out of War of the Worlds (I'm surprised the company hasn't been sued by Steven Spielberg, even though it has an extra leg compared with the Martian machines), you can set up the O-Stand in a variety of configurations, from six inches up.
Its 360 degree rotatable ball joint lets you twist it into landscape or portrait modes and the bendable neck lets you align it for optimal viewing whether you're sitting up or lying down. Heck, you could even twist its legs around a cross member on your exercise equipment and use it while you work out.
The tablet itself resides in a universal arm "claw" whose ends have gripping rubber to keep it secure. I had trouble getting the piece that actually holds the tablet mounted onto the stand proper: you have to really, really force it in, and I was afraid I'd break the stand in the process. As it turned out, it went together well, and the iPad sits in there very securely. 
At $75, the O-Stand isn't cheap, but if you have the cash - and the room for it - it really is a marvel of flexibility as well as being a heckuva conversation piece!
Copyright 2013 Jim Bray
TechnoFile.com