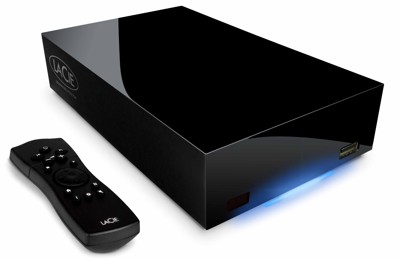 LaCie Multimedia Hard Disk Makes Tunes & Flicks Portable
By Jim Bray
April 10, 2009
You could call it a multimedia server that serves no one, though in fact it'll serve you well as long as you don't want it to be an actual server.
"Huh?" I hear you say. Isn't that as much an oxymoron as "Democrat accountability"?
Not really. While there are standalone servers that interact with your home and/or office computer systems, streaming and uploading/downloading your media files between one and the other, LaCie's Cinema Classic goes against the stream – it doesn't stream, it just stores. And that means you don't need a network to use it and once you stuffed it full of your favorite stuff you can take it with you to a friend's place or on the road with you for business trips or vacations.
In other words, it's basically a portable hard disk drive with full multimedia capability built in. Available in sizes up to a terabyte, I tried the $170 Cinema Classic 500 gigabyte unit.
It's a handsome, black unit whose inky "piano finish" surface reminds me of a small Box of Orden (a shameless pander to Sword of Truth series fans) and is designed to store your movies, music and/or photos – and with 500 gig of space it'll store a bunch of them. LaCie says the terabyte version will hold up to 1,000 movies, 250,000 songs, or 1 million photographs. I can't imagine sitting though a million family photos!
And since it's at heart a portable hard disk drive, there's no law that says you have to use it for multimedia files. You can use it to shuttle work files from home to office if you want (don't forget the power supply, though!), or any other such use including backing up your main computer. In that case, you can look on it as a big, ultra high capacity USB key.
The black finish is polished like a mirror, but it also grabs fingerprints – and its blue light on the bottom front flickers as the drive works, which I found obtrusive in my darkened front projection home theater. Still, those are small nits and the flickering can be take care of with a bit of duct tape (is there anything duct tape can't do?), though LaCie will probably freak out if they read that.
The lightweight (in mass, not performance) unit comes with a handy remote control as well, which you can use to activate it and navigate through the stuff you've stuffed onto it.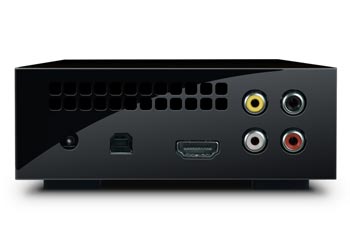 Configuration is dead simple, though I had a major problem when I unpacked it. I was hooking it into a Panasonic plasma TV I was reviewing and for the life of me couldn't get any picture beyond wavy lines. Fortunately, I could make out enough to scroll through the menus so I could try and see what could be done about it.
As it turned out, the unit came set to the European video standard, and once I had fuddled my way through the wavy menus to change that it worked fine.
Such compatibility didn't matter to my computer before that because, when I hooked it in via USB cable, it acted just as if it were another hard drive – and that's just how it should be. So you can drag and drop your media files from your source to the Cinema Classic easily. There's no separate configuration required.
LaCie says the Cinema Classic supports video files such as MPEG 1/ 2/ 4 and the ISO, IFO, and VOB files of DVD video. Audio capabilities include MP3, WMA, AC3 and Ogg Vorbis, while photos formats include JPEG (up to 8 megabytes), BMP, PNG and GIF. It's also DivX-certified.
I had the same problem with the LaCie as I do with media servers, in that my multimedia files are all over the place so far as their formats  are concerned and, rather than take the time to sit down and make them all compatible, I tend to just drag 'em all over and drop 'em onto the server or the LaCie, then get PO'd when some won't play.
This is as much due to laziness as a flaw in the technology, since every unit I've tried has been like this. One might think I'd take this as a lesson, but one would be wrong. There are only so many hours in the day and I'm of the opinion that everything should play everywhere, otherwise what's the point?
I'm also looking to buy some property in Shangri-La.
The Cinema Classic is both Mac and PC compatible (though I only tried it with a PC), and comes with a USB port on the front so you can plug in a FAT32-formatted external drive – if you ever run out of room on the LaCie. The rear panel includes HDMI, USB (for connecting to the PC or other device), composite video, coaxial digital audio and stereo analog audio connectors.
If you're using the HDMI connection, the Cinema Classic can upscale the video and photos to 1080p. 
Audio and video quality of the files I played seemed just fine. I ran the system on the abovementioned Panasonic plasma, which runs 1080p natively, and the picture quality appeared limited only by the quality of the original.
Likewise, the audio quality from good sources sounded great. I didn't expect the thing to turn sow's ears into silk purses and it didn't. Nor does any other such gadget I've tried. Maybe there's one in Shangri-La; I'll let you know.
I also tried the Cinema Classic as an external hard drive for my high definition satellite TV receiver, plugging it into the receiver's USB port and effectively turning the whole shebang into a 500 gig PVR. Now THAT is a handy capability, especially if you're too cheap to buy a HD PVR.
Since doing that I've gotten full PVR functionality from the Bell/Dish Network receiver, and the HD picture looks identical whether live or recorded. The only thing I don't get is the capability to record one program while watching another, and that's because the HD receiver only has one tuner, which has nothing to do with the LaCie.
One drawback to using the Cinema Classic this way is that when you first hook it into the HD receiver, its insists on reformatting it to its own standard. And I was mildly disappointed, but not surprised, to discover that I couldn't play back the PVR video files on another TV or through a computer. This would be a compatibility issue with the receiver's format, however, and not the Cinema Classic.
Fortunately, LaCie includes reformatting and restoration utilities in the box, which should come in handy if I want to go back to the drive's other uses. I haven't tried that capability because I've recorded several Dog Whisperer episodes for my wife and I don't want to die just yet.
The printed user manual is pretty superficial (not that you need much more), but there's a more complete Acrobat format manual on the unit's CD-ROM.
I tried the Cinema Classic initially merely out of curiosity for what such a beast is all about, but now that I'm using it regularly I'm really glad it's there. Who can argue about having an extra 500 gig hanging around with which you can do just about anything you could want of a hard drive?
Copyright 2009 Jim Bray
TechnoFile.com