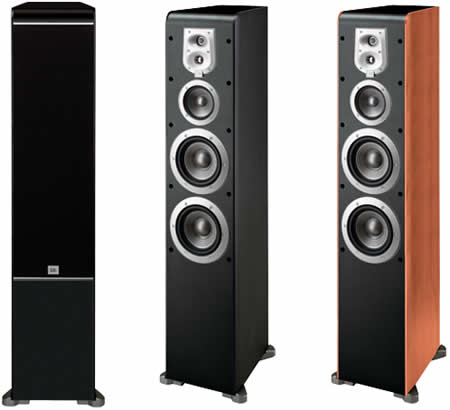 JBL Speakers ES-sy to Love
By Jim Bray
September 13, 2008
updated November 6, 2008 with reader's comment at bottom.
Don't tell my wife, but I've fallen in love.
Actually, she doesn't have to worry; it's only a set of home theater speakers for which I've fallen, a new line from a very old name: JBL.
James B. Lansing's company made its name in professional applications such as movie theaters and recording studios, which is a pretty good place to do it. I remember fondly the L-100 line that supposedly began life as a studio monitor and then crossed over to the consumer market nearly 40 years ago. They were fine speakers, clean and accurate, with brightly colored grilles that looked like a Rubik's cube face, except rectangular.
Now there's the ES series, the objects of my newfound audio lust.
For the past few years, one of my reference home theaters has been using a very nice 5.1 set of small satellite speakers augmented by a powered subwoofer from which most of the bass comes. It sounds very good, serves me very well and I've been quite happy with it.
Then I hooked up a 5.1 set of the JBL ES units and learned how a philanderer must feel when confronted with a fresh new figure.
Available in black or cherry finish (mine are black) with black grilles, JBL's ES speakers can be bought as a standalone stereo setup, using two towers, or as a stereo/surround setup adding center and surround speakers as well as a powered subwoofer. I like going for the gusto, so arranged to try the ES80 towers, ES25C center channel speaker, ES10 surrounds, and the ES250P powered subwoofer. Other models are available in the ES series – for example there the ES90 towers and the ES20 "bookshelf" speakers – but this was a more than satisfactory combination that fit well (and looks great) in my room.
The ES80 towers are a four way design with dual six inch woofers to handle the bass. The other drivers (all drivers are mounted vertically on the front panel) are a 4" PolyPlas low-midrange driver, a 3/4 inch titanium-laminate dome and an "ultrahigh frequency" 3/4 inch polyester-film ring radiator. Both "tweeter-compatibles" are mounted in JBL's patented EOS waveguide for better dispersal of the high frequencies.
JBL rates the speakers' power handling at 100 watts continuous (400 watts peak) and recommends a maximum amplifier power of 200 watts. Impedance is 8 ohms and sensitivity is 90 dB. Frequency response is listed as 45Hz – 40kHz, so chances are your dog will love them, too.
The magnetically shielded towers have a rear-firing port and two pairs of binding posts to allow for bi-amping if you so desire. They come with spiked feet as well. The cabinets themselves, as with the rest of the ones I'm using, are tapered a bit front to rear.
I set the towers up angled a bit inward, about two feet from the rear wall and about 10 feet apart. Once hooked into the Rotel RMB-1077 100 watt per channel Class D amplifier I'm using I listened to the towers by themselves for a while before firing up the subwoofer, to see how they handle low frequencies on their own.
They handle them fine, though I preferred the tower/sub combination, which was really awesome, with outstanding punch.
The ES25C center channel speaker has a nifty feature that helps add flexibility to its placement: the rear feet extend so you can angle the speaker's drivers toward your seating position if you mount it up high. That's exactly what I did, putting it on top of the big oak wall unit we use in the room.
The speaker itself comes with dual five inch woofers and what appears to be the same midrange and high frequency driver module as the ES80s. JBL rates its power handling as 75/300 watts continuous/peak, nominal impedance of 8 Ohms and sensitivity of 90 dB. Maximum amplifier power is recommended as 150 watts and the speaker's frequency response is listed as 80Hz – 40kHz.
The ES10 surrounds come with a four inch low frequency driver and the same high frequency combo as the others. They like a 100 watt amp, are rated at  50/200 watts (continuous/peak), have a nominal impedance of 8 Ohms, sensitivity of 86 dB and boast a frequency response of 65Hz – 40kHz. Their ports are on top, so you should ensure you don't drop anything into them.
The subwoofer is a peach, and if you think the other speakers don't handle enough power for your liking the addition of the ES250P's 400 watts (700 peak) to handle the thumps, crashes, booms, and explosions may make you think twice. The unit's 12 inch PolyPlas driver fires forward (the port fires downward), has line-level and LFE inputs, line level and crossover-frequency controls, and a phase switch. JBL says the sub will go down to 25 hertz. I believe it.
Hookup of all the units is straightforward.
So how does the system sound? Glorious. And loud! Despite running them with "only" 100 watts per channel, these beauties played as loudly as I wanted – and I like my stuff loud. The combination of the Rotel amp and JBL speakers was splendid, blowing away my old speakers in sound, imaging and volume.
I started my listening tests with stereo audio, via CD's and some stereo DVD-A tracks, using some of my favorite test material such as The Who's remastered "Live at Leeds" CD (extremely dynamic and with great punch from the drums), Santana's "Supernatural", some digital Glenn Miller and classical stuff like Strauss and Mozart. The ES80's, with or without the subwoofer fired up, were clean and crisp and clear, with excellent, wide staging that seemed almost three dimensional. As mentioned, I liked them even better with the sub fired up, but they're no slouches on their own.
Then I really went three dimensional, adding the rest of the cabinets and heading into surround sound land via DVD-A and SACD discs such as Pink Floyd's "Dark Side of the Moon", Les Brown's "Session # 55", Elton John's "Goodbye Yellow Brick Road" and my new favorite test disc, TrondheimSolistine's "Divertimenti".
Kicking in the surround really brought the room to life, not surprisingly, and the JBL's proved to be a very well-matched set. Divertimenti's string ensemble soared in particular, especially on Benjamin Britten's Simple Symphony second movement, with its plucked pizzicato strings that surround you and make you feel as if you're in the church with the musicians when they were recorded. It's gorgeously recorded stuff and the ES series did it justice.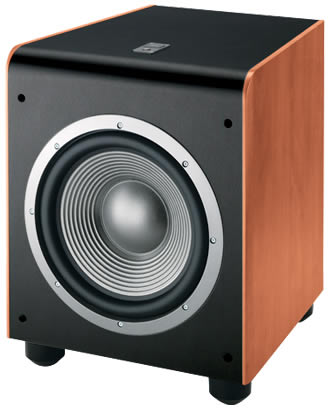 Despite its analog origins, "Yellow Brick Road" is a particularly loud disc and provides an excellent test of a system's mettle. The JBL/Rotel combination filled the room beautifully and with wonderful fidelity.
Then it was on to video, via DVD's such as the Cream Reunion concert (a dts treat) and a variety of movies (such as LOTR: "Return of the King") that exploit the home theater to its best. The Cream disc, as usual, was a treat, the three musicians coming through loud and clear, differentiated from each other very well – and with Ginger Baker's drumsticks banging with a wonderful punch to them.
The excellent match between the speakers meant that regardless of where an instrument, voice, or sound effect was positioned it fit in with the overall sound stage, not drawing attention to itself via different coloration from the rest of the speakers. This is as it should be, of course, and while the JBL's are no different in this regard from any well-matched system, the JBLs' reproduction was always rewarding and never fatiguing.
Using the ES series reinforced the belief that – at least to me – there's nothing like a good set of towers, and if you enhance them with a full 5.1 (or 7.1) setup you can very nearly approach sonic Nirvana.
Needless to say, I love these JBL's and recommend them highly. If you're looking for stereo or home theater speakers that offer wonderful, involving sound that loves to play loud – and you have the room and the inclination to stick with towers for your main speakers – this series of speakers should be on your "must-audition" list.
November 6, 2008. Reader's feedback: "The info you gave out is more than correct . I got the same setup at home. Only difference is that I use a Harman/Kardon avr155 amp and this is the best thing that happened to me since being born. Anyway, back to the matter at hand, this is a great sound system so why are you standing here reading this, go out and buy it!!!
Copyright 2008 Jim Bray