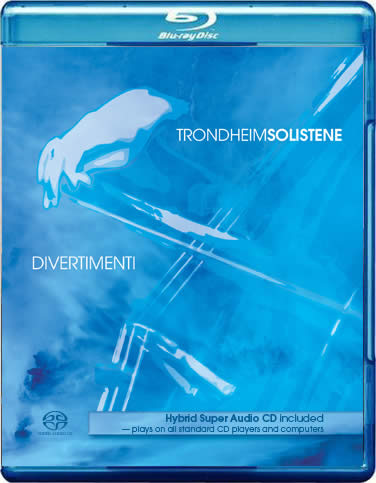 Audio Only Blu-ray Discs Debut in Norway
By Jim Bray
July 28, 2008

Blu-ray is the latest and greatest video format – and if one Norwegian label has its way it may be the latest and greatest audio format as well.

I've been hoping someone would take the high end audio bull by the horns by exploiting Blu-ray's potential. DVD-Audio and SACD (Super Audio CD), the current "audiophile champions", have been around for several years, but have never really caught on with consumers especially, it seems, in North America. It's a shame; such discs can offer truly spectacular sound quality as well as multi-channel surround sound capability.

You need a player and receiver/processor capable of handling the formats, though, which may be part of the reason why they exist on the fringes of mainstream acceptance. The quality of the musical experience is also limited by the quality of the original source and the mix. But a well-done DVD-A and/or SACD, especially if it was recorded with the formats in mind (as opposed to a remix/remastering job), can be "ear opening" and I use a variety of such discs when reviewing audio equipment.

Alas, the discs are getting hard to find in my neck of the woods, which is one reason I've been hoping someone would start exploiting Blu-ray's potential for high quality audio, not only to offer spectacular audio experiences but to give people one more good reason to buy Blu-ray.

This appears to be what Norwegian label 2L has in mind with their release of what they claim is the first Blu-ray audio-only disc. Happily, they sent me a copy and it's a spectacular album.

"Divertimenti" is a selection of light classical pieces performed by the excellent string ensemble TrondheimSolistene. I had heard of neither the group nor the label previously, but I'm glad I have now: this is terrific stuff.

"Divertimenti" includes Benjamin Britten's "Simple Symphony" and "Divertimento for Strings" by Bela Bartok, two composers whose names ring a bell, though I wasn't familiar with anything they'd written. It also contains a concerto by Grazyna Bacewicz and "Carmina" by Terje Bjorklund, two composers I didn't know from Adam.




Divertimenti comes with Blu-ray disc and SACD versions in the same package, which means 2L has released an album you can play on any optical disc player you may have, from CD to Blu-ray (not counting HD DVD – and the sooner we forget about that format the better) though, obviously, the sonic results will vary. Heck, the only thing missing is a vinyl LP, cassette and/or 8 Track which, if nothing else, would have required a far larger package and would have clearly been overkill (not to mention quite silly).

Having the two discs gave me the perfect opportunity to compare the "old" high resolution audio of SACD with the new Blu-ray format. The SACD features 5.1 channel and stereo versions of the music produced in DxD (Digital eXtreme Definition, which uses a very high sampling rate ) and also features an old fashioned stereo track compatible with CD players, which means it'll play back in most current DVD players as well as computers' optical drives.

Talk about value!

I wasn't interested in CD playback and won't deal with that here. I also spent minimal time with the high resolution stereo playback: the discs were recorded for surround sound in a church with marvelous acoustics, and I wanted to hear as much sound, and as close to the original recording source, as possible.

And boy, did I! The word "breathtaking" comes to mind, with either disc version, but I was interested (and relieved, since I'm pushing the format as much as I can) to discover that I preferred the Blu-ray version. It includes dts-HD Master Audio, Dolby TrueHD, Linear PCM and "old fashioned" Dolby Digital  for its 5.1 surround tracks, as well LPCM stereo versions. The high resolution tracks are presented in 24 BIT/192 KHz.

I noticed a "sonic disparity" between the SACD and Blu-ray versions, though they could possibly be explained by the discs being played on different players. There was a reason for using two different players, though: it let me audition both discs at the same time, "A/Bing" them as quickly as HDMI switching allows (which, unfortunately, isn't very).

The equipment I used consisted of a Sony PS3 for the Blu-ray version and OPPO's flagship DV-983H for the SACD. The PS3 was hooked into a Rotel RSP-1069 preamp/processor via HDMI; the OPPO was connected via analog. The RSP-1069 fed the signal to five channels of Rotel IcePower rated at 500 watts each, each driving a Definitive Technology. The ".1" went to an M&K V-1250 THX subwoofer.

The weak sister of the surround sound formats was "garden variety" Dolby Digital 5.1 – a format that had sounded so good when watching movies during the DVD years. DD 5.1 sounded a tad lifeless compared with the newer formats, all of which were appreciably louder and more lifelike. When playing any of them it seemed almost as if I'd cleaned out my ears.


The music itself is marvelous, especially the Britten and Bartok pieces, which to a casual classical music listener like me, were more accessible. The recording is spectacular, making you feel almost as if you are actually in the church with the musicians.

Britten's "Playful Pizzicato", which must be a really difficult piece to perform (especially, as it is here, to appear so effortless), is perhaps the finest showcase on the disc for outstanding talent and musicianship of the TrondheimSolistene folk. I could well imagine blood spurting from the musicians' fingertips as they plucked the Pizzicato performance.


Not that the rest of the tracks are chopped liver….

The music surrounds you beautifully, with an engaging and enveloping, gloriously dynamic sound stage that made me want to experience it over and over (and I did!). It made me wish they'd release a video of the ensemble in action recording the album; that would surely be a marvelous show, though it would have defeated the audio-only purpose of the album and this review.

One potential fly in the ointment could lead to SACD fans dumping on Blu-ray as a music-only format the same way some dumped on DVD-A: the menus. Stick the SACD into its player and you get music right away; insert the Blu-ray and up pops a menu from which you have to choose from the various audio formats, tracks, etc. This does tend to slow down your musical fix.

It also forces you to fire up your video monitor just to play an audio disc, which may or may not be a big deal. It certainly is in my home theater; I have to waste valuable lamp time on the front projector just to get at the audio.

Perhaps future discs could be engineered to auto-play in one high res surround format (just pick one!), with the option to pull up the menu and access whatever other choices (including other audio formats) you may want. I'm not sure if the Blu-ray standard would allow this but if it doesn't, it should.

 2L also tossed in a couple of other SACD's from their catalog, and I'm glad they did. Though once again I'd never heard of the artists featured, the performance and sound quality lets me use the discs as reference material.

First up was Stone Rose, a lovely blend of jazz, classical and popular music performed by pianist Ola Gjeilo, with accompaniment by violin, cello and flugelhorn. Once again, the performances are top notch, and the recording (5.1 surround and stereo) are to die for.

The second disc featured Marianne Thorsen, backed up by TrondheimSolistene (and wasn't it great to have them on hand again!), performing Mozart violin concertos. Recorded at the same Selbu Church venue as Divertimenti, this is definitely another reference quality SACD.

But it's Divertimenti that shows the huge potential for Blu-ray audio discs, especially if they can get around that pesky menu thingy. The music is marvelous, and the sound quality is (like the Maltese Falcon) "the stuff that dreams are made of".

Hopefully, other labels will follow 2L's lead and start exploiting Blu-ray as an audio-only format. In the right hands, today's recording technology can offer outstanding audio experiences for new recordings and old, and could perhaps bring some audiophile action back to a world seemingly dominated by dumbed down MP3 files.

I know where I'd start if it were me: a nice high resolution 5.1 surround version of The Who's Quadrophenia. That would be heaven!

Copyright 2008 Jim Bray


Jim Bray's columns are available from the TechnoFile Syndicate.