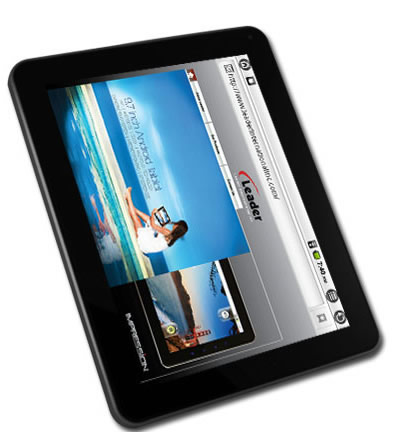 Leader International Gives its Impression of a Tablet
By Jim Bray
September 8, 2011
Tablets are wonderful, and seemingly becoming about as common as PC's in the marketplace. For portability and convenience, depending on what you want to do, you really can't beat a tablet.
Unless you're looking to use your tablet to replace a netbook completely. My first generation iPad, for example, doesn't offer USB support – so I can't download to it photos or digital voice files I make while on the road. That means I have no backup in case something awful happens, and it also means my storage space on the camera and the voice recorder are more limited than they need to be, since I have to keep the files on those devices until I get home and can dump them onto my main computer.
I also can't output video to another device from my iPad, which isn't usually a big deal but which also means I need my netbook to inflict my PowerPoints on my students when I teach community college classes.
Those drawbacks – added to the lack of Flash support – are serious flaws in the original iPad, though I have to admit they still aren't enough to make me love my iPad any less – and since I got the iPad I rarely use my netbook. But I can't throw it into a landfill just yet because of the considerations I've outlined, and this is one reason I'm always on the prowl for a more, well, integrating tablet.
Then there's the money issue. Tablets are also generally a tad dear compared to what you can pay for a netbook these days. An iPad 2 starts at $500, as do the base models of HP's new TouchPad and Samsung's 10.1 inch Galaxy Tab. As I write this, however, Best Buy US is offering a Gateway 10.1 inch Netbook for $199 so, while you give up a certain amount of portability with a tablet, you can gain flexibility and save money by avoiding one.
That, to me, appears to be the rationale behind Leader International's Impression I10, a 9.7 inch tablet that lists for what may seem to be a very reasonable (for a tablet) $349. Not only that, but it comes with two USB inputs, a micro SD card slot and even an HDMI output. Sounds like the perfect device for my needs, doesn't it?
That's why I wanted to try one, and Leader International was kind enough to indulge me.
The I10 also includes Wi-Fi (802.11 b/g/n), Bluetooth, four GB (expandable to 32GB) of flash memory, G-sensor, USB 2.0 (one mini and two standard ports), a two megapixel camera – mounted on the front (which makes it extremely difficult to use for taking pictures) – and stereo audio output. My test unit's four gig was mostly taken up with stuff installed on the Impression when it arrived, so prepare to shell out for a bigger micro SD card if you plan to store a lot of stuff on the Impression.
The Impression's aluminum-like finish and overall shape makes it look almost like an iPad, though it's thicker than either versions of the Apple tab. Its 9.7 inch screen is a nice size, too, and there's room on the frame surrounding it for the typical Home, Search, Back, and Menu keys you find on other Android devices.
The Impression uses Google Android 2.2, with flash support, so there are plenty of apps you can stick on it, if you can find them since my Impression didn't come with a link to the Android Market on it.  
The Impression is powered by Samsung's A8 processor, a one gigahertz, single-core chip that supports 1080p video recording and playback at 30 frames per second. Alas, I didn't have an HDMI cable with the mini-connector on one end so couldn't output to an HDTV, but the videos I played on the unit's 1024x768 resolution screen, which has a pretty wide viewing angle, looked fine.
The Android interface will be familiar to anyone who's used it with other devices. Since my Smartphone is Android, I had no trouble getting up and running with the Impression. A possible caveat: the Impression's version of Android isn't the newest, but hopefully it's updateable.
The tablet also comes with music and video players, picture viewer, text reader and the like –stuff you'd expect to find on such a device.
In all, it's a nice tablet, except for one major shortcoming that drove me nuts (an admittedly short drive): its 9.7 inch IPS Capacitive Touchscreen. I just couldn't get it to work to my satisfaction when surfing the Internet or trying to type on it. Oh, it works okay for navigating the Impression itself, launching apps and the like, but my major use for a tablet is as a portable web browser and email platform, and I really had problems here: The Impression had me wishing I'd brought along a tiny rubber mallet with which to bash the screen – that's how insensitive it was.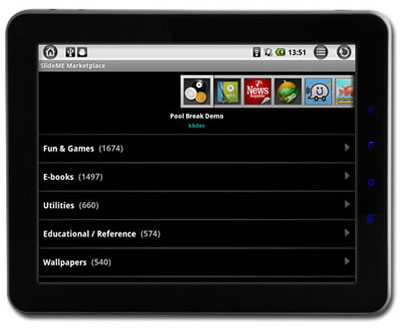 Trying to type an email, for example, was very frustrating compared to my iPad, where my chief issue is hitting the wrong keys (and as much as I'd like to, I can't blame the iPad for that!). I'd constantly have to go back to insert letters or symbols it hadn't picked up on when I touched the all-too-small virtual keyboard. Scrolling up and down web pages was an ordeal as well, and clicking on links could be problematic.
Perhaps an external keyboard would help here. I didn't try one, though.
Having been seduced by the iPad, this lack of tactility would be a deal breaker for me, though it may not be for you, especially considering the unit's price of entry. I guess it depends on what you want to use it for.
The Impression was also reluctant to display pictures that were on USB drives I connected. I could access the devices and surf through their folders, but the individual files wouldn't show up.
I also had trouble getting some of my USB drives into the Impression's very tight-fitting slots. This may be a testament to the quality control of the thumb drive manufacturers, though, because some slid in fine. I also couldn't figure out how to transfer files from the USB device – including my camera – to the Impression, so perhaps the USB slots are meant only to let you read from them rather than copy to and/or from. A good manual may have helped here, though this is an oversight for more than just the Impression.
Just to be sure my criticisms weren't the rantings of an iPad snob (well, not ONLY that!), I lent the unit to a good friend who hasn't had a tab before and is looking for one to fall in love with. He had the same issues with the touch screen that I had. On the upside, he said he likes the size of the Impression, as well as its solid feel and how it looks like an iPad.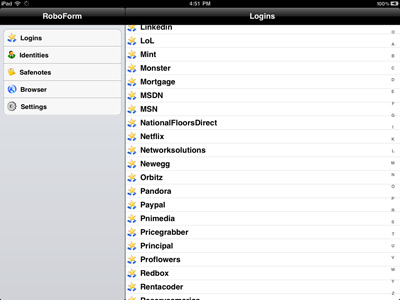 Robo-Padding…
On a related note, Siber Systems' RoboForm, which is a terrific application that remembers all the passwords you use for the various websites you visit, as well as logging onto them for you at the click of a mouse button, now has tablet versions out. I use RoboForm all the time and love it. It's a real lifesaver, since I'm not the most organized person around and can never remember my multitude of passwords.
There are various versions available, but for the past while I've been using RoboForm Everywhere, an online version that keeps all my info remotely and synchronizes them between all my various platforms. It also keeps a remote backup in case my computers are hit by an electromagnetic pulse or something (and assuming theirs aren't!).
Anyway, I recently added the RoboForm app for my iPad (an Android version is also available, though I haven't tried it), which brings this wonderful capability to my favorite tablet as well.
Available at the app store, it's available for free for users of RoboForm Everywhere and it offers another advantage as well: it brings the all bookmarks from my RoboForm collection (all the stuff I have that needs login/passwords) to my iPad, so I don't have to add them all manually. It's great!
It's password protected (so you have to remember one, at least!) and also features a good web browser of its own. And since it's free for buyers of Roboform Everywhere, it's a real win-win.
Copyright 2011 Jim Bray
TechnoFile.com