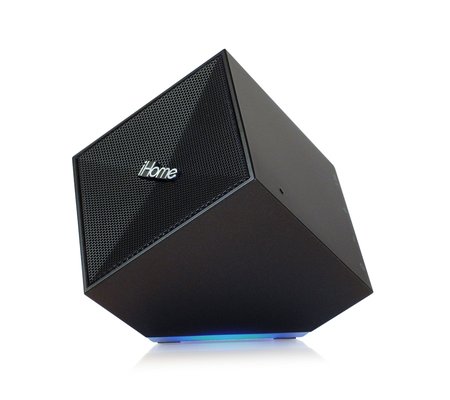 Introducing the FitDesk, and an iHome Mini-speaker that offers pretty good sound, portability
by Jim Bray
March 23, 2012
Bluetooth speakers such as iHome's iDM11 are getting more common all the time, and on the whole they're a great idea because they can offer incredible flexibility and freedom for their users.
Likewise, products to help you lose weight reasonably easily are also proliferating. One of these, the FitDesk, promises to help you get fit without losing productivity. How? Read on.
Music of the Cubes…
I love Bluetooth speaker systems and so far haven't tired of trying them. I use such beasts to carry tunes with me when I'm doing my housework, which pleases my wife because I'm not blaring tunes through the whole house from one of my various audio powerhouse systems. I also use them when working out or when sitting on our deck: I can stream music (or radio, or whatever other source I'm exploiting via my smart phone or iPad) without having to haul out a ghetto blaster or big speakers – let alone string wires all over the place. And I also like to take my tunes on the road with me, to play in whatever hotel room I'm in.
You might think that music from a tiny cube such as iHome's iDM11 might be full of some sharp edges, but it actually offers decent sound for its size and price. That doesn't mean it's an audio panacea, of course, but for what it is and what it claims to do it does a pretty good job considering it's only about four inches on a side and has to reproduce all audio frequencies.
And as an added bonus, it can also turn your smart phone into a speakerphone!
One thing to remember is that the iDM11 only offers monaural sound. This shouldn't be surprising and isn't necessarily a deal breaker. I don't really care about stereo separation when I'm cleaning toilets (and, really, most of these portable systems are so small you won't get a lot of stereo separation anyway), but since the speaker plays both of the stereo audio channels through its single driver anyway, you don't really miss anything from the "missing" channel.
The iDM11 is an attractive little cube, looking pretty cool perched on its cutaway corner, iHome logo pointing proudly forward. It doesn't quite fit into most of my pockets easily, but it would sure pack into an overnight case easily. It fits nicely in the hand, though, which is nice for packing it around the house during my chores.
iHome says the iDM11 also features ATI SoundClear voice echo cancellation (for its speakerphone aspect) and there are controls on the rear panel to not only facilitate speakerphone use but to also play/pause your stream back at the source. There's also a volume control and a power button and a special audio cable that lets you hook in non-Bluetooth devices, which is how it should be. A three position toggle switch lets you choose from "lock," "auxiliary," and Bluetooth operation.
Pairing is easy, though I had to re-pair it more than once, which could have something to do with the proliferation of Bluetooth-enabled things in my life – heck, I get confused when trying to find the one I want to use, so I can understand why the speaker would. Re-pairing is quick and easy.
The litihium-ion battery recharges only via USB, which can be kind of a pain; an AC adapter would be nice.
It would also be nice if the speaker came with some kind of protective carrying case, though I wouldn't be surprised if iHome will try to sell one after the fact.  I didn't see one on their website, however.
You can play the $70 speaker reasonably loud, though it obviously won't make your ears bleed – and it doesn't distort much when pressed. The speaker features SRS TruBass sound enhancement, which gives decent bass considering what you're working with. In fact, the overall audio quality is clear and clean and more than acceptable as long as you don't forget the thing's mandate.  
Working while working out…   
The FitDesk is a pretty cool idea, too. It's a fairly standard exercise bike in appearance, though it folds up and even has little wheels for easier storage. It comes with a big, black flat area on top of the handlebars onto which you can perch your notebook, netbook, tablet, game controllers or whatever; you could even plop a book down on it if you want. The desk part seems a bit like an afterthought compared with the rest of the unit, but it works fine.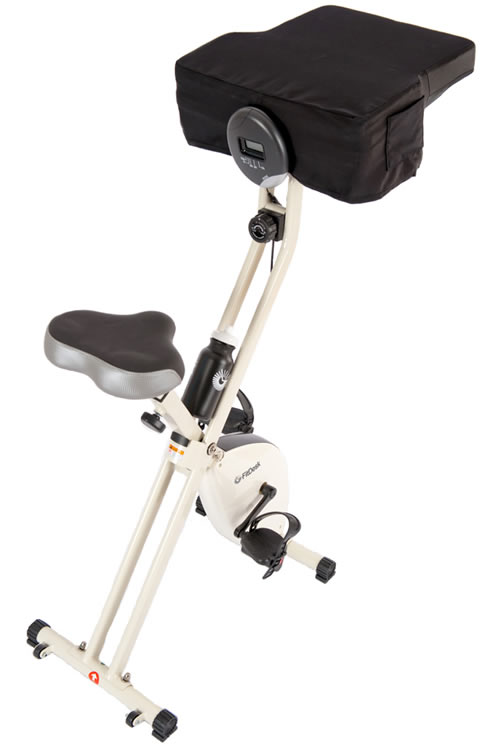 The concept of the FitDesk appeals to me because I lead a pretty sedentary life and that has resulted in a personal footprint of which I'm not particularly proud. Alas, I'm also lazy and would rather spend my time in front of the computer, TV or iPad than visiting a gym. I'd been working out with the Wii Fit for about a year, but find it more juvenile and less useful than I like, though it does work somewhat if you stick with it.
I'm also trying out the "Biggest Loser" MYTRAK system that combines a kind of high tech pedometer (called the Slimcoach) you wear on your belt with an online tracking system and community. It has been tracking my progress well, but I want more than just monitoring, goal setting and electronic guilt generation to get me up and moving about – especially since I have been unable to go for long walks for the past few months. So I figured the combination of the MYTRAK system with the FitDesk might be just what the doctor ordered.
Assembling the FitDesk is child's play. I loved the way the company mounts the hardware where it's supposed to end up, rather than just giving you a plastic bag of stuff you have to figure out from crummy diagrams. FitDesk's diagrams aren't, but I had the unit put together – with no cussing! – in about 15 minutes.
As mentioned above, the desk part (a big Styrofoam-ish panel covered in black fabric) seems a bit like an afterthought compared to the rest of the thing, but it mounts easily enough and has been quite stable so far. It also comes with two big elastic bands you can use to hold down your device, though I haven't found it necessary to use them for that in my admittedly few days of using the product so far.
One thing that does need to be rethought is the mounting of the electronic monitoring unit. There's a little Velcro strip on its rear panel (batteries are included, by the way) that's supposed to stick onto a similar strip on the desk, but the glue on the monitor wasn't very strong so I now have two Velcro strips joined together on the desk and a not-very-sticky patch on the back of the monitor.
This led to the alarming tendency of the monitor to fall off, unplugging itself from the FitDesk (when connected, it tracks your distance, speed, time and calories burned) as it went, bouncing off the metal bike and landing on the floor with a resounding thud and losing track of my performance.
I've developed a workaround by which I sit the monitor on the edge of the desk, held down by one of twe big elastic bands – where it intrudes on my workspace but at least stays put. A better fix would be a quick dose of Krazy Glue to repair the Velcro problem, which I'll probably get around to the next time I hit a store that sells glue.
The bicycle seat is adjustable for height, and despite my well-padded posterior I find it very uncomfortable. To be fair, I'm not used to bicycle seats, so that may be a contributing factor. Whatever the cause, I'm trying various cushions to find one that'll fit on it nicely while enhancing my natural padding – and I've found that the more I use the FitDesk the more I get used to it.
Shortly after hopping on the FitDesk for my first bout of physical exertion it started howling like a banshee, the noise coming from the wheel mechanism. I figured it was just objecting to my presence, but mentioned it to the company anyway, via its PR person. They said it should go away soon, and told me they're more used to compliments about its quiet operation than complaints about the howl.
And just as they said, about five minutes into my second session the howl stopped abruptly, as if a switch had been thrown, and I was so impressed by how quiet it then was that I complimented the company on it.
The noise came back when I upped the friction a couple of notches, which is done by turning a knob in front of you. I assume it will go away after a while, too, though I don't like that much friction anyway (not yet, anyway!) and so have backed it off again and have had no repeat of the noise since.
I'm going to do my best to stick with the FitDesk and the MYTRAK systems over the next months to see if I really can become so svelte my wife won't recognized me. I'll update you on my progress periodically during that time. So far it appears I'm on track to lose about a pound a week, which is good enough for me.
The FitDesk sells for $230 U.S., which seems pretty cheap for what you're getting. The company also offers the $80 FitDesk PRO, which they say adapts and attaches to any bike handlebars for those who already have an indoor bike trainer or stationary bike.  
So far, so good. Despite the Velcro problem and uncomfortable seat, I find myself taking off an hour each weekday afternoon, flipping on the TV and vegging out with my iPad and the daily "Top Gear" reruns my satellite company offers. I could do actual work while working out but, since surfing and staying up to date with cars is part of my job anyway, I really am working while virtually travelling some eight to 10 miles per day.
Not bad for a couch potato. Stay tuned.
Copyright 2012 Jim Bray
TechnoFile.com