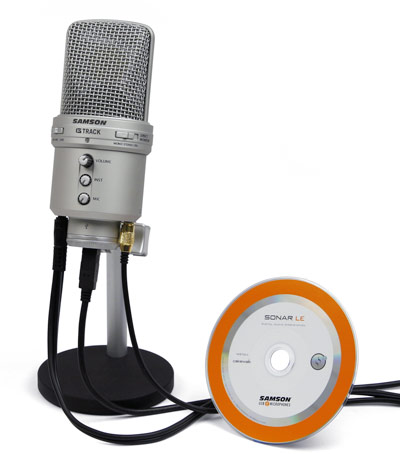 USB Microphone Helps Podcasts Sound Great – and more!
By Jim Bray
January 14, 2009
A microphone is a microphone, right? It takes your voice and sends it either to some kind of amplifier, or lets you capture your voice into your computer. Straightforward.
Unless you're talking about the G-Track from Samson, a USB-interfaced microphone that lets you record your voice – and your musical instruments, in what's a "one patch" solution to much if not most of your digital recording needs.
I haven't done a lot of recording at home, except for burning old vinyl albums onto CD and that type of thing. Most of the recordings of my voice are done in radio studios, where they have a higher tolerance for the sound of my voice than my family does, but when the PR people first pitched me on the G-Track I thought it might be a good way to add the ability to offer my rantings in audio format as well, and that attracted me to the product. Little did I know then that recording the human voice is only the beginning of what this gadget does.
According to the company, the G-Track is a total audio solution that can take you from "musical inspiration to your finished tracks". They say so because the G-Track is a real, live condenser microphone that also comes with a built-in audio interface and "mixer". It lets you input vocals and instruments simultaneously while also letting you monitor the whole shebang via the mic's on board headphone output.
A pretty cool idea, no? They even throw in Cakewalk's Sonar LE digital audio software and claim (though I haven't tried it) that the product "works brilliantly with Apple's GarageBand".
This is no lightweight, computer-oriented mic such as you see so often as part of headsets. It's quite heavy and solid and is definitely of professional quality, reminding me very much of microphones through which I've inflicted my voice onto unsuspecting audiences via Canada's national public broadcaster over the years. At $149 it may not be of the same broadcast quality, but it's undoubtedly close enough for  most needs.
Here's a list of some features and company claims:
19mm capsule with 3-micron diaphragm mic is extremely detailed and the super-cardioid pick-up pattern makes it ideal for recording vocals, acoustic instruments and just about any other sound source.
Onboard headphone amp with level control lets you listen to the inputs and mix them directly from the microphone.
The Line Input can connect electric guitar and bass, keyboards, drum machines, MP3 players and just about any other line level signal.
Input gain controls with Peak LED indicator make it easy to set signal (if it turns red, there's clipping).
Naturally, you can do this monitoring/volume controlling from your software as well, but having access to a quick twist of a knob saves mouse work and helps let you keep focusing on the task at hand.
Anyway, the G-Track lets you record your vocals (spoken, sung or even cussed) just as a standard USB mic does. But you can also record two monaural instruments through its line/instrument input, or mix one mono instrument with your vocal.
Talk about playing with yourself!
This means singer/songwriters can record vocals and instruments quickly and easily, using the single device, without a separate mixer. 
The controls are simple. There's an instrument/mic or line switch on the left and on the right is the "Direct Monitor" switch that lets you choose to hear only the computer (the CPU setting), and between Mono and Stereo.
Stacked up on the center of the unit's body are three knobs: Volume (for output level), Inst. (to control the volume of the instrument you're capturing) and MIC, which should be self explanatory.
The USB cable, other instruments and headphones plug into bottom of the unit.
The G-Track comes with a small desktop stand that placed it at perfect height in my office – though I discovered to my chagrin during my tests that my office is far too "live" (too much echo from bare walls and an engineered floor) for optimal recording and that if I'm to use it as a studio I'd best invest in some sound deadening material quickly.
Nothing's ever easy, is it?
I did do some recording in much more friendly confines and came away impressed with the G-Track's sound quality – or as impressed as one can be when hearing one's own voice.
Besides the desktop mic stand, the G-Track also comes with all the cables you need to connect any musical instrument that has a standard 1/4" or RCA output. That didn't include my cheap little MIDI keyboard, which figured. On the other hand, since I don't play the keyboard, this could have saved me from entering into a deep depression when playing back my thumb-fingered utterings.
I messed with the software a bit, and it's pretty good, though you may have your own software of choice. I recorded some commentaries using it as well as Magix Audio Cleaning Lab and it was a very easy way to get such a straightforward job done. An even better solution if you're going for the gusto would be the Mac software mentioned above or another music maker program such as Magix Music Maker, which I've been trying to review – but have discovered to my horror that there's more to making quality music than having good software.
It's hard to review something objectively when it shines the mirror of your own lack of musical talent right back into your face. But I digress….
I haven't tried the musical instrument aspect of the G-Track, but the voice and headphone parts work fine and are very easy to use. And I did use the vocal recording capability to put my lead vocals onto a short piece I composed using Music Maker. It worked fine – a piece of cake.
Need to record? Shove the USB cable into place as if it were a digital enema, fire up your software, and sally forth confidently into the artistic endeavor you're undertaking.
This is obviously not a product for everyone – though it could come in handy if you Skype or use computer telephony as well. But if you're an established or budding online broadcaster or composer you might find this a valuable tool.
Copyright 2009 Jim Bray
TechnoFile.com