Dijit Turns i-Devices into a Remote Control & the ePillow Snuggles Tablets
By Jim Bray
December 2, 2011
Smart phones and tablets are getting so darn smart they're wriggling their way into areas not traditionally thought of as "phone-friendly," in the process spawning a whole new industry of accessories and gadgets designed to help make life with the tools even more pleasant.
Case in point, Griffin Technology's Beacon – a hardware/software solution that can turn your iOS or Android smart phone (or tablet) into a universal remote control, and Veyl Products' ePillow, which snuggles your tablet nicely.
Dijit-al Controller...
Powered by Dijit, Griffin's Beacon lets you use your iPhone, iPad, iPod Touch or Android device to control virtually everything in your home entertainment system, wirelessly. It's very flexible and it works well.
The Beacon system reminds me quite a bit of Logitech's Harmony remote controls, especially the way the Harmonys use software you install on your home computer to program the appropriate codes into the remote. The difference is that the Griffin system eschews needing a remote itself. Opting instead in favor of using the smart phone/tablet. And Beacon's standalone solution means you don't need to connect anything to your home computer.
Once you download and install the Dijit app, you're given access to a database in which literally thousands of remote control codes are included. The easy set up routine lets you choose the type of device (TV, Blu-ray player, whatever), including the brand and model, using what's basically a "wizard" type of interface that's absolute child's play.
I used the system to configure my iPad to control a Samsung TV, Bose SoundDock 10 audio system, Oppo Blu-ray player and even a Western Digital media server – all the components in my living room. I couldn't program it to operate my satellite receiver because it uses radio frequencies instead of infrared and the Beacon doesn't offer that capability. Other than that, however, it works flawlessly with the other components.
Once you've set up the software on your phone and/or tablet, you pair it with the Beacon transmitter the same way you'd pair any Bluetooth device. From then on, your inputs go to the Beacon via Bluetooth and are converted to IR and redirected to the appropriate audio/video devices.
You need to mount the little Beacon unit where it has a clear line of sight to your electronics, but this isn't a big deal – no more so than it is to keep that stack of remotes on hand before you started using Griffin/Dijit system. And as with other dedicated "smart remote" systems, the Beacon Universal Remote Control can let you clear away that pile of remotes, replacing it with the single smart phone/tablet device. It's quite cool.  
As with the Logitech Harmony remote series, the Beacon/Dijit system organizes itself by task. This means that if you want to watch a movie, for example, you just press the "Watch Movie" button in the Dijit app and, via the Beacon, it fires up the TV, the Blu-ray player (or whatever device you've chosen) and the audio system for you. All you have to do then is get up and insert the disc – the system won't do that for you!
You can also set it up to operate in multiple rooms, which is very handy indeed. It requires you to either buy additional Beacon units (one for each room), or to take the Beacon from room to room with you, the latter of which is kind of a pain, but understandable. And since the Beacon emitter itself is pretty small – it looks kind of like an all-black Staples "easy button" – packing it around isn't particular onerous.  
The Beacon looks at home on the coffee table, but I stuck it on a corner unit where it was more out of the way. The IR blaster apparently has a 180 degree shooting angle, which gives it more flexibility of location, and it worked fine where I had it perched.
The Dijit app is very customizable. You can arrange the various buttons and controls  you want to use for the particular device, and it even includes a decent TV guide and Netflix management.  
If your particular electronic device isn't in the Dijit database, and chances are it will be if it's mainstream equipment (the company says it's compatible with more than 200,000 devices), you can teach your phone/tablet to control it through a "learning" process that works much like other remotes'.
The system is really designed for the smart phone rather than the tablet, at least as of this writing, so the interface window only uses part of the pad's real estate, but this is neither a big deal nor is it unique to this app.  The latest upgrade offers easier navigation, including "shortcuts" that let you find content more easily, as well as Facebook and Twitter integration if you're into such things.
The only real downside I can see with the $80 Beacon is that it's battery powered only – and it requires four AA's to function – which made me wish it came with an AC adapter. While I can see where it might be inconvenient (and an eyesore) to run a power wire from your coffee table to a wall plug, the place I set it up was nicely out of the way and right near a wall plug, so it would have worked fine there.
Still, that's a pretty minor complaint!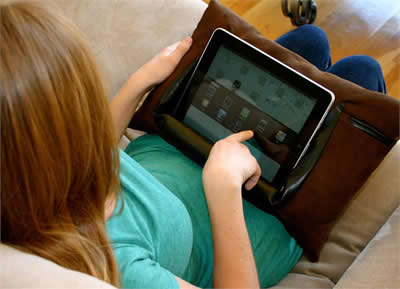 Cushioning the Tablet…
Veyl's ePillow joins a wide variety of stands and holders available for the iPad and other tablets, from models such as the ZAGGmate that adds a Bluetooth keyboard to the concept to the bendable Spider Tablet. I've tried quite a few, but my new favorite is the soft and cuddly ePillow.
As its name suggests, the ePillow is a comfortable iPad accessory that's ideal for sitting the tablet on your lap, table, or whatever.  It will probably work well on an airliner's fold down seatback tray, though I'm not sure I'd want to give up that much space in my carryon luggage to take it.  
The ePillow is made from soft polyester, though it feels almost like suede, and features a vinyl "ledge" sewed into it that you slip the tablet into. You can perch it in either portrait or landscape mode, and it also has a little pocket built in the maker says is a handy spot for reading glasses, though it was too small to take mine – and mine aren't very big. 
I use the ePillow all the time, perching it on my lap while using my iPad. I also found it particularly handy recently when I was bedridden due to illness for a few days. The soft and cuddly little critter propped my iPad at a nice angle that let me use it easily while lying there, much to my wife's chagrin.
I do find the ledge into which you slip the tablet is just a tad too deep, and because of that the bottom of the iPad's screen can be hidden, but this isn't a big deal overall – and I supposed it's better to have the extra depth than to have the tablet fall out all the time.
In all, the ePillow is a marvelous little device that does its job just as advertised.
Available at epillow.net, in a variety of colors, it sells for $29.95.
Copyright 2011 Jim Bray
TechnoFile.com