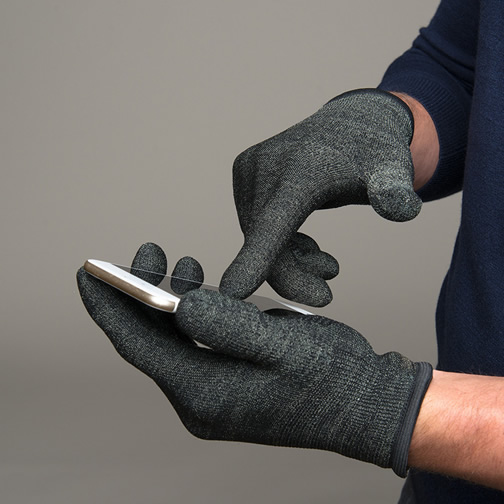 High tech gloves let you use your smart device without getting frostbite
By Jim Bray
February 24, 2017
Drivers and/or texters in climes where winter rears its ugly head repeatedly have an interesting new ally in their quest to operate smart devices without getting their hands cold.
Glider Gloves is a line of hand wear that promises to let you text, phone, and even operate vehicles' LCD screens without having to remove them, a promise that - given my history of trying to use my smart stuff while wearing gloves - seemed like a product that was simply too good to be true.
So I asked them if I could try a pair - and they responded by sending me two - one from their "Urban" line and one from their "Winter" collection. They also market "ingress gloves" which I assume are for facilitating doctors' prostate exams when they're performed outdoors in winter.
Okay, Ingress is actually some kind of outdoor "real world" mobile game (kind of like that Pokeman thing that was so strangely popular recently?) and if you're playing outdoors and want to keep your hands warm, the Glider Gloves could prove handy (no pun intended) here as well.
I don't play Ingress (to be honest, I had to look up what the heck it was after I saw the reference on Glider Gloves' website), but I drive a lot of different cars and SUV's that have LCD screens at various places on their centre stacks. I also have a smart phone I take with me year 'round and when it's really cold I shiver in anticipation of the vehicle warming up enough that I can take off my gloves to operate the phone or the car's tech. Heck, some vehicles - ones that you can lock merely by touching a spot on the door handle - force me to remove my gloves to perform that simple operation.
Needless to say, I'd tried several different types of gloves to get around this rather than risk my precious skin by exposing it to the elements (though I never tried any of this in a Honda Element!), and not even my rather thin driving gloves would work in these scenarios. Fingerless gloves always seemed kind of counterintuitive, too, since it's my fingertips that get the coldest.
It never bothered me so much that I stayed at home in fetal position rather than go outside in winter (I do that all year!) but once I tried the Glider Gloves I was convinced of their abilities.
"The concept is quite simple," said Scott Henderson, Marketing and Public Relations, Glider Gloves. "It is a hassle to take off your gloves to use your smart phone or touch screen device, but more importantly your hands get cold, especially in extreme winter climates. Glider Gloves not only keep your hands warm while you text, but are the ideal solution for iPhone and Android users."
What makes the Glider Gloves work is the copper yarn the makers have weaved into them, which look kind of like those little suckers found on a squid's tentacles, though they're very small indeed. They're only put on the palm side of the gloves, which makes sense of course - and thanks to their presence you can touch, tap, swipe or whatever else you'd do with an interactive screen. The company says the design allows your electrical current to pass through the glove and interact with your technology.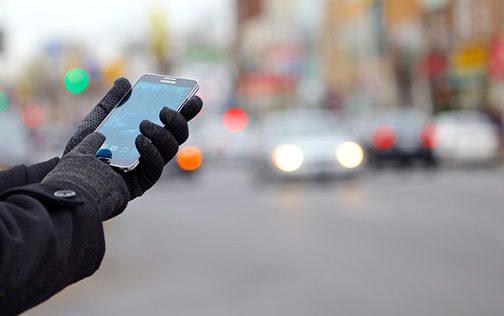 The gloves' palms also feature "anti-slip grip silicone," which is a nice touch. I tend to have issues with keeping a glass and metal phone from sliding through my palm when I'm wearing gloves and more than once this has led to disaster - or at the very least a cracked phone case. With the Glider Gloves, however, I haven't any such issues, so if I drop my phone in the future while wearing them, it'll be my fault clearly.
I figured the Glider Gloves would cost an arm and a leg, since they're a specialty item, but they aren't expensive at all! A quick comparison check of The Bay's website showed "non-Glider" gloves ranging from about 15 bucks to over 100. Yet on Glider Gloves' website the Urban gloves - the lighter of the two main items (which make pretty decent driving gloves) - list for $24,99 and as of this writing (Friday, Feb. 24, 2017) they're also on sale for $18 CAD.
The Winter Gloves, which as their name implies are thicker and warmer (I wore them during some recent -20 Celsius weather and they kept my paws nice and toasty), list for $29.99 and are on sale currently for $24.95. Their "Ingress edition versions" list for $34.95 and are on sale for $29.99.
Ingress editions come in two incarnations: Resistance and Enlightened, which sounds like they'd be perfect for NeverTrumpers I wonder if there's a Deplorables version on the horizon…
The winter gloves are insulated with a thick, double-layer material the maker says are good for extended outdoor periods and if I ever stay outside that long I'll let you know if it's true (it undoubtedly is). According to their website, they can even be used when snowboarding and skiing, and make checking your phone on the chairlift "a relaxed and cozy experience" (if you aren't afraid of heights and swinging in a chair!).
I forgot to tell the folks at Glider Gloves what size I'd need, so they sent the Winter gloves in size Large and the Urban ones in XL. The sizes on offer, however, range right down to ones suitable for kids (wee paws for station identification?).
A size chart on the company's website is designed to help you choose the Glider Gloves that'll fit you the best. I found the XL urban gloves a bit too long for my stubby fingers, though the hand parts fit fine. The Large winter gloves fit my fingers beautifully but are a tad tight on the hands, proving either that you can never please everyone or that I'm just a short fatty…
Glider Gloves come with a 30 day exchange policy and a 90 day "plain and simple" warranty. To keep them clean you should hand wash them gently with mild soap and cold water, then lay them flat in a well-ventilated area to dry. The website warns against tumble drying them.
What a simple and elegant - and affordable - solution!
Copyright 2017 Jim Bray
TechnoFile.com