New apps claim help for gift givers and narcissistic navigators
By Jim Bray
June 1, 2017
Have you ever been stuck for gift ideas? Have you ever been bored by the generic computerized voice programmed into your vehicle? Well, folks, the free market has solutions for both of these vital issues and the world may be a better place because of them.
Or not. But they are interesting apps regardless of their overall impact on modern civilization, and I figured you might like to know about them.
Giving till it doesn't hurt…
And it's free! Gift Jeenie (dunno if it has light brown hair) promises to make birthdays, Christmas, Mother's Day, weddings, graduation - whatever occasion that might put you on the hook for shelling out for swag - less stressful for those who hate shopping. It's also supposed to be a way to help ensure the right gift is chosen for the right people.
Gift Jeenie, according to the PR release, is "on a mission to perfect the art of gift giving through its social gifting app which helps users in Canada and the United States create and share wish lists, and take the guessing out of giving."
Toronto-based Gift Jeenie's co-founder Gerard Maynard puts it this way: "Let's face it, dropping hints hasn't exactly been the most effective way to let people know what's really on your wish list. Gift Jeenie wants to bring back the joy in gift giving and receiving by making it easy and shareable."
Maybe it'll help you buy something for that person who has everything.
If you're completely clueless about what to get your special friend (or mortal enemy, though perhaps that gift won't be as nice …), Gift Jeenie helps you create lists and add items to it from any online retailer via the in-app browser. You can share your list, too, using WhatsApp, Facebook, Facebook Messenger, Twitter, or e-mail.
Gift Jeenie could also help you avoid the embarrassment of duplicate gifts, thanks to the app's ability to show what trinkets or treasures have already been claimed or given. I expect that works best if everyone involved is making the same list or at least checking what everyone else is on the hook for. Or that they're using Gift Jeenie's Trend section to see who's giving what - or what items are "trending in gifting circles."  
And how about this: not only can you use Gift Jeenie to help you find a goodie to give, you can use it also record - or merely write - a personalized gifting or thank you video and/or message. 
I checked out the iTunes store to see what the community there thinks of the app and, perhaps because it's new, there was only one review posted there. It was very positive, however, the reviewer focusing particularly on the shareable wish list aspect of Gift Jeenie and the fact that, because of the app, he/she/it writing the review no longer has to keep gift receipts or worry about store return policies. The reviewer also mentioned the app's easy user interface.
Gift Jeenie is available on the App Store and the Google Play Store or you can check out the company's website.
I don't think this is an app that I'd use because I enjoy the supposed chore of gift giving (and if the recipient doesn't like what I've chosen, to hell with him/her/it!) but as is usual with such things, and the free market, your mileage may vary.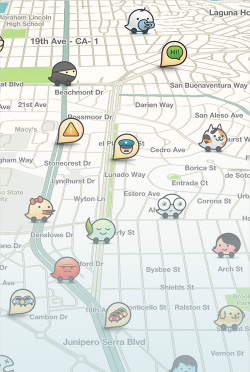 Talking back to yourself…
Have you ever wanted to be your own backseat driver? Well, thanks to the new Waze Voice Recorder, you can tell yourself where to go!
Waze, which is also free, bills itself as "the world's largest community-based traffic and navigation app" and invites you to "join other drivers in your area who share real-time traffic and road info, saving everyone time and gas money on their daily commute." In other words, it's a social media thingy designed to help you get from Point A to Point B in the most efficient manner. Probably the most inclusive, too…
"Imagine millions of drivers out on the roads, working together towards a common goal: to outsmart traffic and get everyone the best route to work and back, every day." That's according to the Waze website and while it sounds a tad commie, it also sounds like it really can help you get around and, as they claim, can even help you find the cheapest gas station on your route. "By working together to report prices at the pump, Waze drivers can always save some gas money," the Waze whizzes say.
While the Waze app isn't exactly brand new, the voice recorder feature is, and it's kind of neat because it lets you record your own voice for all the directions and reports you need while navigating via the app.
Yes, indeed, you can nag yourself!
"Waze is always searching for ways to make driving fun with light-hearted features that delight drivers and make the driving experience less stressful," their release says. And apparently, this personalized voice guidance is something "Wazers" have been clamouring for.
 The voice recorder lets you capture your own voice prompts any way you like (since it's a voice recorder and not a voice "creator"). So you can use your regular voice, pretend to be Yoda, or do your best John Wayne impression.
I've reviewed a wide variety of vehicles from North America, Japan, South Korea, Germany, Sweden, Italy and England, and while I'm not convinced that I'd like to hear myself barking out commands (though I could undoubtedly record my wife's voice to make it seem like a normal drive even when she isn't there) and I've always thought it would be cool to have different voices available for navigation systems, especially if they're politically incorrect. Or ethnically stereotypical!
For example, why can't the nav system in a Mercedes Benz speak with a German accent? And why not give it attitude: "YOU VILL TURN HERE AND YOU VILL LIKE IT!" Or how about driving a new Jaguar and have it say something like "Pardon me, but it would be best for you to take the next left if you don't mind."
Imagine the possibilities! Imagine the human rights complaints!
I imagine it must be quite the rigmarole recording turn-by-turn prompts but once you've accomplished it once that should be all that's required until you want to change it. Waze claims the recording process is simple and if you decide not to record a particular prompt, the app will use its default voice that that command instead.
Right now, the prompts you record are available only to the individual user, but the company says there are plans to make it possible to share voice recordings between Wazers. And right now the voice thingy is only available for Android, but the company says iOS is going to be available soon.
Guess they're still only "partWaze" to having it finished completely…
Copyright 2017 Jim Bray
TechnoFile.com