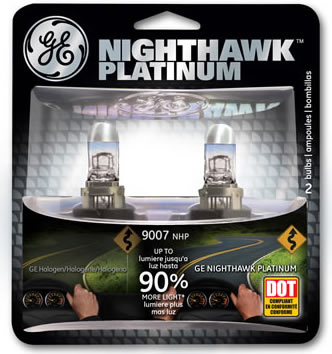 New Systems Help Monitor The Road Ahead – and the Driveway in Front
By Jim Bray
April 2, 2010
A new headlight promises to lead you to true enlightenment, while an interesting new wireless sensor could contribute to making your home a safer and more secure place.
The headlight, from General Electric, is claimed to put out 90 percent more light on the road than GE's standard halogen headlight. Called the Nighthawk Platinum, GE says they emit clean, white light for better visibility "So drivers can drive with confidence," according to their press materials.
First, a bit of full disclosure: my wife and I own a few shares in GE – certainly not enough that flogging these light bulbs is going to bring retirement any closer. In fact, I'd be more likely to dump the shares to punish them for jumping into bed with Obama if it weren't for the fact that they're worth bupkis compared to what we paid for them and I don't relish losing even part of my shirt. Been there, done that!
I can picture the GE movers and/or shakers now, sitting on the edges of their boardroom chairs, shaking with fear that the Brays might cash in both of their chips. Why it would destroy the economy!
Anyway, GE says in its press materials that whiter light can improve visibility by providing better contrast for street signs and the lines painted on the road, making them stand out more from the background. Contrast is good and the more the better – just ask anyone who chose a plasma TV over an LCD.
According to GE, the Nighthawk Platinum bulbs' blue coating creates a whiter light than you'd get from regular halogen bulbs. I guess that makes blue the new white!
And if you're at all handy, you might like the fact that these lights are easy to install, require no wiring changes, and will replace standard halogen lamps, according to GE.
The retrofitting capability is what turned my crank (that and the thought of instant riches from my GE shares!). When GE's PR people asked me if I'd like to try the Nighthawk Platinums, I told them the car in which I wanted to try them is a 1991 Infiniti Q45 – a fine vehicle, old and kind of rare, but I would imagine it's practically worthless from a retail standpoint. I didn't expect a positive response, but the next thing I knew the new bulbs were at my door.
So I took the car and the Nighthawks to my favorite auto service place, a small businessman who's worked on the Mighty Q since I picked it up for a song several years ago – and upgrade the geezer vehicle's headlights he did – with an installation so quick that I hadn't even found a decent magazine in the waiting room before they returned my keys and ushered me out to make room for someone with a real problem to fix.
I could've probably installed them myself if I had the tools and a few thumbs fewer…
The rated life of the Nighthawk Platinum bulbs varies, GE says, but they claim the lights should last several years or more, depending on the type of bulb and how often you use it. But what headlight doesn't last for years these days?  I can't remember the last time I had a headlight burn out.
But if you want to save the life of the lights, try not driving the car at night. You'll be amazed at their longevity. 
Looking back on it, I wish I'd have had them only install one bulb so I could do a better A/B comparison – while undoubtedly annoying the heck out of other motorists – but it never occurred to me at the time (and I'm certainly not going back to the garage with such a strange request now!). And while I have no way of measuring whether or not the Nighthawks are 90 per cent brighter than the glorified candles they replaced in the Q's nose, they are definitely very bright and the roads, signs and all that other stuff ahead does appear more visible than with my old headlights of uncertain age. So I'm happy.

Maybe I'll keep those shares after all.
The other product mentioned at the top is a Wireless Driveway Sensor from HAI (Home Automation, Inc.), which bills itself as "The leading manufacturer of integrated automation and security products since 1985". I haven't tried this device, but the concept seems straightforward.
HAI says you can use the Wireless Driveway Sensor to turn on your outdoor lighting automatically as your vehicle approaches, or to alert the people inside your home that someone is arriving. Either scenario could prove handy, for people who want to illuminated the route from their car to their door without leaving the lights on all the time or on a time to other folk who want to know if a stranger is a-prowling around the estate.
I'd like to have something like this attached to either a huge taser or a powerful P.A. system with which to hurl insults.
According to the company's press release, the sensor uses the Earth's magnetic field to detect moving metal objects that pass by, such as automobiles or (if it were sensitive enough) rounds of ammunition. And the wireless nature of the 63A00-1 (How's that for a grabby product name?) means there's no digging or underground cable required for installation. The thing looks kind of like a black microphone, and HAI says you can mount it on the stake with which it comes packaged. That would make it perfect for, er, stakeholders. It can also be mounted on a post or wall.
The Wireless Driveway Sensor isn't a standalone solution; it's being marketed as part of HAI's wireless security product line and needs an HAI 64 Zone Wireless Receiver to complete the deal. "This is a great value-add product for larger projects", company President Jay McLellan says in the press release trumpeting the product's introduction.
HAI says the product is expected to be available sometime in the second quarter of 2010. No pricing was announced.
The company also announced that six of its new products are going to be granted "ZigBee Smart Energy product certification." The ZigBee Alliance is, according to its website, an association of companies "Working together to enable reliable, cost-effective, low-power, wirelessly networked, monitoring and control products based on an open global standard." They claim their mission is to give consumers flexibility, mobility and ease of use by building wireless intelligence into "everyday devices."
In English, that means it's basically a wireless standard for such remote monitoring and control applications, to ensure they can talk to each other and work together more efficiently rather than the consumer having to worry about which devices will be able to interact with which devices.
As an analogy, think of how the HDMI interface lets home theater components talk to and interact with each other (for example, firing up your Blu-ray player can cause your HDMI-connected TV to change to the proper input, etc.). Hopefully, however, such a standard won't be inflicted with something like HDMI's stupid digital copy protection scheme that causes so many handshaking problems between devices.
Copyright 2010 Jim Bray
TechnoFile.com