Eton's Soulra Dock Gives iPod Owners a Sunny Outlook
By Jim Bray
November 3, 2010
Docking stations for iPods and iPhones are a dime a dozen these days, but Eton Corporation has an interesting new wrinkle that adds portability and "greenness" to the mix.
It's the Soulra, which the company bills as the first Solar-powered sound system for iPod and iPhone. It's more than that, though; it's also a nifty way to take your tunes with you without needing the world's longest extension cord.
Eton's press material says the Soulra will not only play your tunes but will charge your player at the same time, and that's very true. They also claim you may never have to plug the thing in but I haven't found that in the testing I've had a chance to do so far. I suppose it's true if you leave the thing sitting out in the sun long enough, but solar panels in general have yet to prove their mettle as a panacea for all our electrical needs.
Fortunately, you can also recharge both the unit and your iPod/iPhone with the AC adapter that's included with the Soulra, augmenting the solar panel with the evil type of electricity that comes from conventional power stations such as coal and (gasp!) nuclear.
I have to admit, I don't care much about the solar aspect of the Soulra; I just don't sit outside that much. Instead, it's the overall portability that grabs me and to that end I think the Soulra is a heckuva product. Now that winter's at our door and its use outside will be limited anyway, the $200 unit serves beautifully to take my tunes and podcasts anywhere in the house I want – and that makes it perfect for hauling around with me when I'm doing my chores.
This scenario makes my wife happier, too, because I can keep the unit close at hand and not  have to crank the volume so I can hear it as I move from room to room.
Still, the solar panel, which flips up from the front to reveal the actual docking station, can add life to the units' charge – though the manufacturer also warns you not to leave the iPod/phone docked when you aren't using it because the charge goes right through the Soulra and charges the pod/phone first, which could shorten the life of the Soulra's own charge.
But if you remember to take the player/phone out of the unit, you can use either the solar panel or AC adapter to recharge the Soulra's own lithium ion battery pack so it'll be good to go the next time you need it.
Eton says the Soulra offers four hours of playback at "mid-volume and continuous charging of iPod and iPhone (depends on iPod/iPhone model used and volume level) in battery mode". That's not bad, all things considered. Recharge time is a claimed four hours for the AC adapter, and 10 hours for the solar panel in direct sunlight.
The solar cell is a high efficiency monocrystal unit the company says uses commercial grade lamination technology for increased lifespan and superior low light response – for which they mean under cloudy conditions – and they specify in the documentation that you can't use the solar panel indoors, through windows, and that's what I found as well.
The unit appears to be built with that lovely portability in mind, because it has a nice, rugged exterior coating the company says makes spills, rain or dust a non-issue. The company gives a caveat, however, that the splash proof claim only applies when the solar panel is closed. On the upside, they claim it's protected from all angles against spraying water at at rate of "10 liters/min at a pressure of 80-100kN/m2 for 5min."
I haven't actually hosed it down to test that, of course, nor would I have any way of measuring such a claimed pressure – but I have no reason to think it isn't true, either. The unit, with its rugged rubberized case, aluminum body and recessed handle on the back, comes across as very solid and hardy and would undoubtedly do a good job even if you took it into the boonies.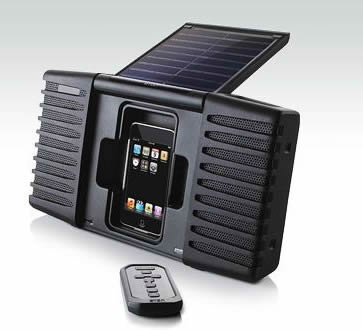 The Soulra's easy to use, with playback controls on the right side of the top panel and power, volume and the like on the left. A red indicator on the front left gives you battery charge info and there's even an auxiliary audio line input on the back you can use to plug in a device that won't sit in Apple's propriety dock unit, so you can use your Android phone or whatever. It isn't as elegant as docking the unit in the Soulra and closing the front panel is, but it works fine.
Besides the AC adapter, accessories include a handy remote control and a protective cover for the iPod/Phone.
A nice touch is that the Soulra is good for more than just playing music stored on your player. I use it with the Livio Radio app to listen to my favorite radio stations from around the world, for example. I also use the Soulra with my iPhone's Skype app to create a terrific speaker phone I use for calling distant family members. I merely perch the Soulra on our coffee table and my wife and I sit in our chairs nearby. It works really well.
The weakest point about the Soulra is its sound quality, which I would rate only as good, not really of audiophile quality. Its single full range speaker (one for each channel, with 11 watts of power and a bass boost button to give it a bit more oomph) sounds a tad muddy to these ears.
To be fair, my reference iPod dock is Bose's SoundDock 10, and it lists for about three times what the Soulra does.
There are no tone controls on the Soulra, though you can tweak the player's equalization to help compensate for any audio shortcomings you may perceive. And despite my "non-audiophile angst" about its sound, the Soulra is hardly unlistenable – and its flexibility more than makes up for it.
In all, the Soulra is a very nice unit, with decent sound and excellent portability and flexibility.
Bose on the Go
Speaking of portability, and Bose, I've also been trying out the Bluetooth adapter for Bose's SoundDock 10, a $150 add-on that expands the unit's capabilities beyond any kind of wired connection.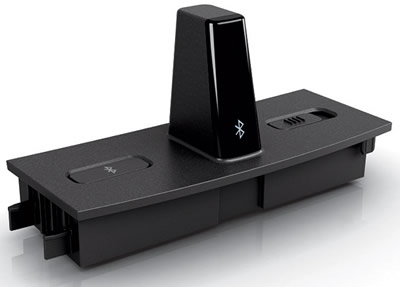 I became aware of the need for such an accessory when I switched my phone from Apple to Android and realized that I'd need to hook it into the SoundDock 10's auxiliary input if I wanted to play music via the Bose. Not a big deal, but not as elegant a solution as Bluetooth allows.
The Bluetooth adapter replaces the SoundDock's iPod dock and lets me leave my phone in my pocket – or wherever else I want to leave it – and stream tunes directly to the SoundDock. It works well, too.
To test it, I moved the SoundDock and its remote control to my bedroom and left my Bluetooth-enabled Android phone on the kitchen table downstairs – and be darned if it doesn't stream the music upstairs to the Bose as if it were connected physically, which of course is the whole point.
Not only that, but the Bose's remote control still works, letting me adjust the volume, skip around in the tracks, and the like, from upstairs – a truly "remote" control.
The Bluetooth adapter should also work with Bluetooth-enabled iPhones, giving you even more flexibility. Bose says you can pair it with up to six music phones, which makes it ideal for families who may have multiple such devices. I only have one such unit, so haven't tried that aspect of it, but it undoubtedly works as advertised.
A very welcome accessory, indeed.
Copyright 2010 Jim Bray
TechnoFile.com