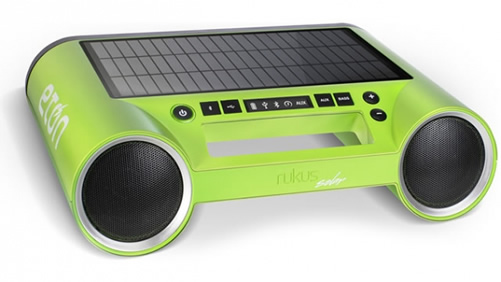 Etón raises a Rukus with solar-powered Bluetooth speaker
By Jim Bray
February 28, 2013
It's almost like perpetual motion, only with music!
It's a new Bluetooth wireless portable speaker, entering a market that's crowded with a dizzying variety of such products, from inexpensive, entry level models to such comparative powerhouses as Bose's SoundLink (and more about that particular unit later). One would think that a new kid on this block might have to offer something a bit different to get noticed – and you'd probably be right.
In this case, Etón's ("Powered by nature")  Rukus Solar not only offers solar powered recharging of the speaker unit itself, but it can also recharge your wireless device the same way. It's a way to ensure the tunes never wear out, as long as the sun shines or you at least have access to some bright lighting to keep the solar panel chugging away.
That capability to recharge the music playing device is a nice touch, since Bluetooth is generally a bit of a battery hog, draining the juice from your device at a seemingly alarming rate. This is why, if I'm planning to take a road trip of reasonable length, I generally bring along a USB cable I can use to keep my phone charged as I drive, because if I don't the tunes will undoubtedly run out of steam right in the middle of my favorite song.
The unit itself is handy, too; it comes with a handle with which you can carry it around. One warning, however: the big, flat area that looks like it'd be ideal for using as a little "breakfast in bed table" isn't meant for such. Nope, that's the solar collector, so you not only don't want to block it, you don't want to risk damaging it, either.
But that's really the only caveat with this interesting and decent-sounding unit. It works well, is easy to use, and other than true audiophile sound (which this doesn't offer) for what more could anyone ask?
Ease of use? Well, you have seven buttons from which to choose: the ubiquitous power button, three buttons that choose between Bluetooth, USB and the auxiliary jack (the latter two of which are on the unit's bottom, along with the power adapter input), a bass boost that works but which is rather unnecessary, and the volume up and down buttons (labelled plus and minus).
One thing I would have liked to see changed was the unit's inability to control your playback from the Rukus itself. This can be accomplished by forward/backward buttons or – as Bose does with its excellent SoundDock 10 (which isn't really portable but does offer optional Bluetooth performance) – a remote control. This way, you don't need to have playback device actually with you, and could for example leave it plugged into its charger while you rock elsewhere.
On the other hand, the Rukus (a.k.a. the RKS100) does have a little stretchy elastic pocket mounted on its bottom surface and it fits my Android smart phone well. That meant I could carry the device with me, easily and unobtrusively, as I hauled raised a Rukus around the house while doing my chores. I'd still rather have a remote or those forward/backward buttons to skip through tracks, but this is a compromise that works reasonably well.
I was a tad nonplussed when the Rukus arrived in the dead of winter because the last thing I wanted to do was sit outside, testing the unit's solar power performance when the skies were dreary and the temperatures were worse. But I was pleased to discover that, unlike some solar devices I've tried, this one works well indoors as long as you have good light sources raining down on it.
I used sunlight streaming in through our living room's bow window as well as wall-mounted light fixtures shining down on it from above, and both methods of charging/powering the system worked well. And you know when it's working because a little icon shows up on the unit's little LCD screen, indicating its basking status. I listened to tunes nonstop for several hours on a quiet and lazy Sunday afternoon without the Rukus' charging indicator signalling any cause for alarm or my tunes suddenly going silent.
The company says the Rukus takes six hours to charge via direct light, and you can speed the process (or avoid it if you choose to) by using the AC adapter that's also included in the box. Use the adapter if you can; I sat the thing under a bright light for many hours and the battery indicator scarcely moved. I imagine it would be better under bright sunlight, but haven't been able to try that yet.
The Rukus sells for $150, which seems like a reasonable price. As mentioned, I've heard units that sound better – but not for this price. And I've definitely heard units that don't sound as good, so the Rukus seems to be a decent unit at a decent price – and its solar power capability is a nice bit of gravy. And if you get bored with solar power, you can use the thing as a musical serving tray.
SoundLink updated…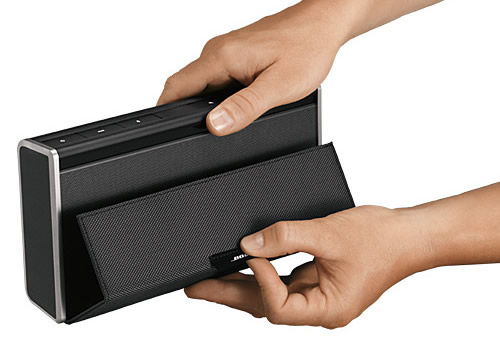 My favorite Bluetooth wireless speaker has received a bit of an upgrade as well. It's the Bose SoundLink and, while it isn't in the same league as the Rukus as far as price is concerned, it'll run rings around any other portable Bluetooth speaker system I've heard so far.
As full disclosure, Bose invited me to New York for the introduction of the original SoundLink and I was so impressed with it then and in a longer, more in depth review later, that I bought one. I take it with me whenever I travel – as well as using it around the house, of course – because its small footprint and overall size coupled with its excellent sound quality for the size make it an ideal companion for those times I'm forced to live out of my suitcase.
The new SoundLink doesn't represent a huge update, but Bose has decided to update the product's name anyway, now calling it the SoundLink Bluetooth Mobile speaker II.  
Bose says the new version features improved full-range audio they say is "more lifelike and accurate, with no increase in the system's size." They've done this by using new neodymium transducers and an updated digital signal processing algorithm. And since I have the old model doesn't it just figure they'd make it better?
I didn't notice a huge difference in the quality of the SoundLink I versus version II, but the original version was definitely no slouch anyway, so any improved sound quality may be a bit like gilding the lily. Still, if you can make something better and sell it for the same price, why not?
Bose has also made the SoundLink better, supposedly, by giving it a new, integrated leather or nylon bi-fold protective cover, which also serves as its stand. It's pretty well the old cover/stand, but now it folds in half so you can reduce the SoundLink's footprint even more for those times when counter is really at a premium.
The SoundLink will remember up to six Bluetooth devices, so the whole family can pair their toys once and then not worry about it again. I love this device.
So is the Rukus good enough to knock the Bose SoundLink off the top of my "pyramid of favored portable Bluetooth devices?" No. For me, the sound quality and the portability – as in how easy it is to pack away in a suitcase – are the most important parameters, and in this case the Bose wins hands down once again.
But the Rukus is still a good performer and even though its footprint is substantially larger than the Bose's, it's hardly a Bluetooth behemoth – and its handy carrying handle enhances in its overall portability (though not its "pack-ability").
And even though it falls short of the Bose on the musical scale, the fact that the Rukus retails for half the price of the $299 U.S. ($349 with a premium exterior and leather cover) Bose makes it a winner on the fiscal scale.
Copyright 2013 Jim Bray
TechnoFile.com