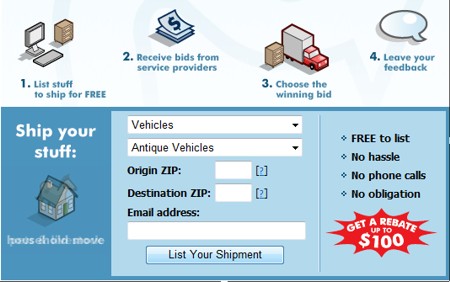 Shipping a Valuable? Find Out How Much It'll Cost
Then, Scope the World from Your Browser
By Jim Bray
May 11, 2009  
You've bought that classic car of your dreams. Now what? How do you get it home if you don't want to add a lot of miles to it?
UShip.com thinks it has your answer, with its Shipping Price Estimator.
I love watching the Barrett-Jackson classic car auction the Speed network broadcasts each year. It's a Walter Mitty moment for me, where I can imagine being well-heeled enough to afford one of these vehicles; it's also a fascinating learning experience where knowledgeable experts impart much interesting and arcane info on vehicles that are rare and in many cases unique.
If it were me buying, I'd probably drive my prized new possession home regardless of the added miles on the odometer; I'd have bought the car to drive anyway. But that's me. There are many good reasons one might not want to drive the vehicle home. Maybe you weren't even at the auction in person and bought via a proxy. Perhaps you'll be driving another of your new purchases instead (you lucky stiff!) and can't be too places at once. Or perhaps it won't fit into the cargo hold of your private jet (you lucky stiff!).
Anyway, for those lucky stiffs out there, uShip's Shipping Price Estimator could come in handy. Located at www.uship.com/price_estimator.aspx, the company describes it as a "uniquely powerful tool for estimating vehicle transport cost based not only on distance and weight, but also on trucking routes and availability."
The company uses as an example a dream car bought in Dallas by someone who needs to get it to Obamaburg, er, Chicago. All this fictional person need do in this instance is select the shipping category (you're offered choices such as vehicles, household goods, boats, heavy equipment, etc.) and sub category (cars and light trucks or antique vehicles, for example), and plug in the source and destination zip (or postal) codes and Voila! The estimator gives you an estimate – in the example's case of $517.13 U.S. "based on actual transactions in the uShip marketplace, distance, routing and carrier capacity."
I went there and tried my own fantasy shipping estimate, tracking a shipment from Zip code 85260 (the Zip code for WestWorld at Scottsdale, Arizona, from which my Barrett-Jackson-purchased classic would originate in my dream world) to my Calgary, Alberta postal code.  The estimator came up with $944.52 U.S., also offering the opportunity to "List your shipment in the marketplace to get real shipping bids and save up to 80%! It's completely FREE to list with no obligations!" Sounds like a Priceline-type of thing for shipping.
According to the company, uShip.com uses a "reverse-auction style format where transporters bid against each other to win the job, which drives down the final price to the consumer." They also offer a feedback score as well as consumer reviews for each of the transport companies on their network, based on "the expected service level and dependability of each provider, in addition to the price quote."
Much as I'd have loved to take advantage of those services, I was merely kicking virtual tires – and I didn't want to find myself on yet another email list (not that I'm suspicious of these people, but…), so I eschewed their kind offer and went back to dreaming.
uShip.com says their estimates can vary from day to day, since prices fluctuate in the real world. They say their estimates come from the Transportation Price Index (TPI – www.transportationpriceindex.com) and that, as it changes, their quotes will change to reflect that.
Sounds like it might be worth a look if you're interested in having some heavy duty booty delivered.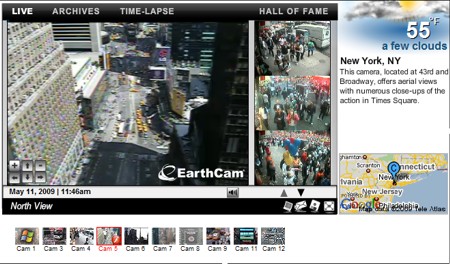 Bird's Eye Virtual Views….
Speaking of something being worth a look, EarthCam offers streaming views from cameras mounted in famous locations worldwide, which could be a nifty way for you to scope out potential travel destinations before you go.
Debuting officially on May 7, the webcams include the "Pandacam" from Zoo Atlanta and supposedly use new video compression technology to "provide the best available full motion, real-time webcame experience", according to EarthCam's press release.
Available at www.EarthCam.com, other sites you can enjoy virtually and vicariously (many of which come complete with sound) include Times Square (New York), Leicester Square (London), Prague City Center, The Statue of Liberty, Niagara Falls and the Federal District in Buenos Aires. They also monitor the New England Aquarium, Viva Las Vegas Wedding Chapel, the Space Needle in Seattle, Punta del Este (Uraguay), Ho Chi Minh City (Vietnam), and Puerto Rico.
According to EarthCam CEO and Founder Brian Cury, "The growing EarthCam network will bring millions of visitors an entirely new experience. Thanks to the latest technology, abundant international bandwidth and our new page design each view reveals a unique look at daily life in the world from exclusive angles and vastly expanded archives that are entertaining, visually dynamic and educational."
Naturally, I surfed by and poked around the site and it's actually pretty cool. My first stop was Times Square, which is realized initially via a cam mounted high over the city. You can pan, tilt and zoom to a certain extent – nothing like the focusing on a license plate that's such a popular rumor, though you're also offered various other angles that get you a lot closer to the Big Apple and its denizens as they go about their business.
The Times Square cams feature audio; during my quick visit I could hear sirens clearly as New York's finest rushed to someone in need. It was pretty cool.
I went from there to Niagara Falls, a drive of several hours but merely a point and click on EarthCam, and a location I've actually visited in the past so I know at least something about it. This one wasn't as compelling, being merely a very high shot of the Canadian (Horseshoe Falls) side and though it claimed there was audio I couldn't hear anything.
Likewise, the Space Needle stream showed the Seattle landmark clearly, and changed angles (zooming in closer to the top) while I watched. Unfortunately, there was really nothing to hear and little to see (probably because it was a crummy day and only about 6 a.m. their time when I surfed by) except some seagulls flying across the shot.
Another cool feature is the NASA webcams, which link to the space agency's feeds and are a fabulous way to watch a shuttle launch if you can't be in Florida for the experience.
The home page is laid out with little preview "Editor's Choice" windows that don't show much, but over which you can move your mouse to access a pop up window with a better description.
For fun, I typed my current home town of Calgary into EarthCam's search window and up popped a selection of local web cams I didn't even know existed, linked to from the EarthCam site. Unfortunately, whether it was due to bandwidth issues at the destination sites or whatever, the results were quite underwhelming.  
Still, there's quite a bit of neat stuff to access at or from EarthCam.
The company says its plans call for "a continuous upgrade of cameras throughout the year for all live views throughout the United States and around the globe" so perhaps the issues I discovered will be dealt with soon.
Not a bad way to check out potential vacation sites or just waste otherwise productive time while surfing at work.
Copyright 2009 Jim Bray
TechnoFile.com