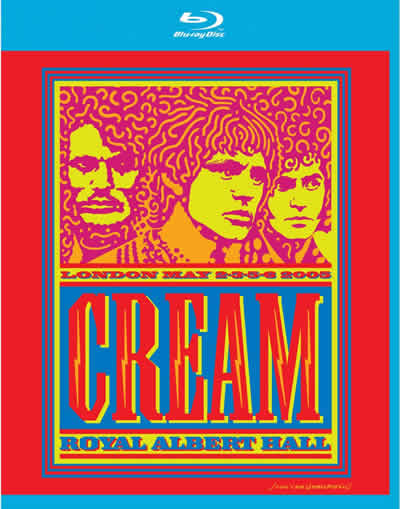 Eagle Rock Unleashes Classic Rock Concerts on Blu-ray
By Jim Bray
December 9, 2011
If you have a classic rock fan on your Christmas list, you may want to surf by Eagle Rock Entertainment's site for some excellent concert films on Blu-ray.
This is nothing new for Eagle Rock, which has been unleashing a steady stream of concerts for years – and some of their Blu-ray releases are so good you can use them as reference discs when you want to show off your system. I do this regularly with their release of Ray Charles Live at Montreux 1997, which is one of many excellent concerts culled from the annual Montreux bash. Though most of their Blu-rays are only presented in 1080i, as opposed to 1080p, the picture still manages to be superb more often than not, and even if it weren't superb the outstanding audio tracks, which put you right there in the action, would make up for it.
Over the past couple of months, the company has added several new classic rock acts to its roster, most of which continue this tradition of excellence.
Alas, one of the problems with concerts of bands who have been around for a long time is that, if it's an old concert, the quality can be limited by the recording technology of the day. This was the case with releases from such classic bands as the Moody Blues and The Who – both of which featured concerts from the Isle of Wight festival around 1970, and which definitely show and sound their age. On the other hand, however, many of these bands are still together – or have reunited with original or replacement members – and have been recorded with state-of-the-art technology. It's these ones that can be particularly rewarding.
My favorite among the recent releases is the Cream reunion, which was shot over a four day period in May of 2005 when the trio got together again for a series of gigs at the Royal Albert Hall. It is absolutely outstanding – the performances of Eric Clapton, Jack Bruce and Ginger Baker make it seem as if they never stopped playing together, and the audio and video quality of the disc make this the stuff of rock and roll (well, bluesy rock and roll, anyway) dreams.
I must confess that I was never a fan of Cream nor of Clapton's. I was familiar with "Slowhand's" position in the pantheon of rock artists, but all I had ever heard were the singles he and his bands have released that are played regularly on the radio – and most of those didn't do much for me.
Needless to say, I went into the concert not expecting much – but it barely took the first couple of numbers before my view of Clapton and Cream were changed forever. I still may not be a diehard "Cream-and-Claptonophile," but this concert absolutely blew my socks off and I now use it side by side with Ray Charles as demo disc when reviewing equipment. It's that good.
The concert was shot in high definition and the 1080i picture looks fantastic. But as with other such Eagle Vision releases, it's the audio that really gets this disc, well, rocking. The company, as it usually does, has unleashed the band's fury with three choices of sound tracks – DTS-HD Master Audio 5.1, Dolby Digital 5.1 and LPCM stereo. I invariably prefer the DTS track, which not only sounds spectacular, but it puts you right into the atmosphere, surrounding you with audience ambience.
Even better, though, the instruments and voices are crystal clear, and superbly dynamic. Fidelity is excellent, and there's so much "punch" your neighbors might complain if you crank it up – and you will.
The list of 19 songs runs the Cream gamut, from "I'm So Glad" and "Spoonful" to "Pressed Rat and Warthog (arguably the weakest track), "Sleepy Time Time," "Badge," "Stormy Monday" and their big hits of "White Room," "Toad," and "Sunshine of Your Love."
I kid you not; there's so much great sound coming from these three musicians – with no other backup artists to help them – that if you're a fan of the genre you will definitely want to own this disc.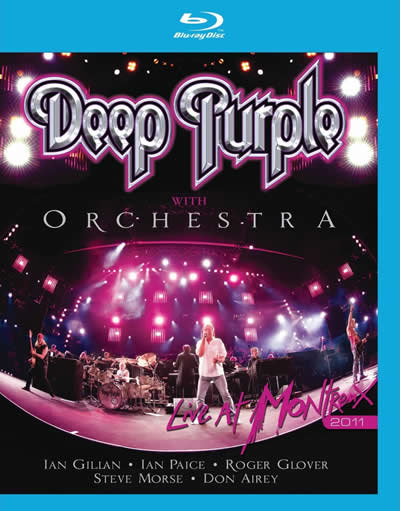 Deep Purple has been credited by some with starting the Heavy Metal craze with its album "Machine Head," and maybe that's true. It's definitely a band that has had an influence beyond its limited number of hit singles and, unlike Cream, has been around for most of the years since the "golden age" of rock. Personnel has changed, of course, but the band can still put on a show, as witnessed by "Deep Purple with Orchestra, Live at Montreux 2011."

This concert features three of the classic lineup: Singer Ian Gillan, drummer Ian Paice and bassist Roger Glover. Alas, keyboardist Jon Lord and guitarist Ritchie Blackmore from that era aren't around this time, but what can you do? Their roles have been picked up by Don Airey and Steve Morse, respectively who do a good job in what could have been a rather thankless task of filling some rather big shoes.

The gig in question here was recorded on the final night of the 2011 Montreux festival and includes pretty good versions of some of their biggest hits, including (of course) "Smoke on the Water" and four other songs from the "Machine Head" album. You also get "Hush," "Woman from Tokyo," "Strange Kind of Woman," and many others.

The band members may not have aged well physically, but they can still play – though the years have definitely taken their toll, especially on Gillan's voice. His searing screaming vocals here are a shadow of what they once were. Of course he isn't alone in this respect…

 Still, if you're a fan, you'll probably like this 1080i presentation, with the same audio choices as offered on the Cream disc – with my favorite once again being the DTS track. Alas, the picture quality isn't up to the standard of Cream or Charles (or many others), though it's still eminently watchable.

Fans of Fleetwood Mac undoubtedly know Lindsey Buckingham. He, with Stevie Nicks, joined the band in time for them to become monster hit makers in the 1970's. He's a heckuva guitarist in his own right and has a good singing voice, too.

I was never a Mac fan (heck, I'm writing this on a PC!) so wasn't too interested in this disc, but I'm glad I watched it. Buckingham does songs from his Mac and non-Mac career, peppering the concert with anecdotes shared with the audience.  The show kicks off with some acoustic performances, and then his band joins him for most of the rest of the disc. Songs include "Shut us Down," "Go Insane," "Trouble," "Never Going Back Again," "Big Love," "Tusk," "Stars are Crazy," "End of Time," "That's the Way Love Goes," "Go Your Own Way," and "Seeds We Sow."

Alas, once again the video here isn't as good as Eagle Rock's best, with a lack of detail on longer shots (though close ups are good). And as usual, you get the three choices of audio tracks and, as usual, the DTS-HD is the best, offering a beautiful mix.  There's no center channel on tap, though; this is a four channel presentation.

If you're looking for a real classic rock concert from the days when classic rock became classic, you might want to check out "The Rolling Stones, Some Girls Live in Texas '78." This vintage feature shows the Stones at the height of their powers, when they were touring to support the "Some Girls" album.

It's a raw and energetic performance from Mick and the lads, shot originally on film, restored and remastered and transferred to HD (though, as usual with Eagle Vision, it's in 1080i) with good results. The picture's admittedly soft,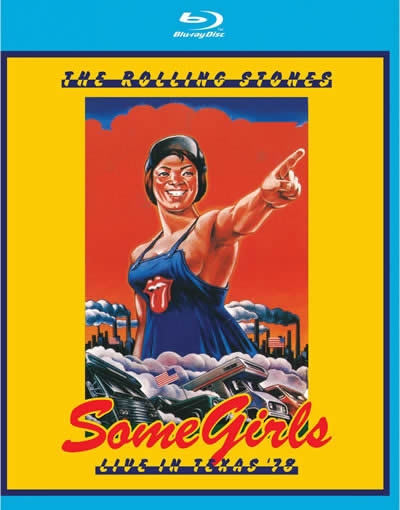 but pretty good under the circumstances, and you can't really beat the color you get from a film-based production as opposed to video tape or some digital files.

Eagle Rock did a nice job with the audio, too (with the usual three choices and my usual preference holds here as well), remembering of course that this was recorded back in the days of analog, so it won't be as good as the best of the modern digital recordings. It's better than the Isle of Wight stuff mentioned earlier, but not nearly as good as Eagle Rock's finest.

Songs include "Let it Rock," "Honky Tonk Woman," "Star Star" (which isn't really "Star Star" but the real title is unprintable), "Miss You," "Imagination," "Tumbling Dice,"  "Brown Sugar" and "Jumpin' Jack Flash."  You even get an audio CD.

I  was never a big Stones fan, and remain that way after watching this, but this is definitely a representative look at what some have erroneously called the greatest rock 'n' roll band ever.

This is only a handful of the recent titles from Eagle Vision (www.eaglerockent.com), which seems to crank 'em out like sausage. They join an already excellent library of music modern and vintage rock, blues and jazz titles. If you like those genres, you'll probably find a lot to love with the Eagle Rock collection – just in time for Christmas!

Copyright 2011 Jim Bray
TechnoFile.com


Jim Bray's columns are available from the TechnoFile Syndicate.