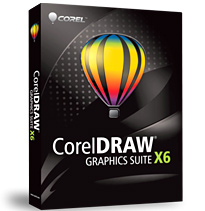 CorelDRAW X6 adds new power to the creative design process
By Jim Bray
July 12, 2012
Words like "Google" and "Photoshop" have entered mainstream culture as verbs – as in to "Photoshop" something means you've manipulated the image in some way (often, in that context, nefariously). But despite Adobe's grip on the English language, its powerhouse products aren't the only game in town.
In fact, Corel has been offering competitive products to Adobe's for at least 20 years and in some ways it actually puts out a better, or at least an easier to use, package.
Okay, that last comment may be arguable and comes due to the fact that I've been using both products for many years, yet when it comes to the design heart of the products – DRAW versus Illustrator and Photo-Paint versus Photoshop – I tend to choose Corel's products for the harder stuff. It's not a question of quality or features, but because I find the Corel interface, with its customizable toolbars and button bars, easier to use. Of course it doesn't hurt that I've been using Corel since the early 1990's, whereas I came to Adobe years later, so that (and the fact I've never taken any classes in either) probably accounts for part of it.
Your mileage may vary, of course and, really, when it comes down to it I'm just a hack designer compared to the true artists (heck, even the competent ones!) who are out there. I'm still using both products – watch for my look at Adobe's CS6 Master Collection coming in the not-too-distant future – though I'm incapable of really stretching their capabilities. But each has its charms and its advantages.
So when I got word that the CorelDRAW Graphics Suite X6 had been released I dove into the trial with gusto: any upgrade that can help me turn out creations that fool people into thinking I'm competent is a worthwhile upgrade.
The X6 release of the CorelDRAW suite (they used to number them conventionally, but adopted the "X" system with X3, which followed version 12) features stuff like advanced OpenType Support, custom built color harmonies, new page layout capabilities, native 64-bit and enhanced multi-core support. And more stuff, of course.
One of the things I love about CorelDRAW itself is that it's actually multiple apps in one. Sure, you can create an artistic masterpiece suitable for hanging in the Louvre, but you can also do desktop publishing with it – the product thereby competing with powerhouse apps such as QuarkXpress and Adobe's InDesign – and you can also design a logo or edit Acrobat files. It's a marvelous product.
Corel says this new version features "a completely revamped typography engine, inspiring new color styles and harmonies, and powerful shaping tools," though I'm still pear shaped after using the suite for a couple of months now.  They also claim the new suite's focus is on opening up "new creative possibilities for the design community," via improved workflow and performance, making it "even easier for both aspiring and experienced designers to connect with assets, work with leading edge tools and technology, and output their design projects with confidence."
Here are some of the highlights:
As mentioned, X6 offers advanced OpenType Support, which is supposed to let you create beautiful text thanks to OpenType typography features such as contextual and stylistic alternates, ligatures, ornaments, swash variants, and more. A lot of that's Greek to me, but it sounds great!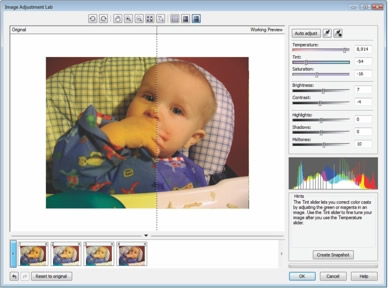 Photo-Paint
Trace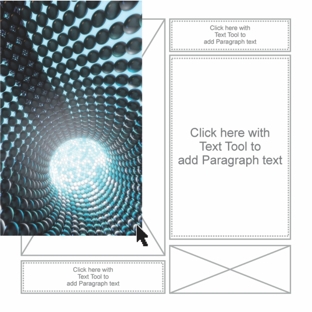 Interactive Frames
You can also format stuff quickly and more simply due to a new "Styles" engine and docker. This can help speed up your management of styles across a variety of objects, also helping ensure consistency. New vector shaping tools in DRAW include Smear, Twirl, Attract and Repel, while a "Smart Carver" lets you get rid of unwanted stuff from an image without screwing up its aspect ratio.
Included in the box, or the download, are:
CorelDRAW X6, the vector-illustration and page layout application I love so much. Competes with both Illustrator and InDesign and lets you design everything from books to newsletters, calendars, banners, photo layouts, logos, you name it.
PHOTO-PAINTX6, the image-editing and enhancing application, and it's a darn fine one. Think Photoshop, but easier to use.
Corel PowerTRACE X6, a really cool utility that lets you "quickly and accurately" (if the stars align, in my experience) convert bitmaps into editable vector graphics. I love this little app and have used it many times to create stuff like artsy versions of photographs. Good for stealing logos, too, and filing the serial numbers off of them, not that I'd ever do that. One warning, though: you might end up with huge file sizes and extremely complex vector graphics when you're done – but at least you can edit them to your heart's content.
Corel CONNECT X6, a full-screen browser you can use to search the suite's digital content either on your computer, network, or disc – as well as for perusing the stock images you get from iStockPhoto and Fotolia.
Corel CAPTURE X6, another great app. This one gives you one-click screen capture ability with which you can grab an image from anywhere on your screen. I use this sometimes to get car pictures for my car reviews, when the companies' media websites don't offer pictures I want to use but their consumer websites do (you can capture a flash image and save it as a JPEG, for example, which is a wonderful feature).
Corel Website Creator X6, new to the suite (though not new itself), for designing and building websites.
PhotoZoom Pro 2: a plug-in that lets you enlarge digital images and export them from PHOTO-PAINT X6.
Barcode wizard: lets you generate bar codes in a variety of industry-standard formats.
Duplexing wizard: helps you in printing two-sided documents.
Bitstream Font Navigator: award winning font manager for the Windows operating system helps you manage, find, install, and preview fonts.
There's also more than two hours of training videos on DVD, and on Corel's YouTube channel
Speaking of Website Creator, the X6 version promises to help you build and manage websites easily, with such stuff as a Site Wizard, templates, drag-and-drop functionality and integration with XHTML, CSS, JavaScript, and XML. I must admit that this product has traditionally, in my never humble opinion, paled in comparison to Dreamweaver (which used to be from Macromedia but is now part of the Adobe suite), but the new version is better than the last one I tried.
It still won't pry Dreamweaver from my hands, even though there is at least one thing about the new Dreamweaver that drives me nuts, but it can still be a valuable tool for those who don't use DW.
And speaking of page layouts, the new DRAW lets you create layouts more easily, thanks to new and/or improved Master Layer functionality, Alignment Guides, Interactive frames and more. DRAW is my favorite layout program for doing DTP stuff; among many other things, I love the flexibility to create differently sized pages in one file and the fact that you're really working from a blank slate and so can let your design imagination run wild.
And now that I've upgraded my computer, I appreciate DRAW's support for 64 bit and multi-core performance, which speeds things up when the files get big (and they do!). Not that the product was a dog before, but sometimes you're doing some major stuff and your designs can sometimes seem to take forever to render. From what I've tried so far, the new version seems appreciably faster.
Besides the apps, Corel has traditionally been pretty good at offering other value-added stuff, and X6 is no different. You get 10,000 clipart and images, 1,000 new high-resolution digital photos, 1,000 OpenType fonts (including premium fonts such as Helvetica), 2,000 vehicle templates, 350 templates and 800 frames and patterns. It sounds better than it is, unless maybe you're a power user. As with Sturgeon's Law, a lot of the clip art, images, templates, and stuff are pretty lame – and not necessarilty new – but on the other hand, I've used many over the years at least as springboards from which to create my own stuff.
Plus, Corel says it'll make more content and functionality available to users throughout the X6 lifecycle.
It sounds like a lot of stuff to bite off, and indeed it is. Corel does offer a free, 30 day downloadable trial version it says is fully functional, so that might be a good way to get your feet wet.
CorelDRAW Graphics Suite X6 is available in English, German, Italian, French, Spanish, Brazilian-Portuguese and Dutch and can be purchased as a download from Corel's website or in a box with a DVD from software vendors. The full version sells for $499 (US and Cdn) in North America, and an upgrade version can be had for $199.
I've been using Corel DRAW since Version 3, back in the old floppy disk days, and though I'm still nowhere near an artist with it, the product has helped me use whatever talents I have for design and layout and exploit them to the best of my abilities – or, actually, beyond. That's nothing to sneeze at.
Copyright 2012 Jim Bray
TechnoFile.com