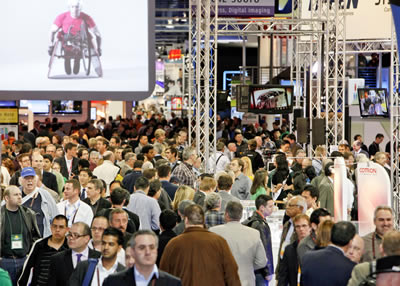 Samsung Showcases Flexible Screen Solutions at CES 2011
By Jim Bray
January 11, 2011
I have seen the future of television and it is flexible.
By that, I don't mean that it offers a wide variety of choices, as in the many "smart" and/or Internet-enabled TV's on display at the 2011 Consumer Electronics Show in Las Vegas, though of course that's true. What I mean by flexible is "bendable," as in you can twist the screen or even roll it up like a window blind as was demonstrated by Samsung Mobile Display Company at a suite high up in the Encore Hotel on the Strip.
This unassuming, er, display pointed to the direction in which Samsung Mobile Display is driving the technology, but it was its home theater potential that really made me sit up and notice.
The topic was AMOLED – active matrix organic light-emitting diode – displays, small versions of which have started to appear on current generations of smart phones such as my Samsung Galaxy S. But according to Brian Berkeley, Vice President of Samsung's Mobile Display Company and President-Elect of the Society for Information Display, these already-excellent screens are only the beginning.
To prove his point, the suite was filled with displays, including transparent screens that displayed whatever they wanted to display, but without blocking the view of objects behind. There were also screens that were more bent all out of shape than a disgruntled employee – and we were invited to grab 'em and twist 'em to our hearts' desire – and as you distort them the image stays bright, clean, colorful and undistorted.
But what really got me was the short video Berkeley ran that showed an AMOLED screen being unspooled from a roller the same way a blind – or a front projection screen – operates today, unveiling its impressive image quality one inch at a time. Berkeley said this 19 inch prototype was the largest they had to date but that there was no reason they couldn't make them a lot bigger.
That's when visions of home theater sugar plums began dancing in my head. I'm fortunate to have a 106 front projection system in my main home theater, using a fine Epson 1080p LCD projector to create a wonderful viewing experience, but I also have a 50 inch plasma I think has a better picture overall. A 106 inch plasma is too rich for me and it wouldn't fit down my two flights of stairs anyway. Something like this "spool-able" AMOLED would be perfect – if it's as good as it looked at the Encore. And cheap enough.
Likewise, transparent AMOLED displays can be used for store windows or other places you want to project a message – or just an image – yet still leave what's behind it visible (the racks and racks of stuff on sale that you're advertising with your transparent screen, perhaps?). They had a shot of a woman driver using such a display in front of her eyes – at eye level – to project navigation info, taking the arrows and other guidance doodads and putting them right in front of her face while allowing her to keep her eyes on the road at the same time.
All they need to add is a text input device that works by blinking and I could write a car review while driving!
I might like an AMOLED wristband I could wear as a watch, but not only display time in analog or digital views, but maybe have it scroll through pictures, display my contacts, play video and maybe even become a true Dick Tracy video phone.
Samsung's Mobile Display demo was intriguing, but frustrating because Berkeley was reluctant to speculate much about possible use for the AMOLED screens, though they seem nearly endless. It should be interesting to see how it all shakes out.
The DIY Network introduced "Hollywood Hi-Tech" at CES, a new series that, perhaps ironically, appears to have little to do with doing it one's self. Hosted by Janna Robinson, the show assembles a team of hardware and installation folk to give a celebrity a home theater makeover.
"Hollywood Hi-Tech" was launched with much hoopla at a party at the MGM Grand; the screener sample we saw was of an actor's digs the bar of which was turned into a very nice home theater, the celebrity also taking part in the show undoubtedly to lend his star power to the proceedings as well as to cross promote his own work, all while getting a great deal on some really nice equipment.
The show is being billed as the first that's dedicated to – rather than just dabbling in or merely tipping the hat to – custom-installation home entertainment. The short sample we saw looked interesting and fun, which is undoubtedly its intent.
Judging by the amount of 3D stuff at CES, there appear to be a whole bunch of people about to lose their shirts and to do so willingly. Perhaps that's why CES is held in Las Vegas…
There were 3D TV's, 3D projectors, 3D glasses active and passive, glasses-free 3D. It was 3D, 3D, 3D. It was pretty annoying, since I'm what some might call a 3D denier.
The many demos reinforced the fact that while there's some "come out of the screen at  you" stuff with 3D, it's more like looking through a window onto a 3D world. Nothing necessarily wrong with that, but whichever direction the "D" "3's", the effect is intrusive and looks gimmicky, not real. And who in his right mind is going to shell out for all the 3D glasses needed to host a kegger?
Most of the 3D was of CG animated movies, but there was a pretty good underwater clip with moray eels oozing themselves into the space between you and the screen. It was pretty compelling, but even it wasn't as lifelike as the boas a couple of dudes had coiled up on a ventilation grille on the Strip as we ambled past one evening.
A Calgary company, HSTi, had a nifty-appearing product that, if it works as advertised, could be a really nice convenience item for the connected home. The Wireless Media Stick streams media files from any computer connected to a home wireless network to any media player with a USB playback port. It could be ideal for use with all those networking devices that should be Wi-Fi but which often aren't.
You share your video, music or photo files by activating the Wireless Media Stick on your wireless network and then plugging it into the USB port of your media player. The company says the Wireless Media Stick sees shared media files from your networked computers and presents them to the media player's USB port as if they were stored locally.  
Tablets were also big, and small, as companies scramble to get on board the wave started by the iPad. Everyone and his dog displayed tablets, but I was taken the most by Motorola's Xoom, a 10.1-incher that will offer 4G connectivity as an update but which comes out of the box with 1280 x 800 resolution, a five megapixel camera, 720p video recording and 1080p video playback, WiFi and Bluetooth.
Samsung's Galaxy tab, currently available as a seven incher, also looks very cool. I generally like the idea of a larger screen, but since I'd probably use it mostly for email and browsing on the go, that size might work well. On the other hand, I watched some TV episodes on my son's iPad on the plane down to Vegas and appreciated its extra real estate for that application.
Right now, Samsung's tab offers a TFT LCD screen, so if they get off their duffs and put one of their AMOLED units on it the device could be even better.
ASUS introduced a neat-looking Eee Pad Lineup, the Eee Pad Slider, Eee Pad Transformer, Eee Pad MeMO and Eee Slate EP121. The new models come in three screen sizes and offer a choice of either Windows 7 Home Premium or Google Android operating systems. My favorite was the Slider, which not only features a 10.1" inch touch-screen but also includes a slide-out QWERTY keyboard for real world typing.
And ZAGG had a very cool iPad cover/keyboard accessory that turns the panel into a functional computer.
If you're as angry with your phone company as I am, you might be interested in Ooma, which offers a VoIP box you can buy for about $250 and use to make otherwise free calls all over the U.S. The company says they deliver "the highest quality calling experience with the security and reliability of a landline."
All you supposedly have to do is connect your Ooma Telo device to a high-speed Internet connection and an existing home phone to exploit the free U.S. calling and what they describe as exceptionally low international calling rates. The system also includes voicemail, caller-ID, call waiting, and 911.
Perhaps more interesting than all the 3D on hand was the clear trend that, after years of promise, it looks as if smart TV's, which let you surf the Net, download videos and the like, are becoming feasible. They need to have Wi-Fi built in to be truly successful, but this should happen as demand demands it.
How about coupling TV with Skype? Skype is a terrific way to communicate with others via the Internet, and Samsung's new TV camera (model CY-STC1100) can transform an Internet-enabled TV into a large screen, living room videophone. Samsung's camera for Skype features a built-in HD sensor (720p at 30 fps), auto focus, four high-fidelity microphones to capture voices up to 13 feet away, and advanced HD video encoding. It simply plugs into the TV via USB and attaches using magnets.  
Other CES delights included incredibly thin flat panel TV's from Samsung and LG, and Samsung's terrific-looking 75 inch flat panel and 3D front projector. There were also enough iPhone/iPod thingies from A to Z and back again. Not nearly as many Android exploiters yet, though.
This, of course, only scratches the surface of what we saw at CES this year. Unlike 3D, however, it's the stuff that jumped out at me. Whether any of it proves to be the better mousetrap remains to be seen, but I'll get my hands on as many of these interesting products as possible and report back to you.
With all that gadgetry around it's kind of ironic that the most exciting news coming out of CES was the announcement that the Star Wars movies would be coming out on Blu-ray later this  year.
And even though, as CES's go, this wasn't the most interesting I've seen, it was intriguing nonetheless. It's a great place for the tech head and is a classic display of the entrepreneurial spirit, whether it be via innovative ideas to better humanity or merely a healthy dose of P.T. Barnum.
Copyright 2011 Jim Bray
TechnoFile.com