CasaTunes can make your whole house sing
By Jim Bray
June 18, 2015
Music streaming is nothing new, nor is whole house audio - where a single source supplies your tunes to whatever room you have a compatible audio system set up. Bose does this, as do Sonos and Crestron, and there are others as well in what's threatening to become a crowded marketplace for whole house musical solutions.
And it only makes sense. Digital files are replacing physical media and they offer incredible convenience compared to "old fashioned" discs, tapes or records. Why wouldn't you want to keep all your music in one place and be able to access them from virtually anywhere?
I've been trying a system from the Colorado-based CasaTunes, who sent me their CT-4+ Multi-room Musical System to try. It's really overkill for my installation, but I thought it would make for an interesting test and, as it turned out, I was right. CasaTunes' system is pretty cool and very flexible, and you can use it to supply tunes just about anywhere in the home you'd want.
CasaTunes says the $1895 U.S. CT-4+ is a compact system for smaller homes (and retrofits) and promises the system can handle up to five rooms via wired connections and another five wirelessly via AirPlay. I have no AirPlay, nor do I have five rooms wired for sound, but for my test I connected the CasaTunes system to my big home theatre (thanks to CasaTunes' ability to interface with an audio/video receiver) and that single room installation, coupled with CasaTunes' downloadable apps, gave me enough information and experience to figure out how the system operates - and it operates quite well.
The best way to install the CasaTunes system is when you're building (or renovating) your home, so it can be wired right into the walls, ceiling or wherever, though its wireless capabilities would also make it great for retrofitting if you choose to go that way.
The CT-4+ itself looks pretty much like any other full sized audio component you'd mount into your equipment stack. It has four analogue and one digital optical outputs on its rear panel, for rooms that are wired into the system, and you can send either the same music or different music to each room, or all of them at the same time. It's very flexible - if you have speakers built into your ceilings in other rooms (or speaker systems of any type really), the CasaTunes can make them sing.
Well, you'll need to get them an amplifier as well, if the speakers aren't powered already - and, undoubtedly not coincidentally, CasaTunes also sells the $95 U.S. DTA-1 stereo amplifier, which puts 15 watts per channel RMS into four ohm speakers. That isn't much, but it could be enough, depending on your speakers and the room in which they're installed. You'll need one of these (or whatever amp you choose) per room; this isn't specifically a CasaTunes thing: you'd need amplification of some sort if you were setting up a competing streaming system as well.>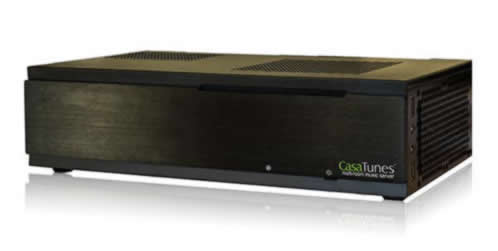 The system pretty well set itself up onto my network, which is nice because I'm a basket case when it comes to configuring networking stuff, and thanks to CasaTunes' ease of use I never had to think about it again. All you really have to do is place the CT-4+ where it's going to live, power it up and once it's found the network you can use the CasaSetup page from your computer's web browser to program in the names the rooms and your music sources, etc. and Robert's your Parent's Brother.
I did think the web interface is a tad clunky, but once I got onto it I had no issues. The iPad app is better, though there's a bit of a learning curve; once you get over that initial hump, the system is quite easy to use and controls the system well. You can control all the virtual players and rooms from the app.
Even better for getting familiar with the interface, CasaTunes' app includes a demo mode you can use to get more comfortable with the system. I used it once, and never went back because I didn't need to - but it's there if you do need it. The demo connects to one of CasaTunes music servers offering, as the company says, a "true 'live' CasaTunes experience. It's an easy way prospective dealers and homeowners to check out CasaTunes without having to purchase and/or install a demo unit."
The CT-4+ system's five internal streaming music players are joined by an external input you can use for a tuner or other source - for example your satellite radio or conventional AM/FM tuner. It also integrates streaming services such as Pandora, Tunein and Spotify.
To hold your particular casa's tunes, the CT-4+ music server comes with a one terabyte internal hard drive, and it'll also sniff out your iTunes or Windows Media library if you have them. I stuffed as much of my music as I could on CasaTunes' internal hard drive (dragging and dropping via my PC, which made it really easy), but I have so much stuff that the one terabyte drive wasn't enough. Fortunately, because I could also access my networked hard drive with the CT-4+ (which showed up as just another source choice in its software app once I told it where to look for it), I could get at all my digital files without having to copy them over.  And it worked just fine. If it were me, I might not bother storing music on the CT-4+ itself (using my networked drive instead), but that would be a waste of the system's own capabilities.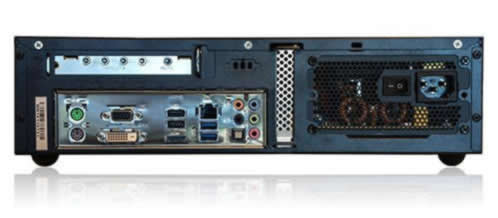 You can set up and edit your own playlists with the app and send them to wherever you send the rest of your music (individual rooms or the whole shebang at once). I enjoyed sitting in my home theatre, poking around my music library and adding tunes to the queue on the fly, creating a playlist as I went that I could listen to again later, or I could just sit back and veg out to the queue itself as I set it up with music that fit my mood at the time. Naturally, you don't have to listen to the playlist right then; you can save it and go back whenever you want.
Listening to music is easy. You just choose the room to which you want the tunes sent, then browse or search for your tunes by album, artist, genre, or playlist. You can even create schedules for falling asleep or waking up to a particular playlist.
The audio quality is, of course, limited by the quality of your audio files - the old "garbage in, garbage out" syndrome - but the CasaTunes system did a good job of not adding its own colouring or distortion to the music - what I was used to hearing through my audio system was pretty much what I got from the CasaTunes - and isn't that exactly how it's supposed to be? CasaTunes says the system is capable of playing lossless iTunes and Windows Media Music as well.
You can even use the CasaTunes to control some external components. The company lists the Arcam T32 (AM/DAB/FM/Sirius Tuner), Nuvo's T2 (various tuners), the Onkyo T-4555 ("and similar") and the Russound AM/FM, XM, and Sirius tuners as supported currently - and naturally I have none of these so can't comment on how well it works. I have no reason to think there'd be a problem, however. As for having the CasaTunes installed right into your home, the company says its integration is available for Control4, RTI, OnControls and Loxone home automation systems.
If you don't have a smart phone or such device to control the system, you can buy individual CasaTunes Keypads ($199 U.S. each) to mount in each CasaTunes-equipped room, though you'll also need to get a CasaTunes hub (also $199 U.S.) for every six keypads.
I admit freely that my installation didn't do the CasaTunes system justice but I learned enough about the system that I can say confidently that if I were renovating or building (or embracing AirPlay) the CasaTunes system would integrate and perform well.
It appears I'm not the only one who thinks that. While reviewing the system, I got a press release from CasaTunes about how the CT-4+'s big brother, the CT-8+, has been installed in "The First to the Future" Home for Host Ty Pennington to coincide with the Future Home reveal. According to CasaTunes, the building of the home was featured on NextGenHomeTV, in which each episode details the latest in next generation home building. "We selected CasaTunes as our whole house music solution because it offers a rich variety of popular music options, allows playing different or the same music in every room, and because it can be controlled with simple to use Apps on Android and Apple smartphones and tablets," said Andreas Kuhlmann, VP with NextGenHomeTV. "We also leveraged CasaTunes' out-of-the-box support for integrating AV Receivers as part of a whole house music solution."
CasaTunes likes to refer to its product as "the Swiss Army Knife" of whole house audio, claiming that it offers "the most comprehensive multi-room audio solution at the lowest cost per zone in the market today." I don't know about that, but in my admittedly limited experience the system does work as advertised and really can give consumers a nifty, "one stop listening" method of playing their favourite tunes in whatever part of the house they want.
Copyright 2015 Jim Bray
TechnoFile.com