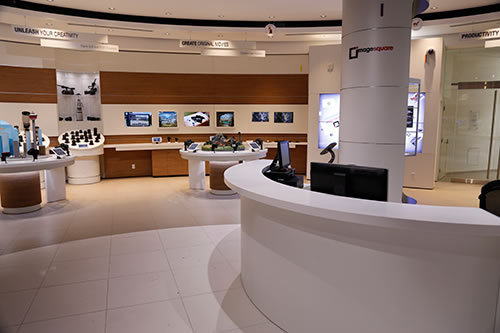 Canon opens new fangled retail tool – without selling!
By Jim Bray
January 23, 2013
Whoever heard of a sales outlet that doesn't actually sell stuff? Yet that's exactly what Canon Canada is doing with a new "Image Square" just opened in downtown Calgary, Alberta.
It's an interesting concept, and Canon has obviously invested some serious dollars into it. The location is in what must be a very expensive storefront location in the heart of the city's downtown core, it's designed and set up with no apparent corners being cut, and there seemed to be plenty of staff on hand – to promise not sell you stuff – when I attended their grand opening media event last week.
The open design includes sections designed to showcase Canon product lines, from digital cameras to printers and pretty well everything in between that the company – which is apparently celebrating its 40th anniversary –  sells. It's a place where folk can experience the company's PowerShot digital cameras, EOS digital SLR (Single lens reflex) cameras, lenses and accessories, VIXIA HD camcorders, PIXMA inkjet printers, imageRUNNER ADVANCE lineup of office equipment, imagePRESS production printing solutions and even their software applications.
But it isn't just showcases of stuff to ooh and ahh over – you can actually pick up the stuff and play with it, Canon having set it up as an interactive experience that can not only let you get a feel for the product, but to learn how to use it to a certain extent as well. It would be interesting even if it weren't Canon-centric – a place where you can learn what today's high tech imaging stuff can really do.
There's even a photo studio with which you can learn some of the more professional ins and outs of digital photography, and Canon says it's also meant to be booked as a lower cost alternative to other photography studios. If I owned a competing studio, I'd shutter at the thought.
Canon describes the Image Square, located at the still-under-construction Eighth Avenue Place, as a "ground-breaking, innovative and technologically-advanced space specifically designed to encourage exploration and discovery. Visitors will learn how Canon products and solutions can help them capture their experiences, enhance their memories, and increase their productivity, at home, at work, and at play."
According to Kevin Ogawa, President and CEO of Canon Canada, who was on hand for the ribbon cutting "Canon Image Square represents a true first for Canada, and it sets the standard for how our industry interacts with customers by offering an opportunity to experience first-hand our state-of-the-art products and technology. We are committed to providing our customers and prospective customers with the best experience with our products, and that includes allowing them to touch and try our products before they purchase."
It's actually kind of neat, and the space itself is quite attractive. Canon has even enlisted some origami artists to create works that accompany the various sectors of the rather circular Image Square. Ogawa told me they hired artists from around the world, which must have cost them a pretty penny. He also said that this first Image Square will be given time to build before the company jumps into any other markets, in Canada or elsewhere. So it's an experiment, but one Canon feels is worth the commitment of time and money.
The origami works of art aren't just meant to look cool, either. Visitors can use them as subjects to test point-and-shoot and digital SLR cameras, a range of lenses and accessories, as well as a selection of their printers.
And if you're particularly proud of your digital image creation, you can fire it off to a touch screen media wall where everyone else in the "non-store" can ogle it. Or criticize it…
One of the neatest parts of Image Square – since I'm one of those who hates having to beat salespeople off with a stick upon entering a retail outlet – is the lack of pressure to buy (assuming it stays that way!). If you fall in love with one of their products (which would be pretty easy to do!), they won't even take your money but will instead direct you to one of the authorized local dealers. You can also buy directly from Canon who, I understand, have a high caliber website.
Demos we assembled media saw included things set up at hands-on stations where you can learn to understand and use some of the features and capabilities of Canon's stuff – from basic photograph to special effects, different lenses and their capabilities. There's even a business printing section where they showed off a kind of "virtual interactive white board" and a large format printer that would be just perfect for printing large posters of whoever you may want to fawn over.
There are also some very cool, Microsoft-powered interactive tables where you can choose an image, learn about its features and benefits, and find directions to the related product station. Kind of an interactive "You are Here" map.
Speaking of features and benefits, Image Square manager Vernon Witzke told me that the product experts on hand, as well as the displays themselves, aren't meant to bombard the public with specifications and other arcane figures. Rather, they're set up to extol features and benefits – what the products will do, rather than going off into the stratosphere taking about how the products accomplish their tasks.
This is nice, because it's more likely to impart information the consumer can actually use, rather than cause their eyes to glaze over at the array of numbers and buzzwords being presented.
The Image Square also includes a nicely equipped multimedia seminar room, which can be booked by outside forces as well. I didn't count the number of chairs in it, but it's big enough for probably 20 or more people to be sat down and lectured to, with projection screens on hand to display whatever the presenters like. The company says that besides renting it out, it's also meant for their expert staff to conduct seminars, projector demos, presentations, and Canon College photography classes.
Canon has already published a list of upcoming seminars. Here's a list:
Feb. 12 - Getting Wild about Photography, The Goods on Shooting Wildlife with John Marriott
Feb. 16 - Photography to Fine Art with Brad Allen
Feb. 16 - Stock Photography, How to Make a Living with Lori Andrews
Feb. 23 - Managing People in a Photo Shoot with Cole Hofstra
Feb. 26 - Boudoir Photography, Creating the Ideal Woman with Mark Laurie
A photo gallery, curated by 500px, showcases the works of Alberta-based photographers who use Canon equipment. The displays will be changed periodically, to prevent them from getting stale.
Canon told me they plan to start school outreaches with Image Square, which is actually a pretty neat idea not only for putting the Canon brand name into the malleable minds of young skulls full of mush, but for helping budding photographers, videographers and the like learn what's out there regardless of brand and the type of capabilities they can expect. And they won't have to beat off salesfolk while being dazzled and delighted by the displays.
Canon has obviously bitten off quite a bit with Image Square and could lose a pile of dough if it doesn't work out. But it's an interesting idea, indeed, as well as a great way for people to find out what the company has to offer, without the added pressure of sales staff.
I wish them well.
Copyright 2013 Jim Bray
TechnoFile.com