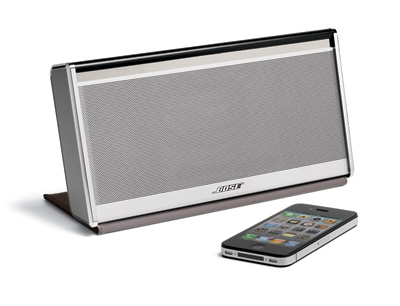 Bose Bluetooth Speaker - Sounds Good to Me!
By Jim Bray
January 28, 2012
Bose's SoundLink wireless mobile speaker is a nice, portable way to get your favorite tunes from your smart phone or tablet to your ears. It offers very good sound in a package small enough to pack in your carryon luggage so you can take it on the road with you.
I first got a look at this little speaker system at a media event last September in New York and was very impressed by what I saw – and heard. It was only a quick glimpse and short chance to play with and listen to what seemed at the time to be a nice entry into the wireless Bluetooth speaker market.
Fortunately, Bose sent me a unit to review in my own life, with enough time to put it through its paces properly. And, as has happened with each Bose product I've auditioned so far, I come away liking the unit very much, with one caveat in this instance. More about that later.  
Anyway, over the couple of months I've been using the SoundLink I've taken it around the house while doing my chores, I've spent about 10 days in hotel rooms with it, and I've perched it on our kitchen island to play tunes while we played cards at the table. I love the thing. It's easy to use, sounds good – great, in fact, considering its size.
One advantage the SoundLink has over Bose's line of SoundDocks is that, because it's Bluetooth, you can use it easily if you don't have an iProduct. You can use it with a Bluetooth-shod iProduct as well, of course, but the fact that you're not married to one particular platform ideology opens up a huge market of music players and smart devices that can exploit it.

Bose does offer a Bluetooth adapter for its top-of-the-line SoundDock 10, but it's a $100 add-on, bringing its price to a pretty serious $700, whereas the SoundLink sells for a much more pleasant $300. Listen to them side by side and there's no comparison: the SoundDock 10 is much better, and it should be. But don't let that turn you off.
In its favor, the SoundLinkis designed to be portable.  
The SoundLink, not surprisingly, provides the best sound when you sit it near ear level, though this isn't always practical. But even if you perch it somewhere and just use it to play background music, which we do often, it offers sound quality that belies its size.
Bose's people managed to get the full range of audio from the SoundLink, with surprisingly good bass. Bose once again uses Class D amplification, which can help you get big sound from a small and efficient package. Class D is ideal for diminutive devices such as discussed here, but it also works in the world of home theater. I've been using Rotel Class D amplification for years and am constantly impressed by the quality – and the "oomph" – you can get out of it.
Bose doesn't say how many watts per channel the SoundLink cranks out. When I asked about it at the press event, the company wouldn't say, telling me that one should use one's ears to decide if there's enough power.  So I did. There is. 
Since audio reproduction is really a chain of components each performing its own part, you can have a great amplifier and it'll sound awful if you have crummy speakers. Bose knows a lot about speakers, so this isn't an issue here. The SoundLink uses four low-profile neodymium transducers for the higher frequencies, and new "dual-opposing passive radiators" with a waffle-shaped surround to give us the low down. They've placed these radiators in opposition to each other, which you might think would cause them to fight and maybe cancel each other out, but the people at Bose have done their jobs well.  
I've played a wide variety of material through the SoundLink, everything from tinny MP3 to fine quality lossless files and I even hooked it into one of my home theaters to see how it handled Blu-ray and DVD-Audio. It didn't make me want to toss my home theater into a landfill (thank goodness!), but it worked just fine. Obviously, you aren't going to get surround sound, and the stereo soundstage is limited thanks to the speakers being so close together – though even here they're surprisingly good - but overall the SoundLink does a very nice job.
Music I played via my Android smart phone or iPad ran the gamut from big band to Broadway, from crooners to The Who. Give the SoundLink a good source and you're rewarded. It even plays loud enough. Well, nearly.  
Pairing the SoundLink to your Bluetooth device is very easy. You can pair it with up to six devices at a time, a handy feature considering the proliferation of such devices in home these days. Heck, I paired it to work with two of my own gadgets; if the kids were still at home we'd probably need two SoundLinks just to handle the inputs – let alone the arguments about who's playing what, when!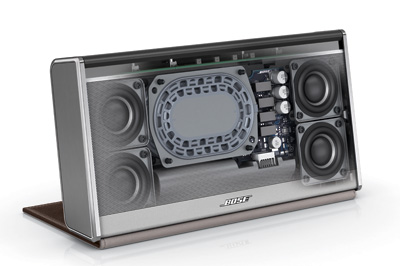 I can only think of two flaws with the SoundLink, and having used the thing for a couple of months I don't find them fatal, though they do bother me. One, it doesn't come with a remote control. Bose' rationale is that it's ultra portable and designed to be controlled by the wireless device itself. It also means you have to keep the source device with you if you want to skip around the tunes in your library – or pause a song if a phone call comes in.
The lack of a remote would be moot if not for Oversight Two, the lack of playback controls (play, pause, skip, etc.) on the unit itself. I like taking the SoundLink with me from room to room when I'm doing chores, and as such I keep it closely at hand. That means I can control the volume merely by pressing buttons on the SoundLink's top panel, but if I don't have the source device with me I have to listen to whatever comes out of it.
It wouldn't matter as much if I'm just playing a particular artist or album all the way through, but I have playlists that I like to unfold randomly, and sometimes I want to skip – or repeat – a particular song. With the SoundLink's current configuration I must have the phone or tablet with me, which is a bit of a pain in the rear.
Such redundant controls (think of them as being like the steering wheel-mounted audio controls in a car) would be nice if you want to leave your player in the house (perhaps you're charging it!) and stream tunes to the patio or garage.
I haven't dropped the SoundLink off a cliff or run it over with a car, but so far it has been very durable in "everyday life" action. At the press event, Bose showed us a video of them dropping a SoundLink onto a wooden floor over and over again during the testing process but I never came anywhere close to inflicting such abuse – though I have no idea how the baggage handlers treated the suitcase in which it travelled a couple of times.  
I haven't measured battery life, but have no reason to argue with Bose's claims that the SoundLink should run nearly eight hours on a charge at typical listening levels (and about three hours at the volumes I like!). I ran it overnight from the bedside table of hotel rooms, unplugged (hotels never give you enough power outlets), using it to play quiet music while I went to sleep – music that was still playing the next morning. Recharging only takes a few hours.  
Packing the less than two inch thick SoundLink, which is also about 10 inches long and just over five inches high, is a breeze. The small footprint tucks away nicely in a suitcase and the less than three pound weight is inconsequential if you haven't overstuffed your bag. 
Don't forget to take the AC adapter!
When you aren't using the SoundLink, you can cover its face with a panel that flips back and under the unit to function as a stand as well. When it's flipped shut, it also turns off the unit. The standard cover is dark gray "Cordura" nylon but for an extra investment, you can customize your SoundLink with a brown, bright red or royal purple, burgundy or tan leather covers.
I used the SoundLink side by side with a lower-priced competitor that has control buttons on it and, while I love the competitor's convenience, its sound is nothing compared to the SoundLink and it doesn't travel as well. So while I wish Bose had made the perfect device here, when it comes to choosing which of the competitors I want to use for listening to music, the Bose wins every time.
Copyright 2012 Jim Bray
TechnoFile.com