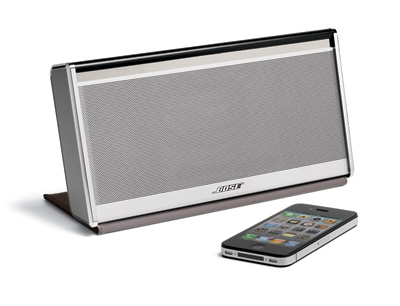 Bose Enters Bluetooth Speaker Market with a Flourish
By Jim Bray
September 22, 2011
Bose's new SoundLink wireless mobile speaker brings to Android devices the type of audio quality consumers have been able to enjoy from the company's SoundDock line.
And that's a good thing if you appreciate good sound.
Bose invited me to attend their SoundLink media event, held September 15th at the Trump SoHo hotel in Manhattan. It was a gala day during which they offered assembled media a tantalizing glimpse – and a quick chance to play with – what at first glance appears to be a nice addition to the burgeoning wireless Bluetooth speaker field.
It's a great idea, and it makes Bose sound available to a huge market that includes smart phones and tablets other than Apple's, as well as the iPad itself.
It also plugs a hole in Bose's product line because, before the SoundLink, if you didn't have an iPod or iPhone and wanted to use one of the company's SoundDocks, you had to either buy a Bluetooth adapter or hook in your device through the SoundDocks' auxiliary input. Both methods work fine, but the first is an extra expense (and is only available for the highest end SoundDock 10) while the second tethers your device to the SoundDock via a wired connection, which limits your mobility.
Add to that the fact that the $299 SoundLink is designed specifically as a portable speaker, whereas the SoundDocks 10 and II aren't meant to leave home with you unless you have access to AC power (and a big purse in which to carry the unit!).
Bose does make the SoundDock Portable Digital Music System, which is designed to head out and about with you, but it isn't as simple and elegant a solution as the SoundLink appears to be. It also costs a hundred bucks more.
Anyway, in our brief demonstration at the Trump SoHo, the SoundLink sounded great, which shouldn't come as a surprise to anyone who's heard Bose's stuff. The SoundLink sounds best near ear level, but that also shouldn't come as a surprise since the same can be said about virtually any other speaker system.
The reason is that the higher frequencies are more directional, so the closer you can get them to ear level the happier your ears will be.
Bose' ever-creative engineers have managed to pry full-range audio from the SoundLink, even though the device is only about the size of a medium-sized book and therefore doesn't have any right to sound as good as it did in the demo. Now, I don't usually trust company-controlled demos because they're designed to showcase a product in its best light, but I also got to try some of my own tunes with a sample SoundLink and they sounded terrific. I'll withhold final judgment until I try a unit under my own "controlled conditions" but I have no reason to think it'll sound bad. I just want the chance to play with one at home and elsewhere!
The sound quality comes from a combination of factors. First, Bose has once again used Class D (sometimes misleadingly referred to as digital) amplification to get big sound from a small and efficient package. I'm very familiar with Class D amps, since I use Rotel Class D amplification in both of my home theaters and am constantly amazed and impressed by the quality – and the "oomph" – that can be obtained from a small box. They're also less power hungry than "conventional" amps.
I have no idea how many "watts per channel" the SoundLink cranks out. Bose prefers not to publish such specs saying, to paraphrase a Bose executive, that one's ears should decide if there's power enough.
There certainly appears to be, from my brief listening session.
And while that "no watts figure" may seem like a cop out, I can see why Bose would do that. Power ratings are at best a guideline (kind of like the Pirate's Code, I guess) and depend on a number of parameters, including how they're measured and how they're presented (peak power as opposed to continuous power for example). This is why it's hard to compared amps that may boast similar numbers, but which sound very different.
It's kind of synonymous to focusing on horsepower in the automotive world, when torque is at least as important.
Of course it doesn't matter how good your amplification is if your speakers suck, and Bose appears to have come through here as well. The SoundLink uses four low-profile neodymium transducers to handle the higher frequencies, and they've introduced new "dual-opposing passive radiators" they say are designed with "A patented waffle-shaped surround" to handle the bass.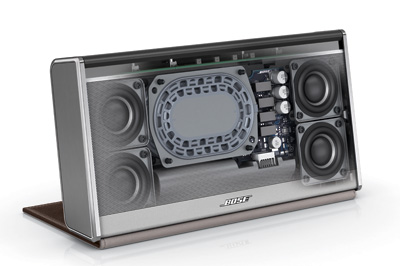 The radiators are placed in opposition, but rather than fighting with each other and cancelling each other out, they crank out some pretty skookum low frequencies. One of the demo pieces Bose played for us featured some really nice acoustic bass, and the SoundLink handled it better than some larger speakers I've heard – and definitely better than a competitor to the SoundLink I've been using at home.
Upping the acoustic ante are electronics that use sophisticated digital signal processing algorithms to help enhance the definition and detail of the various musical instruments.
I just happened to have some stuff on my phone that I knew should sound spectacular and which made for a good, albeit all-too-brief listening test. These included some Dire Straits (from "On Every Street"), Pete Townshend/Ronnie Lane's "Street in the City" and a couple of other tunes I like using for demo material (but whose titles I can't remember right now).
I opt for quality over capacity when I store digital files, which limits the number of titles I can keep on the device – but it pleases my sonic sensibilities to do it that way. I was very pleased with how the SoundLink played them, though I didn't have a chance to crank it as much as I would unsupervised.
The Bluetooth pairing process is child's play, a nice touch, and Bose says the SoundLink can be paired with up to six separate devices at a time, another very handy feature considering the proliferation of such devices in many homes these days.
One thing the SoundLink doesn't come with (and which the SoundDocks do) is a remote control. Bose says it's because the SoundLink is ultra portable and designed to be controlled by the wireless device itself. That makes a certain amount of sense, though it also means you have to keep the source device with you if you want to skip around the tunes in your library – or pause a song if a phone call comes in. Likewise, there are no such duplicate controls on the SoundLink itself, unlike some of the competition – though it does have power, Bluetooth and volume buttons.
This probably won't be a big deal for most people, but it does limit you. If you want to leave your iPad in one room and stream music to another, for example, or leave the source device inside the house (when charging it, perhaps) and stream your tunes out to the patio and still have control of what tune plays when, you're out of luck.

The SoundLink itself is a handsome unit – and it looks like a Bose. It appears quite durable, too: a video showed them dropping a SoundLink onto a wooden floor over and over again during the testing process. I asked how it would work falling onto concrete (since I've done this to my iPad, much to my chagrin) and was told it might cause some cosmetic damage to the outside, but shouldn't affect the performance.
It also comes with a nice-looking cover that doubles as a stand – and when you close it, it not only protects the front panel, it shuts the unit off as well.
That feature will undoubtedly help keep the rechargeable lithium-ion batteries happy. Bose says the SoundLink should run nearly eight hours on a charge at typical listening levels (and about three hours at "neighbor annoying" volumes!) and will recharge in a couple of hours. I'll let you know how it works in the real world when I get to test a production unit.
Bose says it put the SoundLink through a variety of other torture tests to ensure it keeps on pumping out tunes in the real world. I heard no mention of waterboarding (which many argue isn't a torture test anyway), but they did outline a regimen of environmental tests designed to ensure it resists salt-fog, sand, wind, and moisture.  
SoundLinks are less than two inches thick, about 10 inches long and just over five inches high. Despite that small footprint, they weigh nearly three pounds – not a huge burden to pack with you but substantial enough to make me believe that Bose has either included quality components inside or stuffed it with a chunk of concrete.
Standard equipment includes a dark gray "Cordura" nylon cover or, for an extra 50 bucks, you can take your SoundLink upmarket as an "LX" model, which comes with a dark brown leather cover. They've even taken the customization crowd into consideration, offering bright red or royal purple covers for $29.95 and burgundy or tan leather for $49.95.
I love the concept of the SoundLink; I've been using a lower-priced competitor for several months and, while I love the convenience, I don't love its rather anemic sound. If the SoundLink sounds as good in the "real world" as it did at the Trump SoHo – and I have no reason to think it won't – Bose may have a winner on its hands.
Copyright 2011 Jim Bray
TechnoFile.com