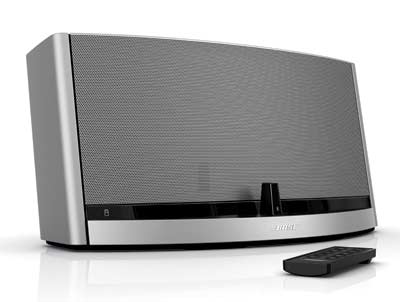 Bose SoundDock a Real Life Rocker, While SIRIUS Comes to iPhones/iPods
By Jim Bray
January 7, 2010
Last fall I previewed Bose's SoundDock 10, an iPod/iPhone speaker dock system that impressed me at its product introduction with its sound quality and power.
Since I had only seen it at a controlled demo, though, I was a bit measured with my praise for the $599 unit, wanting to try it in my own environment, with my own music sources. Bose was kind enough to facilitate this and for the past couple of months I've been using the SoundDock 10 with my iPhone.
And it impresses me even more than I'd thought it would.
Its auxiliary audio input meant I could also try it with other sources, including SIRIUS satellite radio via the portable SIRIUS Stiletto unit I use and also via SIRIUS' iPhone app that streams the service to the iPhone's Wi-Fi or data capabilities.
The auxiliary input also let me hook in a five-disc CD changer we've had for years and, as with the SIRIUS Stiletto, it worked great. The SoundDock 10 also sounds great with any of those sources (depending, of course, on the quality of the recording), with oodles of oomph and excellent fidelity.
The SoundDock 10 weighs in at a pretty hefty 19 pounds, due in part to a newly-designed woofer coupled to a "transmission line-like" waveguide that enhances bass performance without requiring a hulking big cabinet. It works, too; the bass rumbles nicely and, thanks also to some fine Class D amplification (which also allows for big sound in a small package), the rest of the frequencies excel as well, at just about any volume.
So yes, Virginia, the SoundDock 10 really does rock. The first demo I tried upon unpacking the unit in my home was an MP3 of The Who's "Quadrophenia", one of my desert island discs and one that, if you can find a good digital recording of it, is extremely dynamic. I fired it up in my living room, accessed what would have been side four if it were on vinyl and let the music, the sound effects, and the performance rain o'er me, cranking it up louder than it should have been capable of playing. It was wonderful!
I still miss the stereo separation that's possible when you place the speakers farther apart than the Bose and similar products' single piece configuration allows, but in smaller rooms or when playing music in which the left/right experience isn't as important as it is in something like "Quadrophenia", it isn't an issue. To prove this, I set it up in my office and my bedroom, where I was sitting a lot closer to the unit than in my living room, and it was very rewarding.
Naturally, I didn't need to crank it as loud in such applications, but it's nice to know the power's there if you need it.
Voices and instruments all sound great, and I tested the SoundDock 10 on a variety of genres and recordings, from classical to standards/jazz and good old rock 'n 'roll.  The Bose didn't seem to prefer one genre over another, being perfectly happy with whatever I threw at it. Very impressive.
There's also a video output that sends whatever video you have on your iPod/iPhone to an external monitor. It's only composite video and therefore nothing to write home about in this day of HDTV, but it's adequate for the minimal video I keep on my iPhone.
There's no digital audio input, unfortunately, and if you want to run signals from RCA-type stereo jacks to the SoundDock you'll need an adapter, but these adapters are available widely so it isn't a big deal.
Bottom line: the Bose demo in New York last year wasn't just hype. The SoundDock 10 works as advertised and offers tremendous sound quality.
SIRIUS Portability
Thanks to the combination of the SoundDock 10 and SIRIUS iPhone app, I can now exploit my SIRIUS satellite account more flexibly and enjoyably than before. The app, which I started using late last year, lets me take most of my favorite SIRIUS channels with me to whatever room in the house I happen to park the SoundDock 10, even out on the backyard deck if the weather would ever cooperate.
The SIRIUS app, which is free and available from Apple's App Store, brings most of the satellite provider's offerings to the iPhone, which is very handy indeed. People whose SIRIUS account is for a car-based system can use their iPhones to bring the satellite service into the home, making speaker systems like the SoundDock 10 even more valuable.
On the other hand, if your account is home-based and your iPhone will interface with your car stereo, you can use the app to take SIRIUS on the road with you. You'll need data service for that, though.
I don't have a data service with my iPhone because I'm far too cheap, but thanks to the iPhone's built in Wi-Fi capability, I can use the SIRIUS app anywhere there's a wireless network I can access. In my case, this not only means I can take my SIRIUS tunes anywhere in Chateau Bray (unlike with the Stiletto which, while very portable, still needs access to a satellite antenna) and if I'm in an airport or other place that offers free (in my case) Wi-Fi, SIRIUS goes there, too and I can listen to it via my headphones.
That's SIRIUS portability!
The app's service is very similar to how SIRIUS subscribers can access their service via Internet Browser. You don't get the complete multitude of channels SIRIUS offers, but you get by far the lion's share.  I noticed, for example, that Fox News Channel isn't available via either the app or Internet, which means the top-rated cable news channel in the U.S. is only accessible via the satellite unit itself. On the other hand, the political talk channels SIRIUS Patriot and SIRIUS Left are both available, so at least there's some balance there if not in their news offerings.
Howard Stern isn't available via the app, either, though the Internet-based service still spews it.
Most, if not all, of the commercial-free music is available, including all my personal favorites as well as Bob Dylan's Theme Time Radio Hour, Tom Petty's Buried Treasure, and such channels as Bruce Springsteen's E Street Radio, The Grateful Dead Channel, Eminem's Shade 45, Jimmy Buffett's Radio Margaritaville, "Little Steven" Van Zandt's Underground Garage, B.B. King's Bluesville, Willie Nelson's Willie's Place, Elvis Radio, and Metropolitan Opera.
Sound quality via the iPhone and the app is good.
The SIRIUS app also lets you purchase a song while it's being played or "Tag" favorite songs for purchase from the iTunes Store later. It's kind of neat how the device also displays the current channel plus, via the "Lookaround" function, what's playing on all other available channels.  
I love the SIRIUS service for its excellent blend of music, information and entertainment programming – stuff you probably can't get (or at least not as much of it and not of this quality) from local radio. Its sound quality is very good, too and I find myself missing it when I review a car that doesn't offer the service, so much so that I often end up taking my SIRIUS Stiletto on the road with me.
Alas, such a temporary installation of the Stiletto is by no means ideal. SIRIUS does offer a mounting kit for cars, but that isn't a practical solution for someone who changes cars nearly as often (perhaps more often!) as he changes underwear, but with a data plan and an iPhone the SIRIUS app would work very well in its place, since most cars these days have some kind of auxiliary audio input.
Maybe it's time to bite the bullet and sign up for that cell phone data plan…
Copyright 2010 Jim Bray
TechnoFile.com