Bose TV "sound bar" likes to be loud
By Jim Bray
November 8, 2012
Bose's  new "Solo TV" sound system is the company's entry into the increasingly crowded "TV sound bar" market, and it's a good one – especially if you like your sound cranked.
The black beauty is designed to sit under your TV (or, more accurately, your TV sits on top of it), and Bose says it will dramatically improve dialogue, music, action and sound effects from everyday programming.
It connects easily to the TV with a single connection (I used an optical TOSLINK-type of connector and it worked fine; there's also a coax input) and is designed to fit under TV's of up to 42 inches – depending on the size of the TV's base. Bose says you should limit the TV's weight to no more than 40 lb. (18 kg) and the base to be no wider than 20 inches (508 mm) or deeper than 10.25 inches (260 mm). The company says that most 32 inch and smaller TVs should be fine.
In my temporary setup, I hooked it into a 37 inch Samsung whose base was actually larger than Bose recommended, which led to it hanging over the edges just a tad. But it worked fine, even if it looked a bit funny, and I even liked the way it raised the TV up a couple of inches on the TV stand, bringing it more closely to eye level than the TV sits usually. This, of course, depends on the stand, so your mileage may vary.
You can also put the thing on a shelf above the TV if you have one. This would be a good way to use it with larger and/or heavier TV's. Just be sure the shelf isn't very far from the TV lest you end up with it a disembodied, God-like sound.  And of course you could put it on a shelf below the TV as well.
The rationale behind the Solo TV, according to Doug Lankford, Bose' Director of Home Theater Product Marketing, is that "TV picture quality has improved over the years, but its audio quality hasn't."And he's right, of course. TV makers may prattle about the quality of their built in sound, but in my experience (which of course doesn't cover absolutely every TV on the market) it doesn't matter what they say, the tiny speakers and amplifiers required by today's ultra slender TV's just aren't up to the task of providing real audiophile sound.
Hence the proliferation of such sound bar-type products, many of which also come with separate subwoofers. The $449 Bose doesn't come with a subwoofer (either active or passive), but in my listening tests with it the unit turns out to be yet another great-sounding product from Bose anyway, and the bass is surprisingly tight.
Bose says the Solo TV sound system is aimed at people who don't want a home theater system, for whatever reason. I know several people who fall into this category – whether it's because of room size, potential complaints from neighbors or just the fact that they don't want wires and speakers all over the place, and solutions such as this Bose and its competitors can offer a real alternative.
The system is very small, measuring less than three inches high, just over 20 inches wide and a foot deep, so it'll fit on a wide variety of stands or shelves. It isn't really suitable for those who've mounted their flat panels on the wall, but that still leaves a broad market for the product.
The Solo TV uses "proprietary Bose digital signal processing and Bose speaker array technology" to create a very decent sound stage that sounded much wider than it had any right to.
Set up is very easy. The system connects to your TV with just one cable (or two, if you use the stereo analog inputs) and one wall plug. Nothing else is needed. You operate the system using a little remote control that looks very much like the one Bose makes for their excellent SoundDock 10 digital music system, though with fewer buttons, and the company also says it can be operated by most universal remotes.
The remote that's included is very simple, with an on/off button, volume up and down, and mute. That's it – and, really, what else do you need?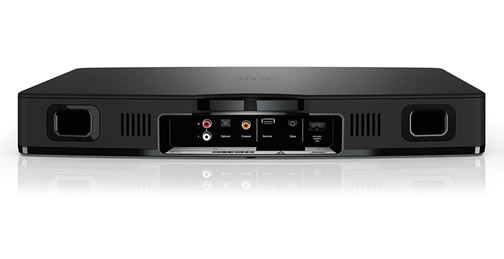 The only issue I had with it – and this is something that could be gotten around by using a universal remote with macro capability – is that I had to remember to turn it on when I turned on the TV, not that it's much of an ordeal, of course. And if you do want to use a universal remote, Bose would be more than happy to sell you their Solo/CineMate system, which is offered as an optional accessory for a pretty reasonable $38.
The Bose turns itself off after a while if it doesn't receive a signal, which is handy and which means it won't draw a lot of power when you aren't watching TV.
When I first hooked the Solo TV into my Samsung and fired them up, I was a tad underwhelmed. I'm familiar with – and generally very impressed by – Bose sound, and have three Bose systems that I use all the time (a SoundDock 10, SoundLink and my Audi's stereo system). But I didn't find the Solo TV that impressive with regular TV broadcasts.
I think this is be more an indictment of my satellite provide than the Bose, however, because when I ran nice and clean audio sources into it – whether from DVD or the lossless tracks from Blu-rays – the Bose positively came alive. It was a remarkable transformation.
So while Seinfeld reruns don't do the Solo TV justice, movies and concerts definitely do. I ran a variety of such sources through the system, including the Eagle Rock Blu-ray of Ray Charles in concert at Montreux, the 10th anniversary "dream cast" concert of Les Miserables, a couple of concerts by The Who (on both Blu-ray and DVD) and several movie soundtracks including The Nightmare Before Christmas, Indiana Jones and Titanic.
Dialogue came through with crystal clarity, and music reproduction was first rate. It even did a good job with sound effects such as explosions, ship's engines and the like, though the system shouldn't be considered a replacement for a real 5.1 or 7.1 home theater system – and remember, there's no subwoofer.
The Solo TV, as with other Bose products I've noticed, really likes to be cranked, which suited me. It sounds good at lower volumes, but once you get it going up through the decibels it's a very rewarding experience. Heck, once the Solo TV system started singing closer to the top of its lungs I didn't even miss the subwoofer. Well, not much.
I also listened to audio-only sources such as DVD-A and SACD discs via the TV's output to the Bose, thanks to a fine Oppo Blu-ray player. Audio quality was very good, though the downside is that I had to have the TV turned on to use it. I don't think I'd do this all the time (this is also the room where the SoundDock 10 lives, which is a better tool for pure audio listening), but the capability is there if you need it.
At $449, the system is priced kind of in the middle of the sound bar-type thingies market. And while you can get an entire home theater in a box for the price of the Solo TV, those ones are generally at the lower end of the "HTIAB" spectrum). And that isn't the point behind the Solo TV, anyway. It's is aimed at people who don't want a home theater in a box, but who still want good quality sound in their viewing room.
And for folks like those, this Bose could be a pretty compelling choice.
Copyright 2012 Jim Bray
TechnoFile.com