Bose does it again with new speaker; headphones
By Jim Bray
June 14, 2013
New York, NY – Leave it to Bose to up their own ante when it comes to creating nifty new products. And introducing them with panache.
In this case they've taken their outstanding SoundLink Bluetooth portable speaker and QuietComfort 15 noise cancelling headphones and shrunk them down to mere shadows of their former sizes, yet apparently without suffering in sound and performance quality.
Quite a trick but, given their track record, if anyone's going to pull off such feats it would be Bose. Well, okay, electronic products shrinking in size and increasing in capabilities is nothing new – heck, just look at today's computers and compare them with the room-filling mainframes of days-not-far-enough past.
Bose's move to "mini-mize" two already very good products not only follows technological history, however, it takes two already very good products and makes them even more compelling because they become even more portable – as in "easier to pack and take with you" – than before.
Bose describes the QuietComfort 20 in-ear noise cancelling headphones and SoundLink Mini Bluetooth speaker as "an entirely new experience when listening to a smart device or tablet, delivering performance that redefines what's possible from mobile audio." And to prove it, they invited a bunch of tech writers to the famous Grand Central Station – which celebrates its 100th anniversary this year – to see them and play with them briefly.
The SoundLink Mini demonstration was pretty straightforward: take the already small and delightfully portable SoundLink and swap it out for the new model, which is about a third of its size. The Mini fits into the palm of your hand, kind of – you can perch it there like a baby bunny if you want, but why would you want to? It connects to your smart device or tablet wirelessly via Bluetooth, giving you great tunes on the road or patio – and it tucks away in your carryon luggage nearly as easily as an electric toothbrush.
Bose doesn't claim the SoundLink Mini sounds better than its larger brother, which is now in its own second generation and is no slouch itself. Bose does claim the new Mini sounds better than any speaker of its size, though, and while one would have to audition all the similarly-sized speakers back to back to prove or disprove the claim, there's no reason to think the company is blowing smoke: the Mini sounds very good. For its size it sounds excellent.
Sure, it ain't going to replace your home theater setup, but that isn't its mission (and if you do want to replace your home theater setup, the Bose folks will be more than happy to steer you in the direction of their complete product line). But if you want a miniature stereo speaker you can park on your bedside in a hotel room, take outside and listen to on the patio or deck, or haul around the house with you while you do your chores, it's doubtful you could do better for the size.
Of course, you pay for the privilege, and the SoundLink Mini is pricier than many other Bluetooth speakers: Bose says it'll list for $199 U.S. when it premieres in July, 2013.
The SoundLink Mini tips the scales at a mere 1.5 pounds, and measures only 2 x 7.1 x 2.3 inches (height x width x depth). Compare that with the already diminutive SoundLink II's 5.1 x 9.6 x 1.9 inches (and 2.9 pounds) and you get the picture – er, the sound. Bose says the Mini is less than a third the size and half the weight of the "big" SoundLink.
It sounded fine during its company-presented demos, which isn't surprising. But Bose does walk its talk and when review samples are available for writers to spend some quality time grazing with them in their natural environments, the Mini (and the QC20's, for that matter) will undoubtedly prove as good there as they were at Grand Central.
The Mini comes in an attractive anodized aluminum housing Bose says will resist scratches and fingerprints yet is "strong and durable enough for the rigors of everyday use." In other words, it's tough like the SoundLink, but smaller.
To pull off that feat, Bose has come up with two new passive radiators to reproduce the lowest frequencies and they're joined by new "custom-designed, high-efficiency Bose transducers," the whole shebang being powered by the type of Class D amplification that allows for big sound from small, efficient packages. Bose also integrates digital signal processing to balance the sound tonally "at any listening level".
Playing it quietly wasn't really on the menu in a venue where thousands of people are passing on their way to and from a multitude of subway trains, but it certainly rocked when cranked. It sounded terrific considering its size and mission.
Bose says the SoundLink Mini uses a powerful antenna to create and maintain a reliable wireless connection. Pairing is simple and quick and the thing will remember the six most recently used Bluetooth devices.
It also comes with a charging cradle and its rechargeable lithium-ion battery is claimed to handle up to seven hours of listening (it probably depends on the volume you're cranking to, though). And Bose also offers accessory soft covers (orange, green and blue) and a travel bag for further customization and convenience.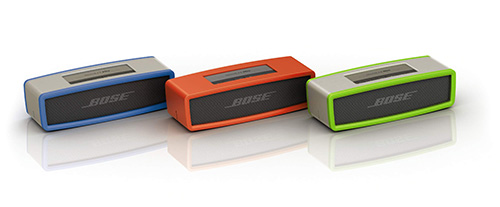 This "bud's" for you…
Even bigger news was the QuietComfort 20 noise cancelling headphones, which in this case are actually of the "ear bud" persuasion so popular among folk who plug into their smart devices and airplane audio systems. They join Bose's innovative line of noise cancelling headphones that have been making flights more tolerable for several years.
They're also Bose's first "in ear" type of noise cancelling phones and if the demo was any indication, they're going to be a wonderful product. Bose says that when they debut this summer they'll list for $299 U.S.
The QC20's are certainly innovative and of high quality. They not only deliver excellent audio quality and noise reduction, they're comfortable, extremely light and small (1.5 ounces, which makes them superbly portable) and – here's a feature missing from the otherwise excellent over-the-ear QC15's – they give you two ways to listen, one that cancels the outside world and one that lets you hear just enough to listen to your spouse or avoid getting run over by a subway train. 
Two tiny – really tiny – microphones are in each earbud, one that senses the sound outside and one that does the same for "inside" (don't blame them if they pick up rattling noises!). The info is sent to a digital chip in a control module on the cord, which calculates an equal and opposite noise cancellation signal "within a fraction of a millisecond."
At the demo, the resulting noise cancellation was spectacular. Bose would crank up outside noise – at one point the floor was vibrating as if a train were about to burst through the demo room the company had set up – yet the noise never seeped through to the listening experience unless the QC20's were turned specifically to the "aware" mode designed just for that purpose. It was a very effective demonstration.
Yet the music sounded great, better than you might expect from a pair of "ear buds." Bose uses what it calls TriPort technology to increase "the effective acoustic space of the ear bud" and the result was deep bass and very lifelike and clean vocals and other musical instruments.
They're comfortable, too. Bose stuck on what it calls "new proprietary StayHear+ ear tips" that look like little horns but which help the buds fit into your ear better to seal them off from outside interference. You still feel like you're wearing ear buds, but they weren't uncomfortable during the unfortunately short demonstrations. About the only way the system could be made any more comfortable and/or convenient would be to make them wireless (Bluetooth might be a hoot) – and Bose wasn't talking about whether that particular innovation was on their menu or not.
As mentioned, you can use the QC20's two ways, either blocking the outside world completely so you can enjoy your music and nothing else, or – at the push of a button on the cord – you can switch to Aware mode, which lets you hear what's going on around you but still offers enough noise cancellation to keep the really annoying stuff (kids and spouses not included, but probably the throbbing of airplane engines and that type of thing) from getting through.
QC20's rechargeable battery is claimed to give about 16 hours of power and, in yet another nice touch, Bose says that when the battery runs down or you turn the power off, you can still play the music, sans noise reduction. That's something you can't do with the QC15's.
The QuietComfort 20's also come with an integrated inline microphone and controls, so you can take phone calls if you're using the 20's with your smart phone.
Bose makes the QC20's available in two models: the QC20 works with most Android, Windows and BlackBerry phones, and the QC20i is designed for Apple stuff.
There's a huge potential market for both of these new products, including from people who have the previous versions and will salivate for their micro-siblings when they see them. Bose undoubtedly hopes it'll sell container loads of them around the world and, given their track record and the undeniable quality of what was showcased in New York they probably will.
If they work in the real world as well as they did at Grand Central – and there's no reason to think they wouldn't – Bose has definitely come up with a couple of new winners here.
Copyright 2013 Jim Bray
TechnoFile.com