Bose Lifestyle System – Great Sound, Easy to Use
By Jim Bray
November 27, 2010
Leave it to Bose to come up with a home theater in a box that not only sounds good, but which is child's play to set up.
Home theaters in a box are nothing new, but they're generally lower end systems that focus on price. Bose has upped that ante with the Lifestyle V35 Home Entertainment System, which not only gives you a great-sounding 5.1 channel audio system into which you can hook your other audio and video sources, but which has also been designed to be so easy to unpack and connect that a chimpanzee can do it.
To test this, when Bose sent me a sample V35 to try, I left the box unopened (which for a gadget guy such as me wasn't easy!) and asked my daughter-in-law if she'd set it up for me. Not that she's a chimpanzee by any means, but she's never set up such a system before and so was the perfect person to test Bose's ease of use assertion. Then I sat back, watched and kept my mouth shut (which also wasn't easy!).
Bose is right. She got it hooked up in no time, with no difficulty.
The system comes in five numbered boxes, with a very easy-to-understand instruction sheet outlining the setup procedure. You start with box one, unpack and set up the stuff in it, and then move on to the next, etc. Bose has even figured out the speaker connections so you can't hook them up out of phase (which happens when you reverse the polarity of the wires at one end), thanks to proprietary connectors that only fit one way.
Not only that, but once you have the stuff hooked up, you can fire up your TV, which acts as the main monitor for the system, and use it to have the Bose walk you through the rest of the configuration, right down to donning the little headphone-like microphones that use the built-in ADAPTiQ system to tweak the sound for a variety of seating positions in the room.
It's very cool, and very slick. And it works.
Configuring the system via the menus is a breeze. The only thing I'd change about it would be to let you access the setup menus from the remote control, instead of having to punch a button on the front panel of the main unit. This is hardly a big deal, though, since you won't need to use the setup very often.
The system will connect and control up to six video and music sources, and even upscale video to 1080p via HDMI, in case you don't have a Blu-ray player yet and are still using an old DVD player that won't upconvert. It even comes with a wired iPod mount you can use for playing your digital media files, as long as they're stored on an Apple device.
If they aren't, there's an auxiliary jack on the back of the Bose that should do the job for you. I used it to connect my portable SIRIUS Satellite radio unit and it worked fine.
A nice touch is a built in AM/FM radio tuner, which is really as it should be anyway, and a fairly universal remote control whose little LCD screen gives you pretty good information about your source, volume, program information, etc.
Its screen isn't as handy as using the TV, however, and I found myself flummoxed occasionally when trying to perform some function; but firing up the TV gives a gloriously clear menu that works really well. It's just too bad you have to fire up the TV to get it.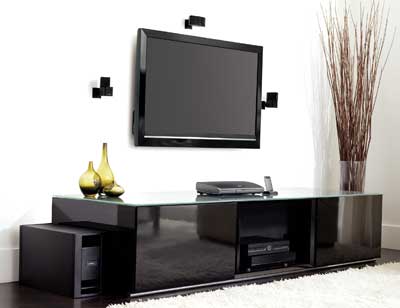 Bose says the Lifestyle system is engineered with their exclusive "Unify" technology, which uses easy-to-understand onscreen messages to guide you through the setup process, including training the system to operate different audio/video components such as your TV, Blu-ray player or whatever. It can even verify if you've made all your connections correctly!
When you hook in a device, it's added automatically to the source menu accessed on your TV screen. And the system has an internal database it uses to identify each component you've connected, automatically teaching the Bose remote to control it. If your component isn't in the database, the Bose walks you through a "button pressing" routine (my wife thinks I'm ideally suited for this procedure, for some reason) that helps it identify the codes.
The system comes with four "corner" speakers – left and right front and rear, a center speaker, and a big "acoustimass" subwoofer unit you can stick in a corner or out of sight somewhere. Since my setup was only temporary, I  parked the three front speakers on top of the wall unit in which we keep the TV and other assorted electronics, placed the subwoofer unit on the floor beside it and perched the surround speakers on little tables near the couch from which I listen. Using the system's automatic speaker balancing ballet, the Bose did a nice job of setting them up for  optimal sound under these less-than-ideal circumstance.
I would rather have had the front speakers mounted lower, more at ear level, but I was impressed with how the Bose balanced them for me anyway.
The V35's speakers are compact cubes that blend into the room nicely – very small and unassuming, yet they can crank out big sound if you want them to. And if the speakers that come in the box aren't enough for your home, the built in "Bose link technology" can distribute the audio to 14 other places, including outdoors (with optional equipment, of course).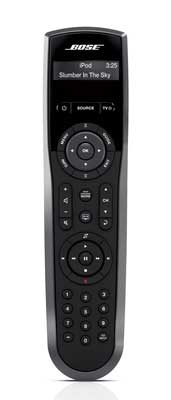 In my listening room, I found the sound from the V35 system to be merely okay until I cranked it up to about 40, at which time it really came to life and sounded very nice, indeed. The soundstage is full and rich, nice and wide, and very dynamic. The overall fidelity is very good.
I listened to a variety of sources, from SIRIUS Satellite radio to audio CD's and DVD-Audio and video discs. And Blu-ray, of course. Programming ran the gamut from movies to symphony performances, Broadway musicals and good old rock and roll. The Bose didn't seem to prefer any particular type of tune, it just preferred to be cranked to a decent volume, at which point it rewarded my ears with sound that belies the diminutive size of the main speakers. Very satisfying, indeed.
My only real complaint, and this is pretty minor, is something I hinted at earlier: that the two-line display on the remote control isn't enough sometimes, and I found myself fighting my way around a menu that was child's play to use on the TV screen. On the upside, the remote's display does give you "now playing" information, which is nice.
Perhaps if Bose would put a larger LCD screen on the remote, one that would duplicate what you can see on the TV, it would be even handier; it would also mean you can navigate the entire system without having to fire up your TV.
On the other hand, the remote does work well and it did control a variety of non-Bose components.
Bose says the system can decode both Dolby TrueHD and uncompressed multi-channel PCM, which I assume means it won't decode dts HD Master Audio tracks via bitstream. This shouldn't be a big deal as long as you remember to set your Blu-ray player to output its audio via  linear PCM. That's how I decode signals from my PS3 to my Rotel RSP-1069 preamp/processor anyway, and it works fine.
At a suggested retail price of about $3,000 U.S., the Lifestyle V35 isn't cheap, but its small size, classy appearance, sophistication, ease of use, and very good sound quality could make it a compelling choice if you're looking for a no-nonsense home theater audio setup.
Copyright 2010 Jim Bray
TechnoFile.com