Bose celebrates 50 years of innovation with NYC bash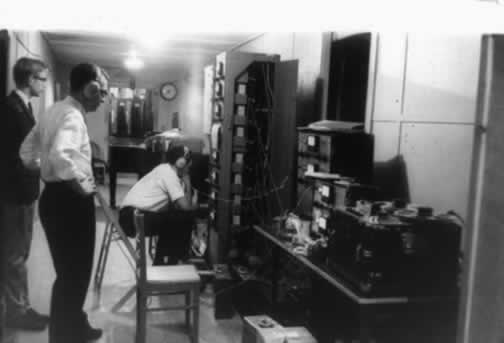 By Jim Bray
October 9, 2014
New York, NY - "Never lose your imagination. Always dream of things that are better and think about ways to reach those things." Those words came from the late Dr. Amar Bose, the visionary and long time MIT professor who started what is now known worldwide as a company with a dizzying array of products that push the state-of-the-art in a variety of directions.
(click here or on the image to open a slideshow)
I have no idea when he said that, but it certainly seems appropriate that he did, considering what Bose has accomplished over the 50 year life of the company. And that golden anniversary was the excuse for Bose to throw a big party in Manhattan, inviting journalists and writers like me to enjoy the festivities while learning more about the company itself.
Bose trips are always interesting and enjoyable and, whether we deserve it or not, they treat us like kings. They have a great bunch of people as well, friendly and knowledgeable (just don't expect answers to questions such as "how many watts per channel?" or "what's next?") and who obviously love their jobs and the company for which they work.
I was amazed to find a new employee there - a lady only three months into her tenure at Bose - because most of the Bose-ites I've met have been there for many years, if not decades. This newbie laughed when I mentioned she's the exception that proves the rule (at least, of people they let us meet!), telling me that when she tells co-workers she's new, they assume she means she's only been there a few years! I guess that means it's a good place to work…
Bose usually mounts these bashes when it's introducing new products but this time, the focus wasn't on their new products (even though they had some) but on the company itself and its history. So it came to pass that they had a great display set up that followed the timeline from the company's humble beginnings and its first product (speakers, not surprisingly, but in this case partial dome-like ones that would stir Buckminster Fuller's heart) right up to its brand, spanking new QuietComfort 25 noise canceling headphones and SoundLink Color and on-ear Bluetooth speakers.
Between the displays showcasing the company's founding and the ones proclaiming its newest offerings was a fascinating selection of Bose achievements over the years. There were the 901 direct/reflecting speakers I remember hearing first back in the 1970's, when I had a quadraphonic audio system and a beanbag chair in the middle of the room to listen to it. Bose still makes the 901's, whose success helped spawn the company's professional products division - they apparently discovered that professional musicians were using the 901's as PA speakers and onstage monitors. I can believe it; in fact, I think I remember seeing it longer ago than I care to admit.
It could also be argued that the 901's inspired the "bipolar" type of speaker that's now popular in audiophile circles, with drivers firing from the front and the back of the cabinets. The 901's weren't actually bipolar (in which the front and rear drivers are the same)  but they certainly showed what can be done when you fire sound at the back wall of your listening room. I use bipolar speakers in my big home theater today, and love them. They aren't Bose, but it wouldn't surprise me to find some Bose DNA in them.
Continuing along the display I learned that, during a transatlantic trip, Dr. Bose was introduced to early electronic headphones on an airplane (they used crummy air-based ones before then and I remember them being awful) but he noticed that they still sucked - so, they said, before the flight had even touched down in the United States, he'd conceived the mathematics for noise cancelling headphones. The rest, as you might say, is history.
I also learned that, even though its headsets were still being worked on, the company made two of its prototypes available to Dick Rutan and Jeana Yeager, to help preserve their hearing when they made their record-breaking non-stop around-the-world flight in Burt Rutan's graceful Model 76 Voyager back in 1986. Since then, their noise-cancelling aviation headsets have cushioned the cochlea of many co-pilots, pilots and even some passengers; I had a co-worker a while back who had a pair he wore while doing reports from the local traffic helicopter. He'd bought his own, which meant (since I only worked as a fill-in) I had to use the non-cancelling ones the company supplied. I hated him for that. And them.
Bose also innovated the "satellite and subwoofer" type of speaker system with its Acoustimass 5, which I remember as the AM-5's. While I wasn't a real fan of that original generation, the company again spawned a market that's now full of competitors from all over - and the most recent Bose generation I tried, a couple of years ago, sounded great in my living room.  
As a Calgarian, I also got to notice Bose close up - well, up if not that close - when the company was contracted to provide the sound systems for the city's Winter Olympic games in 1988. They apparently put the sound systems into all the venues but the one I remember - and which is still there pumping out great sound - hangs high over McMahon stadium, the venue for the Games' opening and closing ceremonies and home (then and now) of the Canadian Football League's Calgary Stampeders.
And who can forget Bose' wave systems, which use a "transmission line-type" of technology (Bose calls it "waveguide") to get great sound (including deep bass) from small enclosures. Bose still sells Wave systems, though they've evolved over the years so that now you can get ones that'll even interface with your home network wirelessly, like its SoundTouch systems do as well.
Bose, of course, is also a huge name in automotive audio, which apparently began with a handshake between Dr. Bose and General Motors (whoever he was!). I remember my best friend's 1984 Pontiac Fiero had an early Bose system, with tweeters mounted in the headrests and the bass driver up front and reflecting off the windshield. My current car, an Audi A4 Avant, also has a good Bose system - and if I were going to buy a Porsche, I know I could save a few grand off their always substantial list of optional equipment by not ticking the box for the excellent Burmester system because the Bose systems are more than adequate.
The company had a 1982 Cadillac Seville on hand at their party so we could see - er, hear - its original car audio system, and then we could counterpoint it with the new version of the system that's installed in the current Cadillac Escalade, which they had on hand as well. Of course GM and VW/Audi/Porsche group are only two of the many companies working with Bose to offer great audio on the road.
They also showed their L1 PA system that shrinks the size of such beasts down to a slender column (a friend brought one of these to my 60th birthday party a couple of years and I think some of my neighbors are still mad at me), and an automotive suspension system that undoubtedly helped inspire the current Bose Ride system that acts kind of like a "road cancelling" seat for truckers.
I was first invited me to a Bose premiere when they unleashed the SoundDock 10, the biggest and "baddest" of the company's line of iPod dock/speakers. I had to have one, and I love it; I replaced a 5.1 system in my living room with it and, while its stereo separation doesn't match that of discrete speakers that are farther apart (and, obviously, there's no surround) it fills my living room with great sound that plays as loudly as I want - louder than my dear wife wants! And if I want 5.1 I just go downstairs to the room that's dedicated to it, leaving the living room much less cluttered with technology and my wife much less unhappy. I don't use an iProduct for my tunes, but the SoundDock 10 also has an optional Bluetooth adapter and it works great.
Speaking of Bluetooth, I rarely travel without my SoundLink Mini, which Bose said was so successful it caught them a bit off guard. It doesn't play as loudly as I'd like if it were one of my primary speakers, but it isn't - and for the venues in which I use it (hotel rooms, my patio, etc.) its volume is fine and the thing sounds fantastic. I also rarely leave home without my QC 20 noise canceling ear buds, whose small size and great performance make them a treat. Again, Bose invited me to the introduction - at a very noisy Grand Central Station this time - and once again I had to have them.
I haven't had a chance to listen to the new QC 25's for more than a couple of minutes, but it appears that Bose definitely listens to its customers: the new, around the ear model corrects the only thing I didn't like about the QC 15 around the ear phones: you can listen to music without having to fire up the noise cancelling circuitry. Hooray! This means the phones work not only in environments where you might not need noise reduction, they'll also work (sans noise reduction) if you run down the (included) AAA battery that powers them.
In 2011, Dr. Bose donated a majority of his company's non-voting shares to MIT, where he served as a professor until 2001. Then, in 2013, an era ended with the passing of Dr. Amar Bose at the age of 83. Sometimes the founder's death means big changes to a company, and not always for the better, but it appears Bose is keen not to forget its roots. "Dr. Bose founded Bose Corporation almost 50 years ago with a set of guiding principles centered on research and innovation. That focus has never changed, and never will, said Bob Maresca, Bose Corporation's President and CEO.  
Maresca, in an open letter to Bose customers the company provided to us, credited Dr. Bose for deciding the company would need "the courage to be different in an industry that rewarded conformity. He kept us independent, free to pursue new ideas and succeed or fail on our own," he wrote. "And we made it - by taking risks and fighting for things that had no known place in the world."
Bose appears to be positioned well going into its next half century and with luck won't forget its roots. I don't think they will; as Maresca said in his letter: "We weren't after fame. We just wanted to exceed every expectation you had with amazing products that made a difference in your life. And we still do. We still believe that anything is possible."
You can buy cheaper stuff but, like Apple in the computer world, when you purchase a Bose you're getting something that's built well, works as it should, and is easy to set up and use. They may not be unique in that, and I'm only speaking from my personal experience, but in an era of apparently planned obsolescence and "cheaper is better," it's nice to see someone who still believes in high standards. Heck, using only the SoundLink Mini as an example, the little bugger is built like a tank!
Copyright 2014 Jim Bray
TechnoFile.com