Booktango lets you e-publish your masterpiece, while Belkin holds your iPad
By Jim Bray
May 23, 2012
Do you have a novel you want to get out into the world of e-publishing? Do you use your tablet while cooking, but it gets all messy and gross? If so, I've been trying a couple of products you may want to check out.
Bookmaker...
Booktango is a new online publishing service that promises to put your masterwork into the hands of the major e-book publishers – and for free, at least for the next while. And they say you'll get good royalties, too.
Enough to make you rich and famous? Who knows – but I just happened to have a novel that was published conventionally in 2005 and whose rights have now reverted back to me, so I figured this would be a good way to get it online while testing out Booktango's service at the same time. And it was; whether or not it'll sell remains a mystery at this point – about four days after it went live – but one can hope.
Then again, the best publisher can't turn a sow's ear of a book into a silk purse (not that I'd like to think that about my literary child!), so it undoubtedly also depends on the quality of the written work. Mine's a lighthearted action/adventure sci-fi romp, which may limit its audience, but at least it's out there now, in front of peoples' faces and ready for them to download it to their favorite device.
Booktango promotes itself as a "Free and Easy-to-Use Platform" to publish and distribute your book to every major book retailer and e-Reading device. The service, part of the Author Solutions, Inc., umbrella, converts your book for use with Kindle, Nook, iPad, Kobo e-Reader, Sony Reader and smart phones. It also claims that you keep the ownership rights to your content, though you do have to sign over some publishing rights to them, which seems only fair since they're providing the service.
Parent company Author Solutions' CEO Kevin Weiss claims that "As the world leader in indie book publishing, we have helped more than 140,000 authors bring over 170,000 books to market," and says that experience makes them uniquely qualified to enter the do it yourself e-book publishing arena, "because we understand better than anyone what's important to authors." That's why, he says, making the service free and easy to use while offering "the best distribution and royalty structure in the business is just another way we are helping to make it the best time in history to be an author."
Sounds almost too good to be true, doesn't it? And that's why (along with my built in delusions of grandeur) I decided to give it a try.
The publishing process is actually pretty straightforward, though not without its hassles. After I signed up, I copied into their browser window a MS Word copy of the manuscript from which I had stripped out the Word-generated table of contents (and other Word-specific and/or extra commands and stuff like that). It was a piece of cake.
Then the fun began. Booktango's software looks over the manuscript for problems, such as formatting issues, and points them out to you. This gives you a chance to make your masterpiece conform to whatever e-book standards there are. In my book's case, there was a plethora of excess hard and soft carriage returns, but Booktango walks you right through the manuscript, pointing them out and letting you change them.
It wasn't quite as straightforward as it sounds, because I had to redo some deletions multiple times before it took, but eventually (like, within half an hour or so) the book was formatted and ready to go.
The process also gets you to give a free sample for potential purchasers to peruse – 8000 characters maximum – as well as a description of the book, credits, acknowledgements, your bio and picture, etc. It's fill-in-the-blank easy, though I had the dickens of a time figuring out 8000 characters for the free sample: I started by copying in Chapter One as a freebie, but it was far, far too long. So I cut it back, then cut it back again, and again and again and again until Booktango was finally happy.
Looking back, I should have done this in Word, which gives you a character tally with the word count feature, but as has been said so often before, hindsight is 20/20.
Booktango offers a cover design service (as well as some premium services that aren't free), but I stuck with the DIY aspect to see how it worked. And everything worked fine, except my cover design (which, looking back on it, is far too busy and gaudy and I'm rather embarrassed about it) appeared reversed online: the black sky of space appeared white, with black stars. I contacted Booktango and as of this writing they're working on fixing that. I'd rather just upload a new picture, but right now they don't appear to have the capability.
They do have a live chat feature you can use to get help and, while they're very pleasant, they haven't really been able to help much because the issue is, apparently, in the hands of their IT people.
Booktango says that it plans to offer an online cover designer tool that will allow authors to create their own cover for free. Perhaps I should have waited…
So far as I know, my book "Ransom for the Stars: the last Supra" hasn't sold a single copy yet in its e-book form, which is a travesty that should be corrected by government action, but I'll keep track of it and report back periodically on how it's going. The print version hardly flew off the shelves, either, much to my chagrin, but beyond the issue of whether or not the novel is actually worth reading (and I am far too close to it to be a fair commenter on that!), I put it down to the publisher doing little to no marketing and the book being outrageously overpriced to begin with - $20 U.S. for a 190 page paperback!  Heck, I wouldn't pay that for it and it's my book!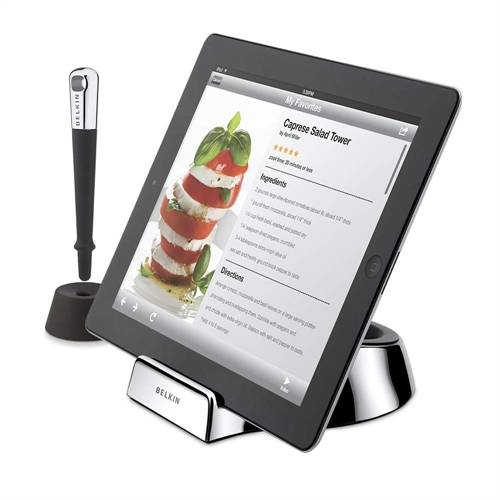 The e-book's price is $4.99, which is a lot more like it. You can set the price when you set up the e-book at Booktango, but it defaults to $4.99 and that's why I kept it at there – that, and the online chat lady said it was a fair price.
I assume she hadn't read the book…
The novel will be available not only through Booktango's own bookstore, but they also make it available through Amazon, Barnes and Noble, Kobo, Apple's iBooks and more.
I'll update this periodically to let you know how my baby is doing.
Cooking with your Tablet…
I hate cooking, but I find myself doing it far too often, and that means spending time watching stuff cook and waiting for it to be done. I like having my iPad handy for such occasions, for those times when you're standing there watching the pot not boil, except that my hands get gross and that rubs off on the iPad's screen.
I'm pretty anal about the cleanliness of my screen – hence my addiction to the Toddy cleaning cloths, one of my favorite products of 2011.
This is undoubtedly why Belkin introduced its $40 Chef Stand + Stylus, a little doohickey that lets you interact with your tablet while you cook, without touching the screen with your messy hands. Sounds perfect, doesn't it?
And it's pretty good. The case-compatible stand comes with a non-slip rubber base that lets you choose from two different angles to perch the tablet for use on your countertop – one that stands it up nearly perpendicular to the counter, and one that keeps it flatter, just raised slightly for easier viewing.
The stylus/wand comes with its own storage stand, which fits into the stand itself when you aren't using it, though it could fit better. It's easy to grab while you're handling food and stuff and its magnetic tip is designed to work with any touchscreen, according to Belkin. They also say it can be used to wake up an iPad 2, though since I only have an iPad 1 I haven't verified that – though you can poke the Home button with it and wake the tablet up easily that way.
Belkin says all components can be washed by hand using warm, soapy water, which I assume means you shouldn't put it into your dishwasher.
It works pretty much as advertised, though I noticed I have to press on the iPad's screen harder than I like before it'll work. I think practice is helping, though because I haven't had to hold the iPad steady with one hand while "stylusing" on it since the first day I tried it.  
Copyright 2012 Jim Bray
TechnoFile.com