BenQ projector a bright solution to small home theater spaces
By Jim Bray
March 20, 2014
Home theater fans who want a truly big screen cinematic experience that's reasonably affordable have only one choice: a front projector. Such units can fire a wall-sized picture across your room, in full HD and 3D glory, with a truly spectacular image and image size.
You need the space, of course, and the ability to control the light in your room - but if you have those parameters licked, you may wonder why you ever went to a movie theater in the past.
Such has been the case in my life. I used to patch my old VHS VCR's monaural audio output into my stereo system back in the 1970's, when the best you could get for a TV was a small (compared to today) CRT. But it was still better than the tinny little speaker in the TV!
I dreamed of a dedicated home theater room, but it took until about 2006 for finances and available space to catch up. Fortunately, by then the technology had more than caught up as well, so I jumped in with both feet, building a system with 106 inches of roll up, tab tethered screen fed by a 1080p LCD front projector hanging from the ceiling at the other end of the room. It was worth the wait.
My reference projector uses three LCD's (Liquid Crystal Display - similar to what you find in today's non-plasma flat panels, even if they're called LED units), but there's another projector type that can also offer a great viewing experience: DLP (Digital Light Processing). DLP's work very differently from LCD's, and in fact I think they may use magic, but the end result is about the same when it comes to having a big, theatrical-type experience.
Naturally, it depends on the unit. Time was when some DLP's were plagued by a weird, rainbow-like effect that could be quite annoying. Fortunately, it appears those days may be gone because during my tests of the BenQ W1500 DLP projector that's the subject of this rant I noticed none of these artifacts.
In fact, this BenQ is a good little projector that's not only small enough to be taken out with you easily, it also features an extremely short throw distance that means you can illuminate a big screen in a smaller room. How small? In my temporary setup, I placed the unit on a coffee table about six feet away from the 106 inch screen - less than half the distance my ceiling-mounted LCD uses to get the same size picture. Now, that isn't a completely apples-to-apples comparison, thanks to such considerations as zoom rates, but it was remarkable nonetheless. And it means you could possibly design your room "landscape" mode and still get a big picture on the long wall as opposed to the "portrait" mode I use in my home theater.
It's wireless, too! That means you can send full HD, 3D pictures from your source device (I used a high end OPPO universal BD player) without having to shell out for - and lay - a long HDMI cable.
Supposedly retailing for about $2,299 Canadian (though I've seen it for $1,499 online, which seems like a good price), the projector offers big capabilities for that small price and even smaller footprint (the whole unit is about one quarter the size of my admitted much more high end projector). The only place it seems to fall down seriously is in its contrast ratio of 10,000:1 - which is merely okay. My reference unit's figure is 320,000:1, though it's also more than twice the price of the BenQ, but you can also get up to 25,000:1 for about the same price as the BenQ - though the unit I comapared it with didn't offer wireless performance and its brightness figure was lower. It's always something, eh?
Setup is child's play, thanks to the BenQ's flexibility. The remote works well and the menus are straightforward; about the only tough part is getting the picture aimed properly at the screen, but you'll have that issue with any projector.
The W1500's lens shift capability offers you good flexibility in installation - and can bail you out to a point if you screwed it up. All that's required is to adjust the switch (next to the lens) to move the projected image up by 110 -130 per cent inside the projector housing. And as mentioned, the 1.6x zoom feature also gives you great flexibility in placing the projector, making it easier to fit into your existing space and decor. BenQ says the unit will fill screens from 40 -300 inches, depending of course upon its placement and the size of room.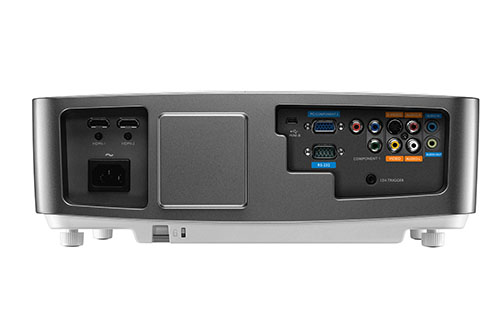 The unit has its own audio output, but the "Built-in 2 x10W Big Speakers" offer about the sound quality you'd expect from little speakers powered by 10 watts per channel. In other words, don't throw away your audio system! On the other hand, if you're using the BenQ for work, the feature could come in very handy. As it was, I lowered the volume and left the speakers turned off once I'd tried them to make sure they worked.
BenQ trumpets the unit's frame interpolation ("for ultra-smooth motion quality"), brilliant color performance and the flexibility to place the projector in any room, regardless of size and brightness!
Well, it's bright enough for a home theater room, but you might still find it a tad problematic in a really brightly lit room. BenQ rates the W1500 at 2200 ANSI lumens, which is pretty good, but in my experience you lose a lot of your contrast with increased room lighting, so you may want to think twice about not having controllable light.
On the other hand, the BenQ's portability means you can move it around in a pinch, to try it in another room, take it to a friend's, use it to make business presentations, or whatever. Heck, you could hang a sheet on your garage door and use it to create your own, private miniature drive-in theater!
I loved the wireless feature, which is accomplished by plugging a little sending unit into the HDMI output jack of your source device (I had to plug the unit into a wall socket to power it). I noticed that when I changed sources - even to just ejecting a disc or changing music sources - the BenQ would go through a search routine of all its many inputs, as if the temporary loss of handshaking (which is common when using HDMI-compatible sources, even wirelessly) confused the projector. It would find it again after a short search, but it seemed a tad inefficient and I usually guided it back to the wireless input via its remote control rather than wait for it to figure things out.
Fortunately, the OPPO player I use has dual HDMI outputs so I could use both projectors at once to do A/B comparisons between the BenQ and my $3,600 (when new a year ago) LCD projector. And while the BenQ doesn't come close, if I hadn't been able to A/B them I would have been happy with the BenQ's performance vs. price.
One thing I couldn't test was its 3D performance. Oh, I could see the 3D image on the screen, but the BenQ folks didn't include any glasses and my projector's glasses wouldn't work with it. Fortunately, I couldn't care less if it had 3D performance; heck, the only time I've used 3D on my projector in recent memory was when reviewing a 3D disc specifically.
But 3D's there if you want it and, if it works like everything else on this unit, it's probably okay. It also will convert 2D to 3D, which can be kind of neat if you're into such things.
And get this: the W1500 comes with ISF (Imaging Science Foundation) Certified Calibration Controls, so you can tweak it to its optimal quality. I tried Joe Kane's Digital Video Essentials test Blu-ray on it and it was pretty much bang on right out of the box, so much so that I didn't bother tweaking it any more. Quite impressive, though not uncommon any more.
If you're into saving the planet, BenQ claims to be the first DLP brand to incorporate Philips' "ImageCare technology" into its lamp system, even taking it one step beyond by developing its own SmarEco Technology "to perfect what DLP can do for energy saving in the 21st century." One thing this supposedly does is give you up to 6,000 hours of bulb life, which means that by the time the bulb burns out you'll probably be looking to upgrade to a 4K Ultra HD projector anyway…
Naturally, the projector puts out a full HD 1080p signal and will play it 24 frames per second if that's what the source puts out.
I watched a wide variety of sources with the BenQ, from my favorite reference Blu-rays to HDTV, DVD's and the like and found the picture (other than its contrast) to be bright, colorful and with good depth. It's reasonably silent, too, which is nice when you're watching stuff that has quiet passages. As mentioned above, its performance overall is such that, if I hadn't been spoiled by a higher end projector, I'd have been reasonably satisfied with the BenQ considering its price.
So if you're looking for a small, flexible projector that offers good performance on a budget, the BenQ W1500 isn't a bad place to start your quest.
Copyright 2014 Jim Bray
TechnoFile.com