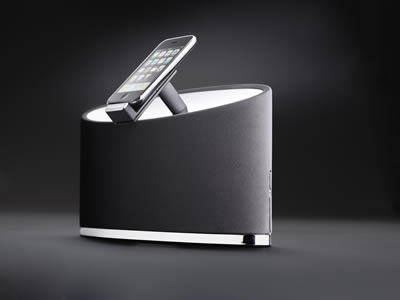 Mini Zeppelin Truly a Rockin' Dock
By Jim Bray
March 4, 2010
Bowers and Wilkins, one of the giants of the high end audiophile speaker market, has gone down market again, introducing a new iPod/iPhone speaker dock system.
There must be a zillion such speaker docks on the market now, which is a testament to the success of Apple's little music player – and of course its iPhone cell phone. When even the elite audio players get into the game, you know they must be smelling a profit in the market for such toys. And, of course, an opportunity to bring good quality sound to a format not necessarily known for such.
Also known as B&W, the renowned speaker maker made its name creating high end sound from such lines as the Nautilus and the 800 series – speakers that can cost as much as some cars. They also do some high end car audio – Jaguar springs to mind – so it may seem a bit surprising to see a company such as this "slumming" in the world of MP3 files.
Yet slum they do and have been for a while. Bowers and Wilkins introduced its one-piece Zeppelin iPod speaker system a couple of years ago and now comes the Zeppelin Mini which, as you may have guessed from its name, is a smaller variation on the theme.
I never tried the original Zeppelin, but I've been using the MiniZep for a couple of months now and like it a lot. The $400 U.S. unit is elegant, with its piano black and chrome finish and elevated iPod/phone dock, and it sounds very good – depending, of course, and the quality of the music file you're putting into it. The unit also appears to be built very well, with a solid feel.
The Zeppelin Mini incorporates two newly developed, full-range, three inch fiberglass drivers whose "uniquely slotted cone and very long-throw motor", according to Bowers and Wilkins,  deliver "unprecedented range and dynamics for so compact a transducer."
I don't know about the "unprecedentedness" of all that, but I can tell you without doubt that the sound is very dynamic and very good. I ran the unit side by side with a Bose SoundDock 10, which sells for a couple of hundred greenbacks more than the ZepMini, and was quite impressed with how the B&W unit acquitted itself. I think the Bose beats the Bowers and Wilkins overall, especially so far as playing VERY LOUD is concerned (which might be important if you're trying to fill a large room or just like making your ears bleed), but I think the B&W's sound is a little richer and it has better stereo separation.
The latter point surprised me, since both units are very small, with speakers that are close together. Yet the ZepMini created a soundstage that belied its girth. It's also better looking than the Bose – beauty, of course, being in the eye of the beholder.
B&W's press materials say the product uses proprietary dynamic equalization to maximizes the speakers' abilities to produce "jaw-dropping loudness and fullness." It works – even though my jaw actually stayed where it was. Again, the Bose can play louder, but I can't fault the "fullness" of the Bowers and Wilkins model when it comes to overall musical reproduction.
As with the Bose – and the Rotel amplifiers I use and love in my home theaters, the Zeppelin Mini uses Class D amplifiers (sometimes called "digital", though they aren't really – not that I understand the technology completely) to ensure there's plenty of poop. The company says each channel puts out 18 watts, which I find quite surprising: I'd have guessed from the sound that they'd be rated at double that or more.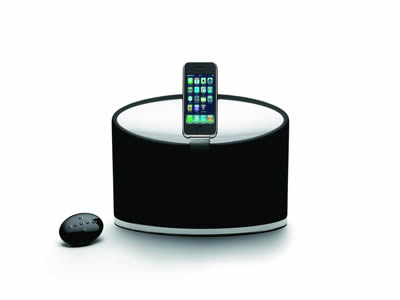 It just goes to show that specifications only tell you part of the story and that your ears should always be the final arbiter.
Bowers and Wilkins says the product has a frequency range of 38 Hertz to 20 kiloHertz and consumes 15 watts of power. Its patented "Flowport" enclosure architecture has vents in the rear to help minimize noise or coloration from deep bass playback, "even at extreme volumes".
B&W's proprietary docking arm, they say, permits "natural-grasp operation" of the docked iPod/iPhone and it does hold it at a nice angle that's easy to poke at with your fingers. A docked iPod or iPhone also has its battery charged while you're grooving to your tunes.
I have a quibble with the mounting system, though. The Zeppelin Mini comes in the box with a selection of different plastic cradles to accommodate various models of iPod/Phone and, while I think that's a nice touch in theory, in practice it meant that when I removed my iPhone (which has a protective skin on it that increases its mass a tiny bit) the cradle tended to pull off with it. This was a pain in the buttocks – albeit a pretty minor one in the grand scheme of things. I was tempted to Krazy Glue it to the mount, though of course that would have created new issues.
By the way, the mount rotates so you can read the iPhone/Pod's screen either in portrait or landscape configuration.
Inputs include the 30 pin iPod connector on that darn docking arm, and there's also a 3.5 mm analog mini jack and even a USB 2.0 port for connecting your computer so you can do streaming, synchronization & software upgrades without undocking the unit.
I probably use the mini jack as much as the actual iPod/Phone mount, running the output from my portable SIRIUS Satellite Radio into the Zeppelin Mini. It works very well and, of course, gives me access to the satellite service's wide variety of programming. I also hooked in a five disc CD changer we keep around for such emergencies and it worked fine.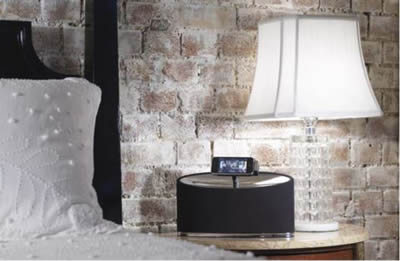 I listened to a wide variety of sources through the Zeppelin Mini, from hard rock to show tunes to podcasts and talk radio. Sound quality was impressive, with nice, deep, rumbling bass when required and no shrillness to the upper end. Voices came through clearly as well.
Bowers and Wilkins says the Zeppelin Mini uses "advanced, highly accurate, audiophile-grade circuitry" to convert the iPod/Phone's digital signal and the sound truly is of audiophile quality.
The unit is Apple-certified as "Made for iPod" and "Works With iPhone". I didn't try it with an iPod, but it worked great with my iPhone, cradle kerfuffle notwithstanding.
I had a bit of an issue with the remote, too, a little egg-shaped device that works fine, but whose buttons and labels are so small I needed to put on my reading glasses to use it until I got used to using it by feel. Its layout is symmetrical, too, which looks great but which means that – as per Murphy's Law – I was always holding it upside down. This is a pretty minor complaint though and, since the power button is raised higher than its counterpart at the bottom, you can get around it. It just bugged me. So there.
The Zeppelin Mini is probably suited best to smaller rooms such as kitchens, offices, bedrooms, family rooms and the like. I doubt you'll want to use it to provide tunes at your local hockey arena or fair, but typical suburban environs and the like it'll undoubtedly fit the bill nicely.
Very nicely, in fact.
Copyright 2010 Jim Bray
TechnoFile.com