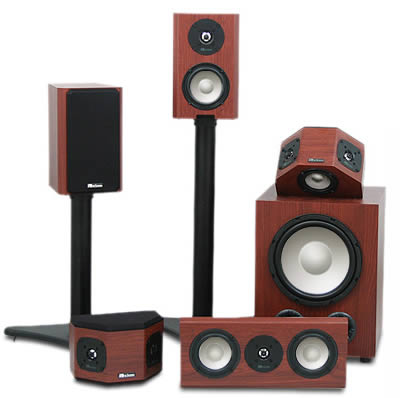 Axiom Audio Home Theater Speakers Offer Sound & Value
By Jim Bray
May 14, 2011
Home theater speaker makers are a dime a dozen – as, of course, are their products. But not all of them offer as good a sound to dollar equation as Axiom's Epic Midi 175 system.
Not that you can't do better, especially if your budget allows you to lean more toward the higher end of the market, but for the relatively modest price of this system you're getting a lot of sound for the money.
Axiom Audio, which is headquartered in Dwight, Ontario, Canada, has apparently been in the biz for about three decades. Founder Ian Colquhoun is an alumnus of the National Research Council laboratory in Ottawa, where he apparently worked with Dr. Floyd Toole.
I visited that laboratory in the 1980's to interview Dr. Toole, who is well-known in audiophile circles; in fact, his and his associates' work helped usher in a kind of golden age of Canadian speaker makers, helping a variety of companies create excellent quality sound at affordable prices (and even at not-so-affordable prices, if I remember correctly).
Needless to say, when I discovered this connection I was intrigued and very interested in trying out some of Axiom's products.
The Epic Midi system, listed at $1,508.60 U.S. on the company's website, is a classy-looking combo, basically a lower end home theater system in their much broader line of products. The version they sent me consists of the M2 main speakers, the EP175 subwoofer, VP100 center channel and QS4 surrounds. They also included stands for the four corner speakers, and they're very nice in their own right – as well as being easy to assemble, strong, and which hold the speakers in place well without marking them up.
If you're reading this and thinking that 1500 simoleons is a lot of dough to drop on speakers, you may not have had a chance to experience the enjoyment a fine home theater can add to your home. Or maybe you just don't care that much, and think anyone who'd spend that much on speakers – and still need to add a head unit to power it – has to be some kind of nut, since you can pick up a home theater in a box for a couple of hundred bucks.
It all depends on your level of interest. Many people are served well by a home theater in a box – but if you love fine sound and don't mind investing more into it, a system such as this could be a good place to start auditioning.
The speakers Axiom sent me were finished in Boston Cherry, with black grilles – a very handsome setup they also offer in black. I installed them next to my reference speakers and calibrated them with a sound pressure level meter to ensure proper balance.
The M2 main speakers, the left and right front of the 5.1 home theater, are Axiom's smallest bookshelf speakers, but they put out very realistic sound. I used them not only in the 5.1 configuration but also for listening to stereo music and, while they certainly didn't make me want to throw away my reference Definitive Technology towers, the fact that they're only about 20 per cent of the DefTechs' price makes them quite remarkable.
The two way M2's feature a 5.25 inch aluminum cone woofer and one inch titanium dome tweeter. Axiom says they're designed primarily for rooms of 2100 cubic feet or less, which puts it right in the ballpark for my home theater. Axiom says they're meant to handle power ranging from 15 to 150 watts, which is pretty mainstream. I drove them with 500 watts per channel of fine Rotel Class D power; I was afraid I'd turn the Axioms into little black rocks, but they seemed quite happy to drink in all that power.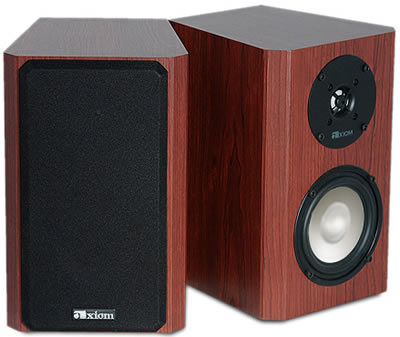 Axiom M2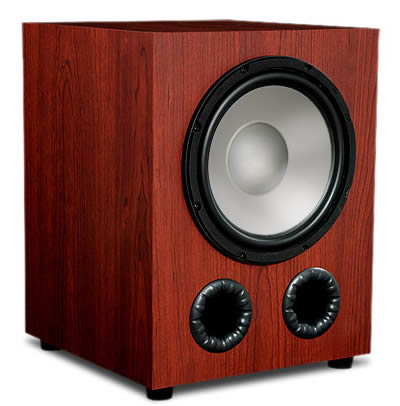 Axiom EP175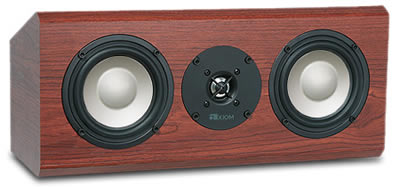 Axiom VP100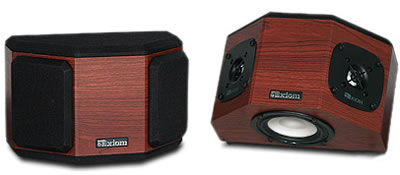 Axiom QS4
You should definitely match them with a subwoofer, even for music, but I was surprised at how good they sounded on their own. Bass is pretty good considering the size of the drivers, with very good midrange and treble reproduction as well and a soundstage that's wide and deep.
The EP175 (175 watt) subwoofer boasts a 10 inch aluminum-cone driver and cast-aluminum basket the company says provides more linear performance than paper cone woofers. The unit also has two proprietary Vortex ports on the front.
Surprisingly for this price point, the sub comes with balanced and unbalanced inputs, which makes it compatible with broad range of receivers or amplifiers. It comes with spikes to keep it nice and still on carpeting, and it has anti-resonance rubber feet for use on bare floors. It also has an output jack that lets you hook in a second subwoofer if you really want to go for the gusto – or just tweak your neighbors.
The sub cranks out nice, deep and rich bass that'll rattle your walls if you want it to. As with the M2's, it didn't make me want to toss my M&K subwoofer into a landfill, but considering that the entire Axiom system sells for less than my M&K did by itself, it's pretty darn good.
The VP100 center channel will undoubtedly be used mostly for the reproduction of dialogue, though you never know: it depends on how your multi-channel source is mixed. Ideally, it should sound virtually identical to the left and right fronts (and the surrounds) and, to that end, the Axiom uses the same dual aluminum cone woofers as the M2. And it works; sounds panned across the front, whether the voices of movie characters moving around or of cars, spaceships or whatever zipping around the room, with no apparent sonic difference between the speakers.
Axiom recommends 10-200 watts of power for the VP100 and 10-175 for the QS4 surrounds but they all took the Rotels' 500 watts well.
The QS4 quadpolar surround speakers have four drivers, all firing in different directions to enhance the surround effects from movies and multi-channel music discs such as DVD-Audio or SACD's. Again, they blend in nicely with the rest of the system – as they should – and if you place them properly (to the sides of the listening chair, not behind it as you might assume), they finish off the sound field very nicely, helping envelop you in music, ambience, or effects. Bullets zipping around the room sound the same from whatever speaker they may be at any particular moment, which is exactly how it should be.  
I used many of my favorite reference discs to test the system, including movie and concert Blu-rays such as 2L's TronheimSolistene "Divertimenti," "Ray Charles Live in Montreux," "South Pacific," "The Dark Knight," "The Incredibles" and, of course, "Avatar" – a fine blend of various types of music, vocals and just plain "Wow!" stuff. The Axioms did a very nice job, not only of reproducing the sound faithfully, but of creating an immerse surround soundstage as well.
For music, I dusted off some of my best DVD-Audio discs, including Dire Straits' "Brothers in Arms" (which is always a particularly good test of a system's dynamics), Beethoven's Symphony No. 9, and The Who's "Tommy" (which is also an excellent "torture test" disc for car DVD-A systems), augmented by the SACD's of the aforementioned "Divertimenti," the classic Pink Floyd "The Dark Side of the Moon" and the Moody Blues' "Every Good Boy Deserves Favour." I also used a couple of stereo test discs, including the remastered "The Who Live at Leeds," one of the more dynamic stereo CD's you can find.
The Axioms didn't seem to prefer one type of music or sound source over another, playing away happily regardless of what I threw at them.
It doesn't hurt that they look so classy, either. The last system of approximately this price that I tested sounded nearly as good as the Epic Midi system, but they were plain, with cheap-and-fragile-looking stands; the Axioms look more expensive than they are.
Axiom even has a cool way of holding the speakers' grilles onto the cabinets. They use magnets,  not only to hold the grilles in place nicely, but to ensure they're easy to remove for those times when you just have to show off the drivers – and there's no risk of snapping off a plastic (or whatever) connector if you aren't careful when moving the speaker or removing/applying grille.
This was my first experience with Axiom products and a nice appetite-whetter for the brand. The company markets a full line of bookshelf, floor standing and wall speakers, as well as a couple of what it refers to as digital amplifiers, so it appears they have something for nearly everybody.
Copyright 2011 Jim Bray
TechnoFile.com