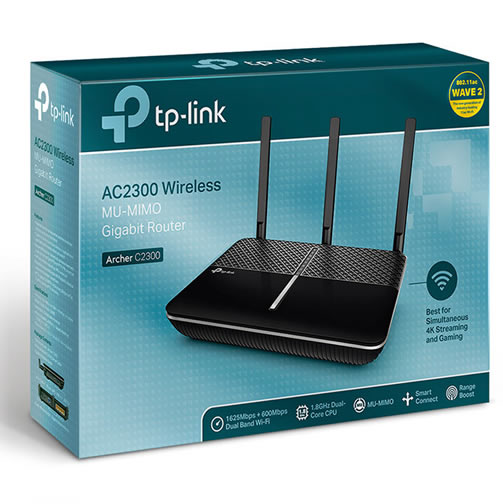 TP-Link router a solid streamer
By Jim Bray
May 4, 2018
Wi-Fi is everywhere these days, it seems, and that's a great bit of convenience. But as much as we may like free Wi-Fi when we go out and about, it's even more important to have a fast and reliable connection at home, where many of us do most of our personal computing, surfing and/or streaming.
Your router performance can depend on such things as bandwidth, number of antennae, and the location you set it in your home. This is why you need a good router, though finding one can be a chore because there are so many models available.
Into this fray comes TP-Link's Archer AC2300 dual-band Wireless MU-MIMO Gigabit Router. I've been reviewing a sample of this $179.99 CAD router for a few weeks now, perching it on a corner of my desk on the third level of our four-level split. Its relatively small footprint and flat top don't take up a lot of space there and the location is the best one in the house for ensuring it covers the whole building, as well as our deck in the back yard.
And it does!
The Archer C2300 is kind of a "generic consumers'" router, with up-to-date but not overly outrageous specifications. I didn't run it side by side with other routers (Heck, I usually have enough trouble figuring out one of them at a time!) but in my tests it handled the family's traffic just fine, including the wireless streaming of 4K video from my computer to the home theater. I streamed to the smart TV itself, the OPPO UDP-205 4K UHD disc/media player, as well as the Roku Ultra 4K player. And, of course, we streamed to a couple of iPads and smart phones, for good measure.
According to my PR contact, "TP-Link positions the AC2300 as the best router for most people since it performs well for less money. So, if your ISP router/modem isn't good enough, if you're living in a condo/apartment, if you're a student or simply don't want to pay more than $200 for a router that will take care of your dead spots and give you good throughput, then this is the router for you."
It's also aimed at cable cutters, gamers and people who have multiple devices connected to your Wi-Fi network. I'm not a cable cutter yet, though I probably would be if I could get Canadian Football and IndyCar racing events live, but I do stream a lot of stuff, either from services such as Netflix or from files stored on my networked hard drive.
TP-Link offers these bullet points to illustrate the router's capabilities:
Faster Wi-Fi Speeds – Dual band speeds up to 2.25Gbps: 1625Mbps on 5GHz, 600Mbps on 2.4GHz
Powerful Processing - 1.8GHz Dual-Core Processor with co-processor
More Devices - MU-MIMO achieves 3X efficiency by communicating with up to three devices at once
Ultra Range - Range Boost + Power Amplifier + High-performance Antennas, giving you even greater coverage
Smoother Performance - Smart Connect intelligently assigns devices to the best available band
Better VPN Connection - OpenVPN & PPTP VPN server supported and VPN Acceleration speeds up VPN connection to ultra-level
MU-MIMO, by the way, refers to "Multi-user MIMO". According to the often-reliable Wikipedia, it's "a set of multiple-input and multiple-output technologies for wireless communication, in which a set of users or wireless terminals, each with one or more antennas, communicate with each other. In contrast, single-user MIMO considers a single multi-antenna transmitter communicating with a single multi-antenna receiver."
Cleared it up well, didn't it?
Anyway, TP-Link says the MU-MIMO (wasn't that the cosmic bad guy in Dr. Strange?) technology speeds up your Wi-Fi performance because it'll serve three devices at once, which they say means it runs up to three times more quickly than "traditional AC routers."
I have had no issues with speed or performance, and I have also experience no dropouts – and that's about the first time I can say that about a router, whether consumer or "pro".
Setting up the router is a piece of cake. After taking it out of the box (well, duh!, you say!), you perch it where you want it, plug your stuff into it. I connected my cable modem to the blue WAN port on its rear panel, wired my main PC and my networked drive into some of its four other Ethernet ports. The left side panel of the router, by the way, features two USB ports (a 2.0 and a USB 3.0) along with a WPS button that lets you log in without a password. There's also a reset button there.
You can configure the router with an app, but I (who usually waits until my son has time to set it up for me) just went with the method of using my web browser – and the TP-Link walked me through it so easily that even I had the thing up and running quickly and painlessly.
The only real snag, and this isn't really a snag (just the way this stuff works), I had to re-log on every one of my many devices once I switched to the C2300. It's a bit of a pain, but not particularly difficult, and you only have to do it once. Apparently, it's because the router has newer security settings.
There was one other snag: thanks to the new security settings I can no longer get my old and obsolete all-in-one printer to work wirelessly. I miss that, but not enough to run out and buy a new printer.
The C2300's Range Boost feature lets the router see devices that are further away from it and cover them accordingly. This should up the coverage ante seamlessly if you need it.
The router will also let you use its USB ports to connect a NAS drive, though my external drive allows for wired connection and that's the way I went. There are some other advanced features as well, but I didn't pursue much of that stuff, because I didn't need them in my installation. I also tend to break things, so it pays for me to stick with the basics, which are plenty good enough for my place.
Even though this router doesn't claim the performance of some of the higher end ones on the market (you can get ones with a lot more bandwidth, for example), I've found this Archer C2300 router to be more than adequate. Even better, in fact, because it's the first router I can think of that has never had a dropout and/or never let me down while streaming large files. Its performance has been first rate, and its reasonable price is a bonus.
Copyright 2018 Jim Bray
TechnoFile.com